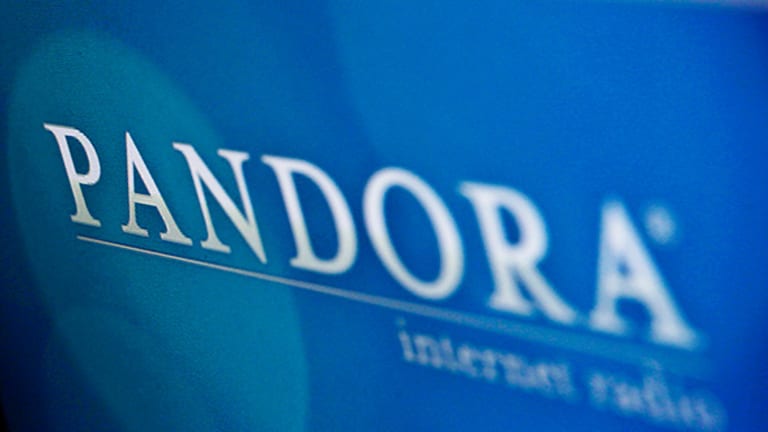 Pandora Is Still a Buy, Despite Apple Music, Google Play
Pandora shares stumbled on news of new digital music services from Apple and Google, but analysts remain optimistic about the streaming stalwart, and view Pandora's dip as a buying opportunity.
NEW YORK (TheStreet) -- These are tough times for Pandora (P) shareholders.
Over the past month, the Internet streaming service has been hit by a formidable one-two punch from Apple (AAPL) - Get Apple Inc. (AAPL) Report and Google (GOOGL) - Get Alphabet Inc. Class A Report, both of which launched new music services. For a company like Pandora, which generated $231 million in revenue in 2014, the entrance of Apple and Google into their market should mean a certain early death. (Apple's 2014 revenue was $58 billion; Google came in at a more modest $17 billion.) 
Since June 8, when Apple announced it would be starting its own subscription-based streaming service, Apple Music, Pandora's stock has tumbled 15%. Google on June 9 announced a limited, but free, ad-supported version of Google Play Music. The ad-free, unlimited version costs $9.99 per month.
The moves by two of the world's largest tech companies underscore the intensifying interest in streaming music, a market already served by Spotify, iHeartRadio, Rhapsody, Rdio and others. The surge in competitors is one reason Pandora shares have fallen 47% over the past 12 months.
But in the wake of the Apple and Google announcements, investors may be discounting the strength of Pandora's ad-based business model and its already large and dedicated user base, suggests RBC analyst Mark Mahaney. Total listener hours for the quarter that ended March 30 grew more than 10% from a year earlier to 5.3 billion.  
Consumers, Mahaney argues, prefer free, ad-supported music over subscription-based services by a 3 to 1 ratio. Apple Music is also being priced at $9.99 per month. And Pandora stands to benefit from taking larger shares of both the global radio and digital ad markets, estimated at $33 billion and $70 billion, respectively. Mahaney has a buy recommendation on Pandora with a 12-month priced target of $25.
Pandora also has the potential to grab more market share from traditional radio, with a daily U.S. audience of 250 million, said MKM Partners media analyst Rob Sanderson in a June 25 investor report.
"With about 80mn monthly active users and being the top radio station in every major U.S. market, P is highly relevant to radio advertisers, its primary monetization target," wrote Sanderson, who rates Pandora a buy with a 12-month price target of $23.
Based on an RBC survey of almost 900 U.S. Internet users, Pandora ranked as the No. 2 music source overall behind terrestrial radio, and the 58% of those surveyed who said they use Pandora was unchanged from the last two years. Further, 90% said they plan to use the service the same amount or more often in the next year, consistent with prior surveys.
While acknowledging Spotify in particular as a rising competitor, Mahaney downplayed the threat posed by it and other subscription-based services such as the forthcoming Apple Music. The Apple service will cost $10 a month after a free three-month trial.
"We believe this market will have room for multiple competitors, and [Pandora] is strongly positioned in the lean-back segment," wrote Mahaney, referring to the Internet radio model where music selection is mostly automated.
That contrasts with the "lean-in" approach of on-demand services like Spotify and Apple Music, in which listeners choose specific songs they want to hear.
Overall, more than a third (35%) of Americans used Pandora in the past 12 months, compared to 16% for Spotify, 15% for iHeartRadio, and 10% for iTunes Radio, according to an April survey of 5,000 U.S. consumers 13 and older by market research firm MusicWatch.
It should be noted iTunes Radio, when it launched in 2013, was initially tagged as a potential "Pandora killer," but failed to live up to that billing. Russ Crupnick, founder and managing partner of MusicWatch, doesn't expect Apple Music, which includes a revamped radio offering, to sideline Pandora, either.
"I think it's very possible you don't see a big effect on Pandora," said Crupnick, citing the popularity of its curated listening model and loyal user base. "I'm not really expecting any defections from their service."
Pandora reported 79.2 million active listeners at the end of the quarter that ended March 30, up from a year earlier, but down from 81.5 million in the prior quarter. Listener hours increased to 5.3 billion from 4.8 billion in the year-earlier period.
Nevertheless, investors remained deeply skeptical, with the stock falling another 2.6% to $15.58 on Monday.
This article is commentary by an independent contributor. At the time of publication, the author held shares in Apple.