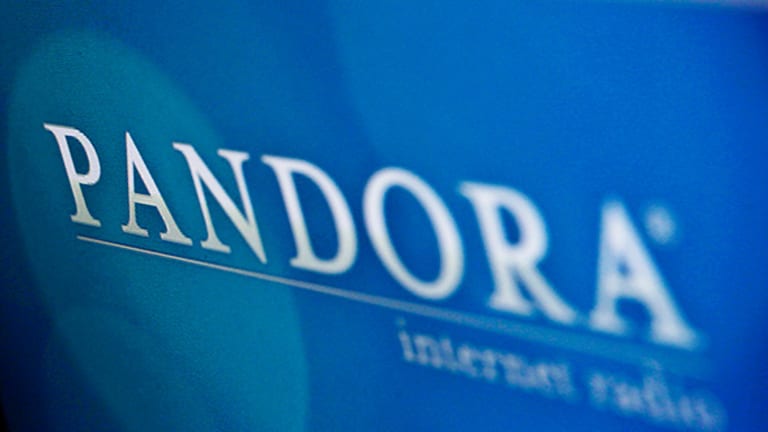 Pandora Can Claim Big Victory With Streaming Rate Decision
Pandora, the world's largest Internet radio service, won a crucial ruling on Wednesday as the U.S. Copyright Royalty Board raises streaming rates below those sought by record companies.
And the winner is...Pandora Music (P) .
Pandora, the world's largest Internet radio service, will pay record companies more money to stream its music following a long-awaited decision Wednesday by the three-judge panel of the U.S. Copyright Royalty Board. But the new fee represents a comparatively small increase considering that record companies were seeking much higher rates.
The board on Wednesday ruled that the rate will rise to 17 cents per one hundred streamed songs for 2016 from 14 cents per hundred, a fee Pandora directly negotiated with the industry in 2009 after receiving Congressional approval to sidestep the royalty board. Were it not for that settlement, Pandora would be paying 23 cents per 100 streamed songs, the official royalty rate for 2015.
In an unusual decision, the CRB declined to set rates for 2017 through 2020, saying it would make those decisions at a later date. Pandora had been seeking a rate of 11 cents per 100 streamed songs while the music industry had been pushing for a 25-29 cent rate. The royalty board set the rate for subscription services such as Apple (AAPL) - Get Free Report Music and privately-held Spotify at 22 cents per 100 streams.
In the wake of the CRB's decision, Pandora shares, which had plummeted 27% in 2015 before closing Wednesday at $13.44, were surging 20% in after-hours trading.
"The music industry can't be cheering loudly about this one," William I. Hochberg, head of the music law department at Greenberg Glusker which represents artists including the estate of Bob Marley, said in a phone interview from Los Angeles. "The delay makes sense in that they can see how well Pandora does in getting more users, and maybe even a meaningful number of paid subscribers. Seems like they kind of split the difference."
While Pandora will have to adjust to increased costs, the decision removes an overhang both for Pandora executives attempting to build a business that remains something of a start-up, and for investors unsure about the Oakland-based company's long-term cost structure. At present, royalty costs comprise 48% of Pandora's sales.
In a statement, Pandora CEO Brian McAndrews said, "This is a balanced rate that we can work with and grow from. The new rate structure will enable continued investment by Pandora to drive forward a thriving and vibrant future for music. This decision provides much-needed certainty for both Pandora and the music industry."
Artists and musicians appeared much less enamored by the CRB's rate setting. In a statement of its own, SoundExchange, which acts as conduit between individual musicians and streaming services, said that the new fee structure wouldn't pay artists a "fair market rate."
"Music has tremendous value and is the core foundation of the webcasting industry," SoundExchange said. "It's only fair that artists and record labels receive a market price when their music is used. We believe the rates set by the CRB do not reflect a market price for music and will erode the value of music in our economy. We will review the decision closely and consider all of our options."
This latest ruling comes after more than a year of testimony and public lobbying by Pandora and the country's music labels. While record companies insisted that streaming rates needed to be raised, Pandora has argued that it's building a platform to help labels and artists recoup money lost to lower CD sales and digital downloads, which fell by 33%, or about $2 billion, during the six-year period ending in 2014, according to the Recording Industry Association of America.
Despite differences with the music industry, Pandora's curated radio business has grown steadily over the past five years. Its user base comprised 9.5% of all U.S. radio listening as of September, and sales in the third quarter climbed to $311 million from $38 million during the same period in 2011.
But despite the prospect of higher expenses, the new rates will allow the Oakland, Calif.-based company to negotiate directly with music labels for international streaming rights. The Big 3 music labels -- Sonyundefined Music, Warner Music and Universal Music, a division of Paris-based Vivendi (VIVHY) -- as well as the world's largest independent labels have been loath to settle on international pricing with Pandora for fear that an agreement would have influenced the Copyright Royalty Board, which has no jurisdiction outside of the U.S.
Pandora is eager to launch an on-demand service to compete with Spotify and Apple Music that allow users to pick exactly which songs they want to hear. Toward that end, Pandora paid $75 million in November to acquire the assets of Rdio, a so-called "interactive" service comparable. With 78 million unique U.S. monthly listeners, Pandora is keen to expand beyond its home market, which is arguably saturated, and bring its Internet radio service to Europe, Japan, Korea and even China.
Pandora's curated music platform is currently available only in the U.S., Australia and New Zealand.
The CRB announcement also comes as Pandora recently struck deals with songwriter groups, essential steps to building a global service. On Monday, Pandora announced it had signed a worldwide multi-year licensing agreement with Warner/Chappell Music, and did the same last month with Sony/ATV Publishing, world's largest music publisher which is owned by Sonyundefined and the estate of Michael Jackson.
Most importantly, the CRB's decision is likely to ease tensions between artists and streaming services given that the public's embrace of such platforms may have less to do with Pandora, Spotify or Apple Music but rather user-friendly technologies that allow listeners to access their favorite music without spending a lot of money.
McAndrews can also be expected to continue to hammer away at his argument that the real scourge to musicians in the digital age isn't his advertising-supported service, but free on-demand platforms, i.e. Spotify, his chief competitor. Pandora says it has paid out more than $1.5 billion in royalties during its 10-year history.
"Free-to-the-listener on-demand services are driving down music's intrinsic value by creating a 'gray market,'" McAndrews wrote in a column published by Business Insider earlier this month. "This gray market is unsustainable."
The question for Pandora, and investors, is whether Pandora itself is sustainable, whether it can continue to grow with less money to invest in its business.