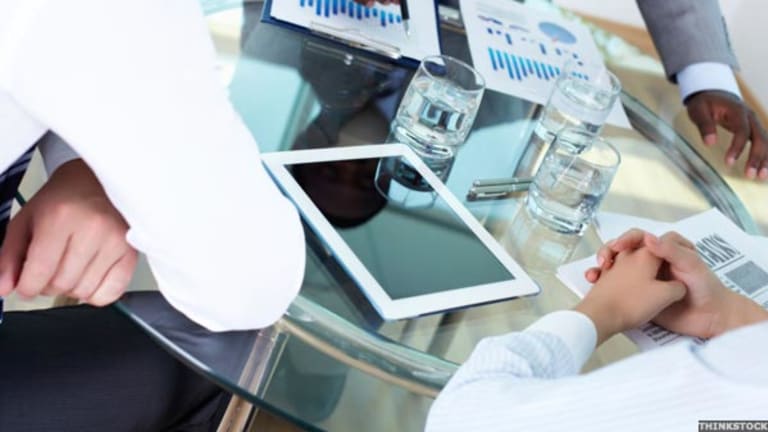 Pandora Founder: Personalization Is the Future of Radio
Internet radio firm Pandora tells <I>TheStreet</I> about its bumpy road to success.
NEW YORK (
) -- While high-flying start-ups like
Facebook
and
Zynga
have achieved remarkable success in just a few years, Internet radio stalwart
Pandora
has had a much longer, tortuous path.
The online radio company has suffered several near-death experiences since its founding in 1999, including impacts of the dot com bust, near-bankruptcy and lawsuits from the recording industry.
Pandora founder Tim Westergren
Pandora, which started as a recommendation engine that suggested music to users based on songs they already like, has more than 75 million listeners and holds lucrative deals with partners like
Samsung
,
Roku
and
Ford
(F) - Get Ford Motor Company Report
, whose in-car Sync service will soon allow users to listen to their Pandora stations while driving. The company's iPad app is the most downloaded free app in the history of
Apple's
(AAPL) - Get Apple Inc. Report
App Store, and its iPhone app is the second-most popular, behind
Facebook
.
The start-up is also rumored to be prepping for an IPO, and could go public sometime before the end of the year.
Pandora founder and Chief Strategy Officer, Tim Westergren, recently spoke with
TheStreet
about the company's future, the role of traditional radio and the lessons he learned building a start-up.
This interview has been edited for length and clarity.
TheStreet: Pandora's certainly had an interesting history, with lots of bumps along the way. Can you explain the evolution of the company and how it's transformed into what it is today?
It has been a long and winding road for sure. I'd define Pandora as having three chapters. We were first focused on 9-to-5 desktop listening at work. In the summer of 2008, we launched on the iPhone and other smartphones, which really opened up a whole new arena for us. Smartphones redefined Pandora, because all of a sudden, you could get Internet radio anywhere. Consumers began taking their smartphones and plugging it into other electronics -- they turned their cars into personal radio stations. This led to an inflection point in terms of our pace of growth, and it also caused our consumers to rethink what Pandora was.
More recently, we've had consumer electronics companies and car companies who saw the opportunity to embed Pandora in their own systems. All of these devices are becoming platforms for Pandora, and that's to our great benefit.
Pandora had a difficult time attracting interest from venture capital firms in the beginning. Since then, you have raised significant funds from blue chip VCs like Greylock Partners and Allen & Co. Why do you think the business initially had problems resonating with investors?
We had trouble raising money when the company was a recommendation engine, not when we positioned it as an online radio service. Many of the VCs thought it was a fascinating idea, but people had a hard time translating it into a business. The idea of being able to build a business by licensing technology did not intrigue investors.
When we decided to jump into online radio, it was the perfect moment. We hired Joe Kennedy as our CEO, and did a massive market research project that led to the reimagination of Pandora. We popped up with five or six years of intellectual property development, and spent all this time preparing for this product, unbeknownst to us. Our technology was just right for the moment, and personalization is quickly becoming table stakes for radio the same way that social is for the web.
Pandora and other online music companies faced extinction in 2007 after record labels demanded higher royalty payments (Pandora eventually reached an agreement with the recording industry). Did you ever believe that the company wouldn't make it? What kept you going?
If that royalty situation wasn't solved, we'd have to pull the plug because those rates were not affordable by us or anybody. No one in Washington thought we would survive. I may have been idealistic during that time, but it was hard for me to realize that we would just go away -- we had a lot of listeners, and were good for the industry. It would have been a strange turn of events for us to go under. We had enormous public support and the grassroots campaigns were astounding.
Pandora has over 75 million users. Why do you think the concept of personalized online radio became so popular?
People have a hard time finding new music, and people's collections get stale -- that's a fundamental problem. If you really want to discover music, the options are very time consuming. No one had come along and solved the problem of giving listeners a fresh music experience easily. Pandora did just that -- you pop in a song and you're done. It's really low effort and it's on target.
What are your thoughts on "on-demand" music streaming services like Spotify, which has been making noise recently about moving into the U.S. market? Are you threatened at all by these types of services or do you think they'll have a difficult time surviving?
We view those types of services as fundamentally complementary and we don't intend to provide on-demand services. We're not unaware of the appetite people have for it though -- one of our most common requests is the ability to rewind a song.
As for the survival of those businesses, it rests on licensing. The challenge to date for those services has been how much it costs for them to stream, and how much you have to charge consumers or advertisers. Also, contracts with record labels tend to be short term.
Do you think Internet radio will kill traditional radio?
No, they'll have different roles. Broadcast radio is a shared listening experience, which I think a lot of people like. In broadcast you're seeing a move away from music and more towards talk.
Is there an anecdote or two you can share about important business lessons you learned while growing the business that other entrepreneurs can learn from?
I'm a huge believer that the team you build ultimately will determine your future. You have to be generous with their roles, ownership and recognition. Give people power and visibility and let them do their thing.
It's also very important to build transparent companies. You have to be very communicative with people, and have a very open dialogue with people who use your service. Embrace this dialogue as an opportunity, not as a liability or a cost to be prevented.
Lastly, I think being willing to change course is really important ... it's hard to pick a direction for your company and never have to change that. I think it's really important to know when you need to adjust the course.
The Wall Street Journal singled out Pandora in a story about privacy violations by a number of mobile apps. How do you respond to allegations that Pandora is invading the privacy of its users?
The way people share information is an evolving space and we're watching it very closely. We understand that when people register and give us information, they're trusting us and we take that very seriously. We feel good about how Pandora handled this situation. It's something we're going to be very, very vigilant about.
Some tech watchers say we've entered into a new Internet bubble with skyrocketing valuations of some start-ups. Pandora was around during the original bubble -- what are your thoughts?
The difference now is these companies are real businesses -- there's a much more vigorous lens that people are looking at to evaluate companies like ours or others. I'm not surprised that people are calling this another bubble because of the history of the sector, but this is a different breed of companies. They have different products, business models and leaders.
Lastly, can you comment on any rumors about a potential IPO that we've been hearing about?
Sorry, I can't talk about that.
--Written by Olivia Oran in New York.
>To follow the writer on Twitter, go to
.
>To submit a news tip, send an email to:
.