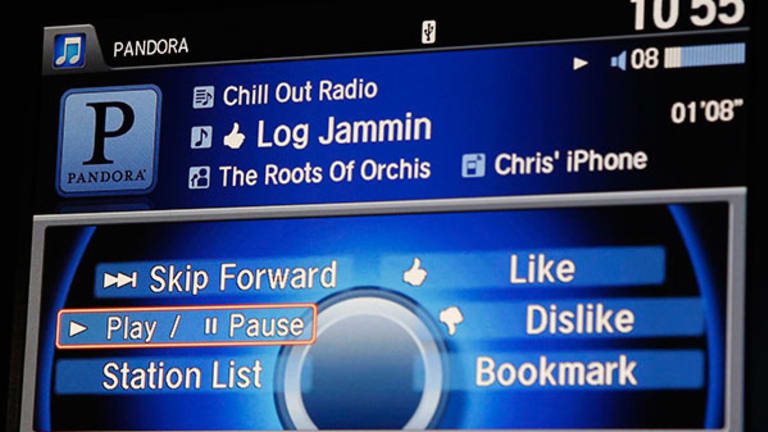 NEW YORK (TheStreet) -- Pandora (P) may be confident it can withstand competition from Apple (AAPL) - Get Apple Inc. (AAPL) Report Music, but one analyst thinks the music streaming company could end up a takeover candidate. 
"An increasingly competitive landscape raises the prospect that Pandora could be acquired," said Amy Wong, media analyst at Macquarie Capital in a research report out Tuesday.
The debut of Apple Music sent Pandora's stock tumbling this week, mainly because of worries that Pandora's dominance in music streaming would be eroded by the tech giant.
Pandora quickly dismissed such concerns, with founder Tim Westergren saying business at the online radio service is growing despite "countless 'Pandora killers.'"
"As we've seen for years, new products attract trial users, but the real question is sustained attention," Westergren said in an emailed statement.
But Wong thinks Pandora's chance at sustaining attention is getting slimmer.
Music streaming is an "expanding space" that over time is likely to have room for Pandora, Apple, Swedish-owned Spotify and the performer Jay-Z's Tidal, Wong said. Even so, increased competition from Apple Music and Spotify could slow Pandora's ability to increase listener hours, an important metric for gauging the growth of music streaming businesses.
For every 5 listener hours Pandora gives up to the competition, Macquarie estimated that its earnings would take a $20 million hit.
Apple on Monday said it will launch a subscription-based streaming service at the end of June that will offer listeners access to an exhaustive song selection. Apple Music will cost $10 per month, but it will also be available for a family rate of $15 per month for up to six people.
Pandora is betting that its largely advertising-based model of curated radio can appeal to users who have come to expect they can listen to music for free. Pandora's target user is more likely to want to "lean back" and let the service select songs based on her music tastes rather than have to choose songs on a platform such as Apple Music.
But either way, Apple's entrance into music streaming could slow Pandora's growth, making it "more appealing to larger players" interested in owning an Internet-based music service, Wong said, especially one with around 80 million listeners and a strong brand.
A few rising music streamers have gotten scooped up by big names in the recent past. Apple bought Beats Music in May 2014 and Google (GOOG) - Get Alphabet Inc. Class C Report acquired New York-based startup Songza just months later.
Digital brands have recently sold for ten times revenue on average, Yong noted, and even a conservative estimate would mean a $27 per share valuation for Pandora. 
With that said, industry analysts have observed that Apple Music's subscription-only platform is a bigger threat to Spotify than to Pandora's ad-supported model.
In a research memo, Wells Fargo senior analyst Peter Stabler said Apple's "primary goal" is "to derail the growth of Spotify."
On Wednesday, Bloomberg reported that Swedish phone company TeliaSonera AB valued Spotify at over $8 billion, paying $115 million for a 1.4% stake.