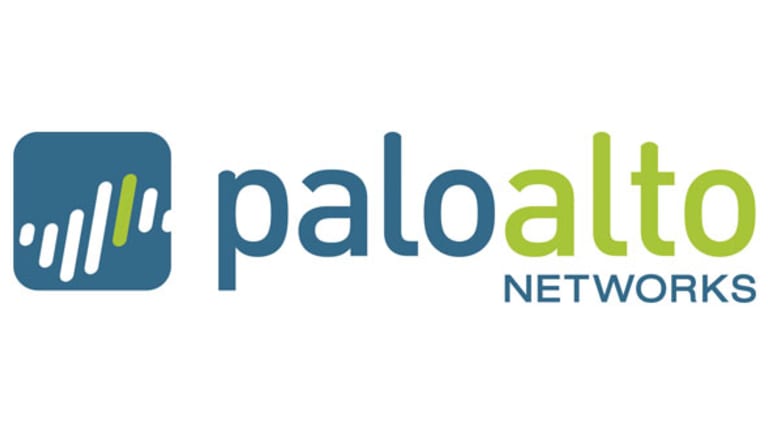 Palo Alto Networks Impresses as Cyber Security Becomes More Important -- What Wall Street's Saying
With improving cash flow and a solid first-quarter revenue beat, Palo Alto is primed for more healthy years ahead.
Shares in Internet security company Palo Alto Networks (PANW) - Get Free Reporthave ample upside potential, say many Wall Street analysts predicting strong years ahead after the company released its first-quarter results late Monday.
Santa Clara, Calif.-based Palto Alto Networks reported first-quarter earnings of 35 cents per share, higher than the Street view of 32 cents per share, and revenue of $297.2 million vs. the analyst estimate for $284.4 million.
Its guidance for the second quarter, including an expected revenue range of $314 million to $318 million, implies growth of 44% to 46%, year over year. Because much of that revenue is recurring, indicating a strong trajectory through fiscal 2017, analysts say the stock is poised for more growth. It expects non-GAAP earnings of 38 cents to 39 cents for the second quarter.
Palo Alto Networks is attributing the "very strong start" to its fiscal 2016 to its "integrated and automated enterprise security platform that delivers prevention capabilities at every step in the cyber-attack lifestyle," said
CEO Mark McLaughlin in a statement
.
Citing improving cash flow and no signs of a slowdown in momentum among other positive factors, Wall Street analysts are maintaining positive ratings and improving their price targets on Palo Alto Networks. They say, despite concerns of an overall slowdown in the security market, demand for Palo Alto Networks' cyber security services remains strong.
In more detail, here's what Street analysts had to say:
Deutsche Bank analyst Karl Keristead (Buy, $170.97 price target)
"Even with a below-normal beat against the 2QF16 revs guidance of $314- $318m, PANW would still post another 50%+ growth quarter. Hiring, especially in sales, has ramped over the last two quarters (1QF16 headcount was up 59% with 360+ adds), improving our confidence in the out-quarter revs growth. By product, WildFire grew its customer count by 100%+ but still only has a penetration rate of ~30% into PANW's total customer base. The average billings duration actually declined a bit, making the billings growth rate of 61% even more impressive. The only negative was that PANW posted its first-ever sequential decline in product revs, but the Street is likely to cut PANW some slack given the out-performance in 4QF15. This print is likely to improve overall investor sentiment towards the security stocks and lead more investors to wonder if FEYE's miss was more company-specific."
"Given strong cash collections one quarter after the big 4QF15 quarter, PANW's OCF of $147m was well above our $124m estimate and the gap between nonGAAP OM of 17% and FCF margins of 43% actually widened. While PANW reaffirmed its FY16 FCF margin guidance of 30%+, this is looking increasingly conservative and we maintain our estimate of 35%. The dream scenario of 40% FCF margins in FY16 now looks doable and PANW appears on track to meet its non-GAAP OM target of 22%-25% by 4QF16."
JMP Securities analyst Erik Suppinger (Outperform, $220 price target)
"Palo Alto reported F1Q16 EPS of $0.35 (JMP $0.34; consensus $0.32) on revenues of $297M (JMP $291M; consensus $285M), and guided to F2Q16 EPS of $0.38-$0.39 (prior JMP $0.39; consensus $0.38) on revenues of $314-318M (prior JMP $317M; consensus $311M).
"In our view, key takeaways from the quarter include: 1) the strong results suggest the demand environment in security remains robust, which should help to quell investor concerns related to a broader slowdown in the security market; 2) Palo Alto is effectively migrating from a firewall vendor to a broader platform player, as evidenced by deferred revenue growth of 71% Y/Y driven by robust subscription sales; and 3) Palo Alto hired a record 361 employees in the quarter, as total headcount grew 58% Y/Y, which is relatively in line with billings growth.
"Our checks suggest the largest inhibitor to Palo Alto's growth is its ability to hire sales reps, and accordingly, we feel the accelerated pace of hiring will allow the company to sustain robust growth going forward. We raise our CY16 FCF estimate slightly to $5.79 from $5.75. Our $220 price target represents a CY16E P/FCF of 38x, a 77% premium to comps, while Palo Alto's revenue growth rate of 34% is an 81% premium to the average revenue growth rate of our comps."
Barclays analyst Saket Kalia (Overweight, $220 price target)
"Billings grew 61% y/y driven by continued market share gains, growth from new appliances and products, and strength in security spending. PANW did not see slower activity this quarter like some have and spoke of continued focus on security, so we think the tide is still rising but more so for platforms like PANW. We continue to believe there are more subscription/maintenance renewals coming in FY16 and FY17, supporting margin expansion and cash flow generation, so we are raising our price target to $220 based on a multiple of 29x our FY17E FCF of $700M. 61% billings growth y/y, and now majority of the business comes from recurring services. PANW reported 1Q16 revenue/non-GAAP EPS of $297M/$0.35 versus our $283M/$0.32 and street's $285M/$0.32. Just as importantly, billings came in at $388M to the street's $359M, growing 61% y/y driven by 70%+ growth in maintenance + subscription billings, and 46% y/y growth in product on the back of a 33% growth in its customer base. Of note, PANW now has slightly more than half of total revenue coming from maintenance + subscription, which are recurring with high renewal rates."
"It has been a confusing quarter in security with a couple of competitors coming in lighter on billings, and commentary of slower "emergency" spending. Along with their results, PANW noted a strong pipeline going into 2Q, and no change in sales cycles - part of this is their own market share gains. But we think commentary supports that security is still an area of increasing investment, though some vendors may take a disproportional share. Remains 40%+ billings grower this year; we continue to think more renewals are coming."
Credit Suisse analyst Philip Winslow (Outperform, $225 price target)
"Palo Alto reported strong FQ1 results with revenue, operating margin, deferred revenue, and EPS above consensus estimates driven by higher subscription attach rates, new customer wins, an increase in larger deals, and continued success of Wild Fire. Product revenue grew 45.6% year over year (an acceleration from growth of 34.4% in the year-ago period) versus 49.9% in H2 FY2015. The number of paying WildFire customers increased to 8,000 versus 7,000 in the prior quarter, including over half of the Fortune 100. These data points highlight Palo Alto's ability to upsell into its installed base and sell additional services, which remains core to our positive thesis. In addition, management reiterated its guidance to exit FY2016 with a 22-25% operating margin."
"We believe that Palo Alto Networks' unique technology platform and long-term corporate strategy, as well as management's ability to execute its vision, position the company to continue to gain share in the network security market-driving strong, sustained revenue and earnings growth. Furthermore, we believe that the increased adoption of software-defined networking could broaden the network security market to more East-West traffic in the datacenter. Palo Alto's results and outlook reinforce our thesis that the company is positioned to continue to gain market share given the many unique advantages of its next-generation firewall platform, and, as such, we reiterate our Outperform rating."
Pacific-Crest analyst Rob Owens (Overweight, $210 price target)
"Palo Alto handily beat our top-line expectation, achieving 61% y/y billings growth vs. our estimate of 51% and 55% y/y revenue growth versus our 48% forecast. Q/Q growth was strong relative to seasonal trends, with deferred revenue growth of 13% the strongest q/q FQ1 growth since F2013. Profitability metrics impressed as well, with margins, EPS and cash flow all showing upside. Expanding within the (growing) customer base.
"The model continues to post growth from multiple levers as Palo Alto again added more than 1,000 customers in the quarter while increasing the lifetime value required to be a top 25 customer nearly 10% q/q. Subscription revenue grew over 68% y/y to represent 25% of total revenue as the company continues to drive strong attach rates in the installed base and with new customers. WildFire again increased traction as new solutions Aperture and AutoFocus expand the subscription opportunity.
"FQ1 was an impressive quarter by all measures, with meaningful beats for demand-related metrics and profitability. Given the strength in the quarter, we are meaningfully increasing our revenue, earnings and cash flow estimates for F2016 and F2017, as we continue to believe PANW is best positioned to become the dominant security platform.
"Given the strong increase in our FCF outlook, we are increasing our target to $210 from $190, applying the same 33x FCF multiple as for our prior target. We remain buyers of PANW."
This article is commentary by an independent contributor. At the time of publication, the author held no positions in the stocks mentioned.