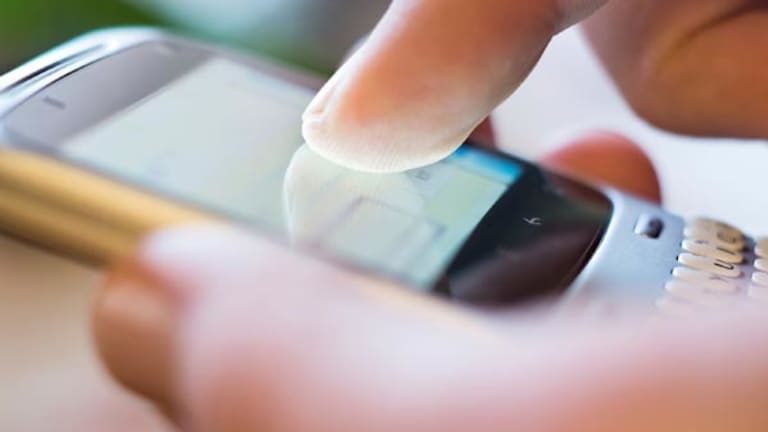 Palm Stock Sinks on Revenue Forecast
Palm feels the spending crunch and announces major restructuring effort.
Palm feels the spending crunch and announces major restructuring effort.
Shares of cell phone manufacturer
Palm
(PALM)
plummeted almost 40% Tuesday after the company issued a second-quarter revenue forecast well below analysts' projections.
The company, which is struggling with slowing demand for smart-phones and other handheld products, expects second-quarter revenue between $190 million and $195 million. Analysts had estimated revenue of $330.8 million for the quarter.
Palm's stock tumbled as much as 38.8% to $1.15, as investors reacted to the company's gloomy outlook. More recently, shares were down 15.4% to $1.59.
The Sunnyvale, Calif. -based company, which reported revenue of almost $350 million in the second quarter of last year, is wrestling with an extremely tough spending climate. "We are seeing unprecedented dynamics in the global markets as economic uncertainty hampers demand for consumer products," CEO Ed Colligan said in a statement released Monday.
Citi Investment Research analyst Jim Suva nonetheless described Palm's revenue miss as "staggering" in a note released this morning, warning that the next few months could get even tougher for the firm.
"With no new products until the first half of 2009, we expect fundamentals to get even worse for Palm during the next few quarters," he wrote. "Palm's products lack a competitive edge and the necessary timeliness to market at a time when competition is coming out with a faster lineup of even more compelling products."
The analyst also reiterated his 'sell' rating for the company and lowered his target price from $3.75 to $1.20.
Palm certainly faces stiff competition from consumer technology giant
Apple
(AAPL) - Get Report
, which sold 6.9 million
in its recent fourth quarter. Rival
Research In Motion
(RIMM)
is also ramping up its efforts in preparation for the holiday season, recently unveiling its first touch-screen phone, the
Blackberry Storm
.
Despite these challenges, Suva feels that Palm's recently launched
product is enjoying some success, albeit at the expense of the firm's margins. "We believe the company is heavily subsidizing the phone to hit its $99 price point," Suva explained.
In an attempt to streamline its business, Palm announced several cost-cutting initiatives Monday. These include reducing the firm's U.S. workforce, consolidating its European operations and shifting responsibility for Asia-Pacific sales, marketing and administrative support to its U.S. offices. As a result, the company expects to reduce its quarterly operating expenses by approximately $20 million by the fourth quarter of fiscal 2009.
Palm expects to incur restructuring charges between $7 million and $9 million in the second quarter. The company also expects its cash and short-term investments to be between $210 million and $220 million at the end of the quarter.
The company will release its second-quarter results on Dec. 18.