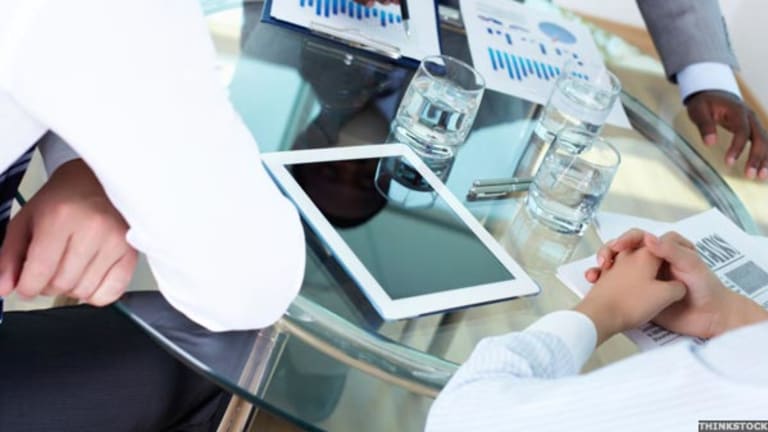 Palm Needs a Much Stronger Signal
For Palm, getting on board at Verizon is more like a lifeboat than a celebration cruise.
For Palm, getting on board at Verizon is more like a lifeboat than a celebration cruise.
LAS VEGAS (TheStreet) -- It's another new dawn for Palm (PALM) . The company announced a relaunch of its Pre and Pixi phones late Thursday at the Consumer Electronics Show.
Verizon
(VZ) - Get Report
, the No. 1 U.S. carrier, will start selling the revamped Palm smartphones on Jan.25, said Palm during its CES presentation.
Palm CEO Jon Rubinstein unveiled new smartphones at CES
Forgive the deja vu, but Palm's latest breakthrough moment comes exactly a year after its last big one, when the up-from-the-ashes tech shop, based in Sunnyvale, Calif., announced the Pre phone at the same venue.
This time, it's much different, of course. Instead of an exclusive deal with flailing No. 3 carrier
Sprint
(S) - Get Report
, Palm's got Verizon in a special pact, though
AT&T
(T) - Get Report
claimed Tuesday that it too
will start selling Palm's phones by midyear
.
One new development is that the Palm phones will have a "hotspot" feature that will share up to five Wi-Fi connections with nearby devices, similar to the Mi-Fi offering from Verizon.
"Today's significant carrier agreements and innovations are clear signposts towards Palm's successful turnaround," RBC analyst Mike Abramsky wrote in a research note Friday.
Palm Pre/Pixi Plus smartphones for Verizon
Palm shares jumped 11% Friday as investors cheered the news.
The confirmation of the Verizon partnership could put to rest concerns that Verizon was less than enthusiastic about adding the slow-selling Palm lineup to its roster.
As
TheStreet
first reported in September, Verizon was almost single-mindedly focused on the debut of its new
Google
(GOOG) - Get Report
Android phone, the
Motorola
(MOT)
Droid
. At the time, Verizon had its hands full with new BlackBerries from
Research In Motion
(RIMM)
and a $100 million ad campaign for the Droid.
It remains to be seen how supportive Verizon will be from a marketing and inventory perspective. There have been recent reports
of delays for the Pixi at Verizon
, with less-than-robust quantities on order. As
TheStreet
reported Wednesday,
Verizon will have its own version of the Apple (AAPL) - Get Report iPhone
later this year, which may not help Palm sales.
Palm had a phenomenal 2009. The company delivered two new phones on a new operating system. The rebirth of the nearly-failed smartphone maker helped push its stock up over 200% last year.
But the smartphone sector has only gotten more competitive.
Google debuted its own Nexus One phone
, Motorola has new models coming, and sleeping giant
Nokia
(NOK) - Get Report
has a potential revival in the works.
Palm got by as a smartphone underdog last year -- now it has to prove it's a real contender with this second shot at Verizon.
-- Reported by Scott Moritz in New York
More on CES 2010
>>Photo Gallery: 2010 CES Show