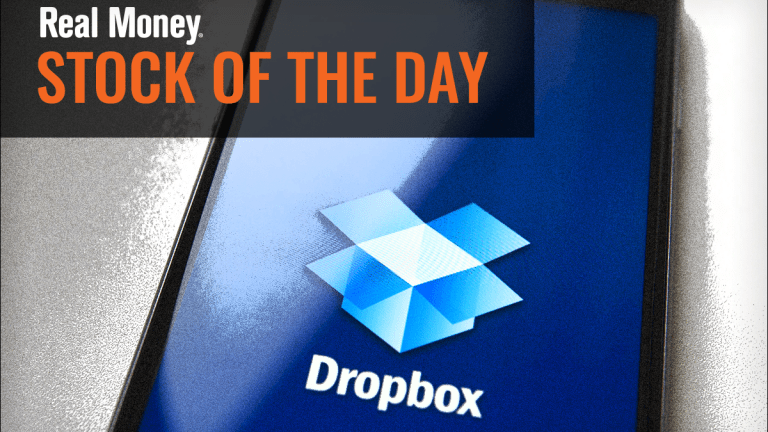 Ignore the Drop: Analysts Say Dropbox's Stock Decline Is Short-Lived
The stock shot up over 9% on Thursday only to be whipsawed outside of trading hours. Still, analysts remain optimistic.
Analysts say that Friday's share price decline in Dropbox Inc. (DBX) - Get Dropbox, Inc. Class A Report  -- which plunged more than 9% in afternoon trading in part on concerns over the departure of Chief Operating Officer Dennis Woodside -- is only temporary.
"This is like putting a beach ball underwater," says Canaccord Genuity analyst Richard Davis. "It will pop up." He added that the decline is likely driven by people less familiar with the company, who are "spooked" by the revelation.
Dropbox, which recently had a successful initial public offering, reported solid earnings after the bell Thursday, but is showing some signs of slowing growth:
Insiders will also be able to sell some stock soon for the first time following the IPO, while an announcement Thursday of Woodside's departure rattled some investors.
"The [fact] that the COO departure is a material issue is frankly mind-numbing," Davis said. "This is the problem with new IPOs: they're fresh and people are new to the story. I get it, buyers can get scared, but in the longer-term view we think you can make money on this stock."
Davis said he is keeping his "Buy" rating on the stock and set a price target of $38 even though DBX fell to $31.30 shortly after 2:30 p.m. ET Friday.
Giving advice to shareholders of Dropbox, Davis drew a parallel to cloud computing pioneer Salesforce.com, Inc (CRM) - Get salesforce.com, inc. Report .
"I'm not saying Dropbox is Salesforce, but Salesforce dropped 50% multiple times in its first five years and now it's up 30-fold. You had to have a stomach of steel."
Dropbox posted a strong quarter Thursday evening, beating analysts' estimates on earnings per share and revenue. But CEO Drew Houston emphasized the "critical part" Woodside played in the company's growth, noting as much during the earnings call.
"It's hard to overstate Dennis's impact on Dropbox," Houston said. "When he started, we had a $200 million in revenue and our company was a fraction of the size. And during his time here, we've grown into a publicly traded company with over $1 billion in annual revenue and a dozen offices around the world."
Analysts took note of Woodside's exit, with JP Morgan analyst Mark Murphy admitting in a note Friday that "losing COO Dennis Woodside is a bit of a disappointment."
Murphy maintained an overweight rating and a price target of $35, expressing his optimism for the stock despite the discontent with the leadership change.
(This story has been updated with new details.)