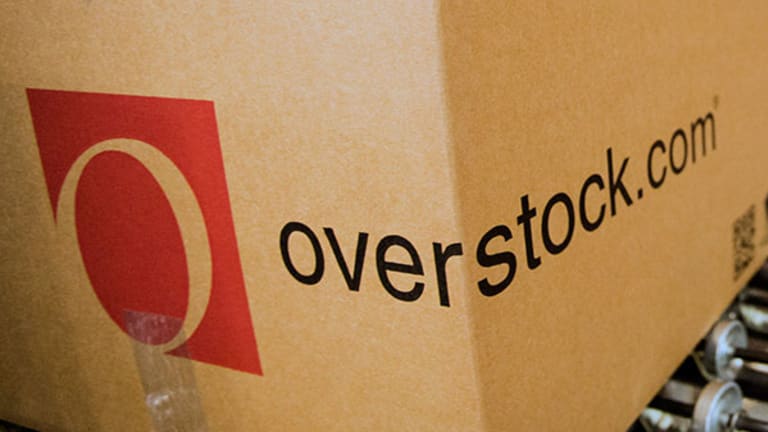 Overstock CEO Expects Bitcoin Derivatives
Overstock.com CEO Patrick Byrne expects Amazon to offer bitcoin payments to its customers. He also believes a derivatives market for hedging price risk will emerge.
NEW YORK (TheStreet) - Overstock.com (OSTK) - Get Report CEO Patrick Byrne expects that over time, there will be a derivatives market for Bitcoin so commercial end-users such as retailers can hedge their risk. Byrne also said he expects Amazon (AMZN) - Get Report to eventually accept Bitcoin.
As adoption and the market for Bitcoin transactions deepens, Byrne expects retailers like Overstock may be able to insulate themselves from exchange risks of the volatile currency. He expects that there will eventually be a derivatives market for commercial-end users so they can hedge their price risk.
For now, Overstock has avoided many of the issues plaguing the virtual currency given its partnership with Coinbase.
In an interview with TheStreet on Tuesday, Byrne said Bitcoin will become too big of a market for Amazon to cede entirely to competitors such as Overstock.com. Byrne also said that after announcing $1 million in Bitcoin sales, he now forecasts that Overstock will process up to $15 million in Bitcoin transactions this year.
Overstock began offering customers a way to pay for goods on the e-commerce website with Bitcoins in mid-January, becoming the first online retailer to accept the virtual currency.
The Salt Lake City-based company partnered with Coinbase.com, a start-up backed by venture capital firm Andreessen Horowitz. Overstock doesn't currently accept Bitcoin payments directly, but instead uses Coinbase.com to accept Bitcoin payments on the company's behalf, and then immediately converts those Bitcoin payments into U.S. dollars. As a result, Overstock receives payment for products it sells at a price in U.S. dollars.
However, Byrne expects Overstock's use of Bitcoin to change, especially if payments with the virtual currency grow over time. Byrne said in his interview that Overstock is preparing to buy some supply of Bitcoin, however, the amount is likely to be immaterial to the company's finances.
"In the future, we expect to transact in Bitcoins directly and intend to hold Bitcoins. This will subject us to exchange risk which may have an adverse effect on our results" Overstock said in a recent filing with the Securities and Exchange Commission.
"Overstock.com has been unaffected by the events affecting Bitcoin exchanges lately. We hold no Bitcoin so we're insulated from those matters. Numbers of Bitcoin transactions on our site have remained constant throughout," a spokesperson said in an e-mail.
Byrne also acknowledged that transacting in Bitcoin is good press, another reason why he expects competitors like Amazon to eventually accept the virtual currency. Less than 1% of Overstock's sales have been in Bitcoin since the company began accepting the currency. Still, it has driven new customers to Overstock.
"Of the over 4,300 Bitcoin customers that made purchases since then, Overstock.com estimates almost 60 percent to be new customers," the company said in a Tuesday press release.
Overstock.com shares have fallen nearly 30% year-to-date after the company reported weaker-than-expected fourth quarter results in late January.
-- Written by Antoine Gara in New York