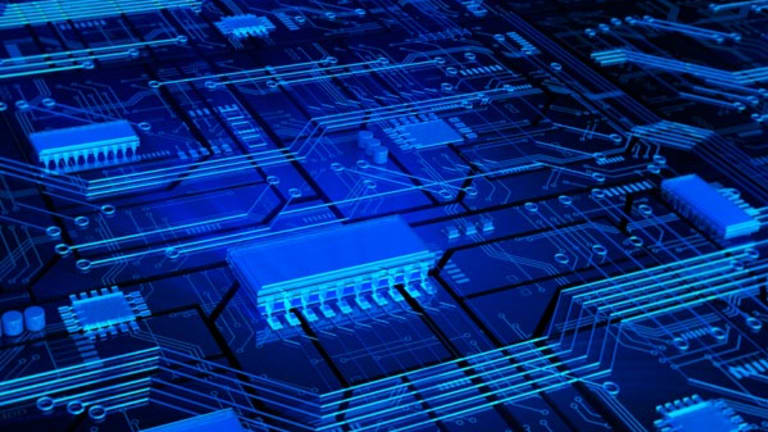 Oracle/SAP Verdict: Weekly Tech Recap
It was an eventful week for Oracle and other tech stocks. Here's a roundup of <I>TheStreet's</I> top stories.
NEW YORK (
) -- It was an eventful week for database giant
Oracle
(ORCL)
, which
in software theft-related damages from rival
SAP
(SAP)
Wednesday.
The
followed more than three weeks of courtroom tussles between the database giant and SAP, a
that even saw
firebrand Oracle CEO Larry Ellison
take the witness stand.
Oracle, however, was
unsuccessful in its attempts to subpoena
former SAP CEO Leo Apotheker, now in charge at
HP
(HPQ)
, to appear in the Oakland, Calif. courthouse.
Oracle CEO, Larry Ellison
Oracle's victory meant a happy Thanksgiving for Larry Ellison, as well as his company's shareholders. Pat Walravens, an analyst at JMP Securities, said the award represents a benefit of about 25 cents per share for Oracle shareholders, while SAP investors stand to lose $1.20 a share on full-year earnings.
Oracle shares closed down 25 cents, or 0.90%, on Friday, at $27.49. SAP's stock closed up 25 cents, or 0.68%, at $36.51.
> > Bull or Bear? Vote in Our Poll
On Monday, HP reported solid fourth-quarter earnings, and new CEO Leo Apotheker
in response to a question from
TheStreet
. HP
comfortably beat Wall Street's estimates
.
Like its PC rival
Dell
(DELL)
, HP noted an
enterprise IT refresh
. HP also gave healthy guidance and appears to be ramping up the pressure on rivals
Cisco
(CSCO)
and
IBM
(IBM)
with its networking and server products.
Apotheker also explained that HP will be increasing its R&D. The company's R&D outlay grew to $814 million from $704 in the prior year's quarter, and the new CEO said that savings from HP's ongoing efforts to streamline its business will fund additional research.
"There is always an opportunity to drive more productivity," he said during the analyst conference call. "We will use some of the savings that we generate from our efficiency initiative to invest more in R&D."
HP shares closed down 54 cents, or 1.25%, at $43.20 on Friday.
In M&A news, business software specialist
Attachmate announced its acquisition of most of Novell (NOVL) for $2.2 billion
on Monday. The deal, which is valued at $6.10 a share, is expected to close in the first quarter of 2011.
Oracle rival Novell also announced that it has entered into an agreement to sell some of its intellectual property to
CPTN Holdings
, a consortium run by rival
Microsoft
(MSFT)
, for $450 million in cash.
Novell shares close up 1 penny, or 0.17%, at $5.94 on Friday
Apple's
(AAPL)
iOS 4.2 operating system made its debut this week, albeit to
The consumer tech giant started offering free iOS upgrades to owners of iPads, iPod Touches and iPhones late Monday. The new software is designed to enable wireless printing from these devices, better HTML5 capability and AirPlay, a wire-free media sharing system.
Some observers, including
Daring Fireball's
John Gruber, found the hotly anticipated AirPlay service
at sharing videos from an iPhone to Apple TV for full-screen viewing.
Wall Street analysts nonetheless saw the iOS upgrade as a big positive for Apple, especially over rivals including
Google's
(GOOG)
Android and
Nokia's
(NOK)
Symbian.
Apple shares closed up 20 cents, or 0.07%, at $315 on Friday.
Taiwanese tech giant
Acer
announced a handful of mobile devices Tuesday, including two Google Android tablets.
The
, featuring 7- and 10-inch screens, are slated for release in April 2011. A third tablet, a 10-inch gadget running on Microsoft's Windows operating system, will be rolled out first, in February.
Acer did not provide information about pricing or carrier distribution for the tablets, and the products have not been officially named, the company said.
Also in the mobile space, app tracking firm Distimo reported on Friday that
paid apps at Microsoft's Windows Phone 7 store are the cheapest
among all the mobile application stores.
Microsoft shares closed down 12 cents, or 0.47%, at $25.25 on Friday.
--Written by James Rogers in New York.
>To follow the writer on Twitter, go to
http://twitter.com/jamesjrogers
.
>To submit a news tip, send an email to: