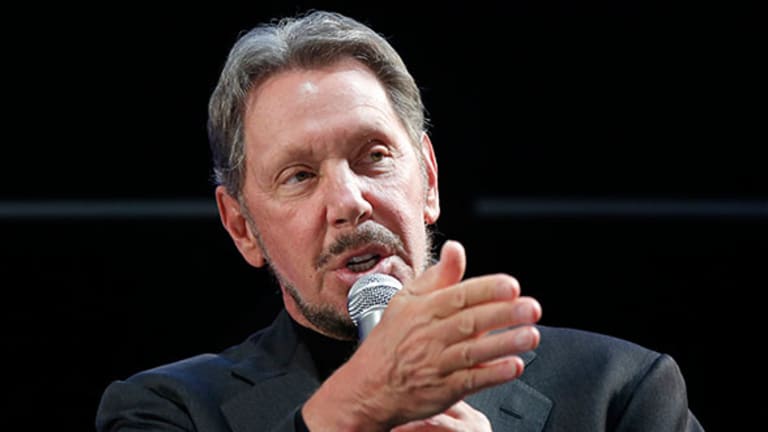 Oracle's Planned Acquisition of NetSuite Raises a Host of Troubling Questions
Product overlap and conflicts of interest abound for Oracle's $9.3 billion cloud acquisition.
Oracle's (ORCL) - Get Report latest cloud acquisition is easily the biggest in its history. It also perhaps raises more troubling questions than any of the others.
The enterprise software giant is buyingNetSuite (N) , a major provider of cloud ERP, e-commerce and (to a lesser extent) CRM apps for small and mid-sized businesses (SMBs), for $9.3 billion, or $109 per share, in cash. The price represents a 44% premium to where NetSuite traded going into July 12, when rumors of a deal first flared, and is equal to 7.6 times NetSuite's consensus 2017 sales estimate of $1.22 billion.
Even after accounting for the fact that NetSuite, like other growing cloud software firms, is reporting higher billings than revenue, the deal isn't cheap. And it could increase an Oracle debt balance that stood at $44 billion as of May 31.
A slew of enterprise cloud firms are trading higher following news of the deal. The list includes e-commerce software/services provider Shopify (SHOP) - Get Report, storage/file-sharing service provider Box (BOX) - Get Report, cloud HR/financials software leader Workday (WDAY) - Get Report, talent management software firm Cornerstone OnDemand (CSOD) - Get Reportand customer support software provider Zendesk (ZEN) - Get Report. A strong Q2 report from cloud IT service management software leader ServiceNow (NOW) - Get Report might also be helping.
Shopify, Cornerstone and Zendesk are all plausible buyout targets as the cloud software market continues consolidating. Re/code reported in March that Shopify made it onto a list of potential Google acquisition targets, and Cornerstone has been targeted by activist investor Praesidium Investment Management. And Zendesk's strong growth and technology strengths have sparked buyout speculation.
Oracle will work to boost NetSuite's sales by offering its software through its massive sales force and numerous channel partners. And in doing so, NetSuite could put Oracle on better competitive footing against SAP (SAP) - Get Report, the top player in the ERP software market and also a player in commerce and CRM apps; Microsoft (MSFT) - Get Report, which just announced a big revamp of its cloud business app lineup; and Salesforce.com (CRM) - Get Report, which is both the top player in cloud CRM apps and just bought commerce software firm Demandware for $2.8 billion.
The only problem is that those salespeople and channel partners are already selling Oracle's own cloud ERP, e-commerce and CRM apps. NetSuite has been more focused on SMBs than Oracle, which is more enterprise-focused. But NetSuite has been gradually moving upmarket, and Oracle has a meaningful SMB presence.
Mindful of such concerns, Oracle co-CEO Mark Hurd declared in today's buyout announcement that Oracle and NetSuite's apps "are complementary, and will coexist in the marketplace forever." And it should be noted the companies already have a partnership through which they offer Oracle's cloud HR apps and NetSuite's cloud ERP apps to mid-sized businesses. But there are still bound to be many situations where sales of NetSuite apps only serve to cannibalize sales of similar Oracle apps, and vice versa.
The acquisition also raises some pretty big conflict-of-interest questions, given that Oracle co-founder, chairman and top shareholder Larry Ellison was an initial investor in NetSuite, and (along with his family) owned 45.4% of the company as of March. NetSuite filings have said Ellison has "control over approval of significant corporate transactions."
The 44% premium being paid for NetSuite relative to its July 11 close boosts the value of the stake held by Ellison and his family by nearly $1.3 billion. Some of the Oracle shareholders who have objected to the company executive pay might also take issue with the NetSuite purchase.
Moreover, the fact that Oracle decided such a costly acquisition was necessary raises questions about what kind of shape its existing business is in, as cloud app and infrastructure adoption continues pressuring Oracle's on-premise software sales.
With the help of strong fiscal 2016 cloud bookings and the recent purchases of cloud construction software firm, Textura, and utilities software firm, Opower, Oracle expects its fiscal 2017 cloud app (SaaS) and app platform (PaaS) revenue to rise over 65% in constant currency. But the company's consensus fiscal 2017 revenue growth estimate was still only 2.4% prior to the NetSuite deal, amid expectations cloud growth would largely be offset by software license and hardware declines.
Sales growth estimates will now move higher, due to the revenue NetSuite will provide after the deal's closing. But there's a steep price attached to this growth, and the overlap existing between NetSuite and Oracle's product lines could make for a messy situation.