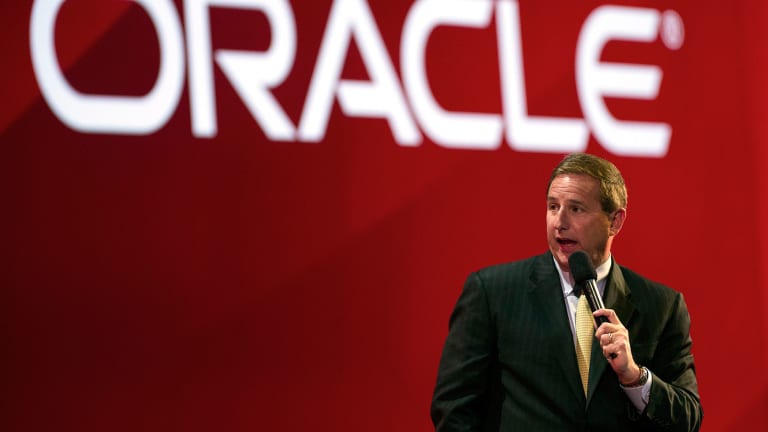 Oracle Gains on a Sales and Earnings Beat: 5 Key Takeaways
The enterprise software giant is rallying after beating estimates on the back of improved database demand and issuing guidance that was nearly in-line with analyst expectations.
Strong database license sales helped Oracle  (ORCL) - Get Oracle Corporation Report top Wall Street's subdued expectations.
On Wednesday afternoon, Oracle reported May quarter (fiscal fourth quarter) revenue of $11.14 billion (up 1% annually) and non-GAAP EPS of $1.16 (up 23%), beating consensus analyst estimates of $10.93 billion and $1.07. The company's billings, defined as its revenue plus the sequential change in its deferred revenue balance, came in at $11.51 billion (down 1.5%), above an $11.42 billion consensus.
Quarterly sales guidance is close to being in-line with expectations. On its earnings call, Oracle guided for its August quarter revenue to be flat to up 2% in dollars (in constant currency, guidance is for 1% to 3% growth), and for EPS of $0.80 to $0.82 (up 12% to 14%). That compares with a consensus for 1.4% revenue growth and EPS of $0.80.
Larry Ellison's company also reiterated guidance for its fiscal 2020 (ends in May 2020) revenue growth to be above its fiscal 2019 revenue growth on a constant currency basis, and for fiscal 2020 EPS to grow by a double-digit percentage in constant currency. For reference, Oracle's revenue rose 3% in constant currency in fiscal 2019 (it was flat in dollars), and the consensus is for fiscal 2020 EPS to grow 8% in dollars to $3.79. Research firm Gartner sees total enterprise software spending rising 7.1% this year and 8.2% next year.
Oracle's shares rose sharply in after-hours trading on Wednesday and were up about 6% to $55.80 in early morning trading on Thursday. Here are some key takeaways from Oracle's earnings report and call.
1. Software License Revenue Grew Strongly, With Databases Leading the Way
Oracle's cloud license and on-premise license revenue -- it covers traditional database and app licenses, as well as cloud database licenses -- rose 12% to $2.52 billion, easily beating a $2.32 billion consensus. The segment's top-line performance improved markedly from the February quarter, when its revenue fell 4%.
A healthy enterprise software spending environment appears to have given a boost to license revenue, which has been pressured in recent years by the adoption of cloud app subscriptions, but improved database momentum also played a role. On the call, co-CEO Mark Hurd said that Oracle's database license revenue rose by a mid-teens percentage, leading total database revenue (including support services) to grow by a mid-single digit percentage. He added that while Oracle's Autonomous Database, which includes features meant to automate routine management and security tasks, remained a small percentage of database revenue, it saw over 5,000 new trials on Oracle's cloud infrastructure.
2. 'Cloud Services and License Support' Revenue Was Flat
Oracle's cloud services and license support revenue -- it covers support services for traditional software licenses, cloud app (SaaS) subscriptions and to a lesser extent cloud developer and infrastructure services (PaaS and IaaS) -- came in at $6.8 billion, roughly flat annually and slightly above a $6.77 billion consensus.
On the call, Hurd said that Oracle's total annualized ERP and human capital management (HCM) SaaS revenue was up by a high-20s percentage to about $3 billion. No disclosure was provided for the company's CRM SaaS revenue.
3. Hardware and 'Services' Revenue Remain Under Pressure
After dropping 8% annually during Oracle's February quarter, hardware (server and storage) revenue fell 11% during the May quarter to $994 million. Both a sluggish enterprise hardware spending environment (it remains pressured by cloud infrastructure adoption) and share loss appear to be factors.
"Services" revenue, which covers IT services businesses outside of license support, fell 7% to $823 million.
4. Spending Cuts and Buybacks Continue Boosting EPS
Following a slew of reports and disclosures about Oracle layoffs in the U.S. and elsewhere, Oracle reported its sales and marketing spend was flat annually at $2.32 billion, and that its R&D spend was up 1% to $1.56 billion.
Another $6 billion was spent on stock buybacks. Co-CEO Safra Catz noted that $36 billion was spent to buy back 734 million shares (implied average price of about $49) over the previous 12 months, and that Oracle has cut its share count by nearly 25% over the last five years.
5. Capital Spending Is Expected to Pick Up a Bit
After spending $1.7 billion on capital expenditures in fiscal 2019, Oracle is guiding for fiscal 2020 capex of roughly $2.2 billion. Catz says this outlook "could move a little," depending on what Oracle's bookings look like.