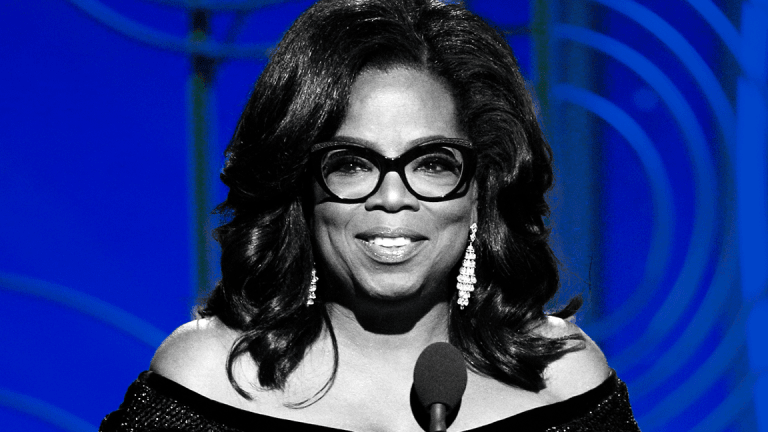 Oprah and Apple Ink Multi-Year Content Development Deal
Apple taps the Queen of All Media to rescue its online video efforts, showing that the company can still snag megawatt talent when it needs to.
Can Oprah turn around Apple's underwhelming original content? 
On Friday,  (AAPL) - Get Apple Inc. Report announced a development deal with the mega-star to create a slate of original programs to punch back against (NFLX) - Get Netflix Inc. Report , (AMZN) - Get Amazon.com Inc. Report , Hulu and others in the increasingly crowded online video market. 
To date, Apple's online video offerings have been disappointing. The company spent $1 billion on original content in 2017, but original projects like "Planet of the Apps" and "Carpool Karaoke: The Series" failed to find audiences. Delivered through iTunes, many of Apple's initial slate of shows focused on music, and were interpreted as a strategy to break away from Spotify by featuring video.
Dismissed as dabbling, Apple's first slate of shows failed to make a splash. Even CEO Tim Cook described it as such on an earnings call in 2017, saying Apple was merely dipping a "toe in the water" into online video.  
A lot has changed since then, however. The recent merger between AT&T and Time-Warner  is expected to spark a new round of content deals, with tech companies chasing an even bigger target: cable TV. Apple is placing its chips on Oprah's "incomparable ability to connect with audiences around the world," the company said in a statement. Apple didn't go into much detail about the deal, other than describing it as a "unique, multi-year content partnership" to create shows as part of a broader lineup of original programming from Apple. Bloomberg reported that Oprah will appear on-air and as a producer.
Apple has also inked development deals with comedian Kristen Wiig, producer J.J. Abrams and Steven Spielberg. It's not clear yet how they'll deliver the shows, whether they will coincide with an update to Apple TV, or as part of a new subscription bundle to rival Netflix or Amazon.
"It's an arms race in content, and we expect that to continue to accelerate," GBH analyst Daniel Ives told The Street.
Despite the Apple's strong overall performance -- it's on track to becoming the first company ever to reach a trillion-dollar market cap -- CEO Tim Cook is nonetheless criticized for falling behind on big trends like online video, artificial intelligence and voice assistants.
Take Siri, the early star of the voice assistant world. Siri's profile has been eclipsed by Alexa, with the breakout popularity of Amazon's Echo devices. Apple's counterpart, HomePod, has barely made a splash so far.
Cars are another category where Apple has seemingly waned in the face of rivals like Google's Waymo, GM (GM) - Get General Motors Company Report and Tesla (TSLA) - Get Tesla Inc. Report . It launched an ambitious effort to build an autonomous car from scratch back in 2014, but the project fell apart within two years, the New York Times reported.  In the cases of both Siri and Project Titan, reports blamed internal management issues for stifling progress on the projects.
Don't underestimate the company's ability to draw star talent when it needs to, though. This week, Apple's stalled car projects showed signs of new life when they poached Waymo's lead systems engineer to work on vehicle prototypes. In May, they also reportedly signed a deal with Volkswagen integrating the carmaker's T6 Transporter vans with Apple software to build a self-driving shuttle for employees. 
Apple's $267 billion cash reserves and unwavering popularity with consumers likely mean that it's never safe to count the company out entirely -- at least when it comes to bringing heavy hitters into the fold. 
Apple shares fell $1.96, or 1.03%, to close at $188.84.
Amazon and Apple are holdings in Jim Cramer's Action Alerts PLUS member club. Want to be alerted before Jim Cramer buys or sells Apple or Amazon? Learn more now.
Employees of TheStreet are restricted from owning individual equities.