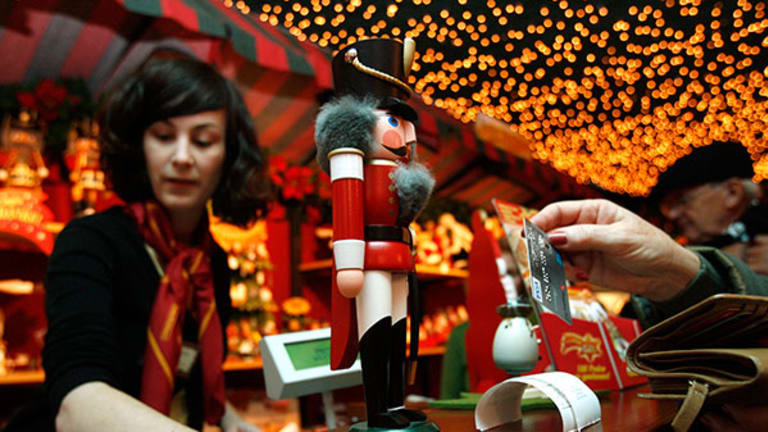 Online Holiday Spending Expected to Reach $61 Billion, Mobile Spending up 25%
comScore predicts that digital holiday spending, driven by mobile, will grow 16% over last year and Cyber Monday will repeat as the heaviest online spending day in history.
Updated from Nov. 25 to include additional information in the seventh paragraph.
SAN DIEGO, CALIF. (TheStreet) -- The online holiday shopping season will be a record-setting one with consumers spending a total of $61 billion from their desktop computers and mobile devices this year, according to Internet analytics firm comScore (SCOR) - Get comScore, Inc. Report , which Tuesday announced its digital commerce forecasts for the season.
The holiday commerce figure, which represents online buying during November and December, is up 16% over last year and includes $7.9 billion in purchases from shoppers on mobile devices. Mobile commerce, according to comScore's calculations, will grow 25% over 2013 and account for 13% of total online holiday spending this year, its highest percentage ever. During the calendar fourth quarter, mobile spending will surpass $10 billion for the first time ever.
The analytics firm defines "digital commerce" as the sum of all worldwide buying on U.S. sites -- excluding travel, auto, and auction sites -- from desktop and mobile devices. The firm's forecast reflects data collected from its panel of 2 million people and traffic from 1 million domains. The firm's e-commerce findings were shared during a Tuesday afternoon conference call hosted by the research department of Suntrust Robinson Humphrey. 
Growth in digital commerce sales outgrew offline retail sales by a factor of four in the third quarter, comScore Chairman Gian Fulgoni said on the call. More than $1 of every $10 of consumers' discretionary expenditures is now spent on online, he added.
Particularly of note this holiday season, Cyber Monday will live up its namesake and repeat as the heaviest online spending in history as consumers will spend upwards of $2.45 billion -- more than $2 billion on desktop and $450 million on mobile -- this year. Thanksgiving Day is also expected to sneak its way into the fold of important digital shopping days and bring in at least $1 billion from desktop and mobile purchases, according to comScore's forecast.
"With many retailers opening their doors on Thanksgiving Day in recent years, this has established an expectation with some consumers that it's OK to begin their holiday shopping in earnest on that day," Fulgoni said in a statement. "However, with some retailers reversing course and opting this year to keep their doors closed and promote online deals instead, we may see another exceptionally strong year of growth in online buying on Thanksgiving which could push sales as high as the $1 billion mark on that day -- which would certainly be a far cry from 2008 when we saw barely a quarter-billion in spending."
Turkey Day, as it turns out, is just the beginning of a $1 billion-per-day online shopping frenzy. comScore anticipates that all of the 13 weekdays from Cyber Monday to Dec. 18, a popular promotional holiday known as "Free Shipping Day," will see shoppers spending at least $1 billion online.
If there any downsides to comScore's findings it's that the record-setting e-commerce season will be held back by the fact that there are just 27 calendar days from Thanksgiving to Christmas, which is one more day than in 2013 but five short of a maximum possible 32 days as witnessed in 2012.
As far as retailers go, Amazon (AMZN) - Get Amazon.com, Inc. Report  looks to be the clear leader with digital consumers thus far. The analytics firm measured a total of 176 million unique visitors to the online retailer across desktop and mobile during the month of October, versus 106 million visitors for number-two eBay (EBAY) - Get eBay Inc. Report. In the first part of the holiday shopping season, Nov. 1 through Nov. 23, Amazon ranked as the top retail site in terms of desktop visitors. 
The retailer to watch, however, will be newly public Chinese e-commerce company Alibaba (BABA) - Get Alibaba Group Holding Ltd. Report , which comScore's Vice President of Marketing and Insights Andrew Lipson called out as the twelfth most visited retail site thus far this holiday season.
On the social commerce front, however, Facebook (FB) - Get Meta Platforms Inc. Class A Report and Twitter (TWTR) - Get Twitter, Inc. Report , and their new "Buy" buttons, will have little impact on driving direct online holiday sales. Consumers aren't necessarily in the buying mindset when they visit social networks, Lipson said. The impact of Facebook is much greater in its ability to lead to purchases later on, Fulgoni added.
--Written by Jennifer Van Grove in San Diego, Calif.
>Contact by Email.