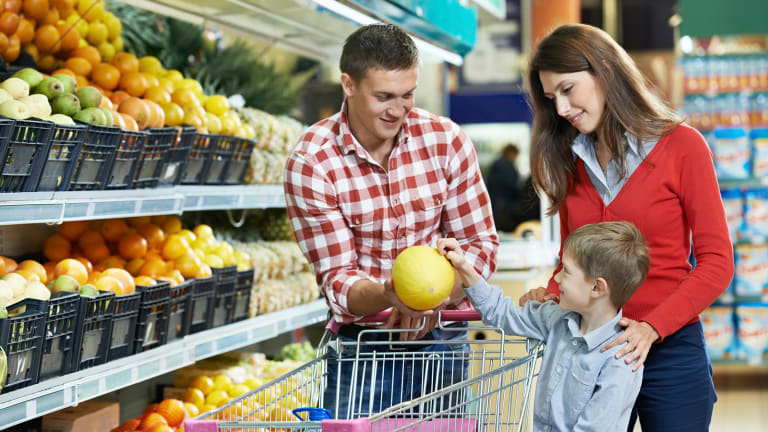 NEW YORK (TheStreet) -- Amazon (AMZN) - Get Amazon.com, Inc. Report and Google (GOOGL) - Get Alphabet Inc. Class A Report seem to have been wise to tap into the online groceries market, which appears to be showing growth, according to a recent survey from Nielsen.
One quarter of consumers now order grocery products online, according to the survey, and 55% are willing to do so in the future. Nielsen surveyed online consumers in 60 different countries to get a sense of where the online grocery industry stands.
Among respondents to the survey, 14% said they use an automatic online subscription service that replenishes orders at a specified frequency, and 54% said they'd be willing to do so in the future.
Many traditional grocers such as Tesco are realizing the potential here, creating online offerings of their own, but tech companies like Amazon and Google are sweeping in to grab a share of the market as well.
Amazon launched Prime Now as a way for consumers to receive non-perishables within an hour, and AmazonFresh delivers fresh grocery and local products within 24 hours. Google too launched Google Shopping for same day delivery of non-perishables, but it has yet to tackle perishables.
Prime Now is part of Amazon's $99-a-year service, Amazon Prime. AmazonFresh costs users $299 a year, but also includes access to Amazon Prime.
"Groceries present an attractive category due to the frequency of purchase -- it is a way to ensure audience and website visitation for the 'digital native' companies," said Josh Goldman, global leader of digital shopping at Nielsen.
Nonetheless, Google, Amazon, Instacart, Postmates and any newer entrants into the online groceries market face serious challenges, Goldman noted. For instance, there are nuances  related to handling fresh, frozen, breakable, and heavy items that Amazon and Google will need to be aware of when delivering groceries.
Assuming they can master the minutiae involved with online groceries, however, Amazon and Google will find themselves in the hunt for pieces of a large audience. The online grocery market in the U.S. alone is currently valued at $11 billion, according to IBISWorld, and growing more than 14% annually.
As young people grow up in a digital-first world, expecting everything to be available online, the popularity of online grocery shopping will only continue to grow.
For instance, 30% of millennials (ages 21-34) and 28% of Generation Z (ages 15-20) respondents said they order groceries online, compared with 22% of Generation X (ages 35-49), 17% of baby boomers (ages 50-64), and 9% of the silent generation (ages 65+).
"The two youngest generations have grown up expecting 'all things' are possible through digital, so why not some of their weekly staples from a grocery trip?" Goldman said.
Asia-Pacific respondents were ahead of their peers on this trend, according to the Nielsen survey: 37% of Asia-Pacific respondents -- and 46% of Chinese respondents -- said that they order groceries online. The percentage of respondents willing to do so in the future was 60% in the Asia-Pacific region, 60% in Latin America, 59% in the Africa/Middle East region, 45% in Europe, and 52% in North America.
A few factors that may be contributing to the fast growth of the trend in the Asia-Pacific region are high population densities (which makes home delivery more appealing), low labor costs, high smartphone usage, and food safety concerns.
Still, it's important to note that bricks-and-mortar grocery stores are nowhere near obsolete, with 61% of respondents enjoying actually visiting a grocery store and 57% viewing a grocery store visit as a fun outing for the family.
"There will always be some shopping occasions that consumers might feel warrant an in-store experience--for example, shopping for items they need immediately, like medicines or for those they feel they need to touch or smell before buying," Goldman said. "There are also some things retailers can do to increase in-store sales for example, they can offer coupons from an app that pings consumers when they are in the store."