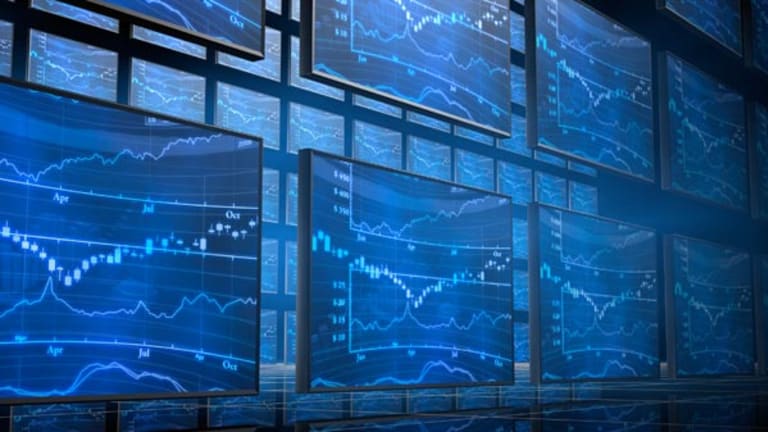 Obamacare's Biggest IT Winners
Five tech companies in particular are most likely to gain from Obama's multibillion-dollar health care plan.
WASHINGTON (
) -- President Obama has vowed to
drag
U.S. health care into the 21st century, allocating billions of stimulus dollars to streamline the nation's byzantine health systems. With big financial incentives being dangled in front of doctors and other providers, more than
$20 billion
will be spent on electronic medical records, the cornerstone of a massive health IT overhaul. Here are some of the stocks most likely to reap the benefits of Obama's ambitious health care agenda.
McKesson
Like many big-name health care IT firms,
McKesson
(MCK) - Get McKesson Corporation Report
sells a slew of technologies, from electronic medical records to imaging, finance and Electronic Resource Planning (ERP) systems.
"It will be interesting to look into the $20 billion and see how much of it is for electronic medical records and how much is
spent on the devices
they connect to," Martin Tobias, a VC at
Ignition Partners
and CEO of
Kashless.org
, told
TheStreet
. "A lot of these records systems need to communicate with other devices in the hospital for importing and exporting X-rays, for example, and test data out of the lab."
Obama's CTO Predicts Health IT Payday
Unsurprisingly, McKesson CEO John Hammergren can't wait for the stimulus dollars to find their way to surgeons and hospitals.
"While the economy continues to affect provider purchasing, the stimulus is creating new energy in our customer base, with particularly strong interest in our clinical offering," he said, during McKesson's recent first-quarter conference call. "More than fifty percent of our health systems customers have completed their stimulus readiness assessment or are in the process of doing so and we are engaging them in the implementation planning."
McKesson's first-quarter revenue was flat compared with that in the same period last year, impacted by the loss of some U.S. pharmaceutical distribution customers. Strong cost controls, however, pushed the company's profit up.
Although McKesson is one of the biggest players in this space, it will be vying for business with a slew of competitors, predicts James Brehm, senior consultant at analyst firm Frost & Sullivan.
"I'm sure that companies like McKesson,
3M
, and
GE
(GE) - Get General Electric Company Report
Healthcare will be among the traditional Health care/IT companies to benefit," he wrote, in an email to
TheStreet
. "Electronic Medical Records and improving patient management will be key for organizations that can capitalize from the President's new health care plan."
The analyst also expects some of Washington's dollars to flow through to partners to other tech stocks such as
Motion Computing
,
Panasonic
and
Intel
(INTC) - Get Intel Corporation Report
.
IBM
Frost & Sullivan's Brehm thinks that
IBM
(IBM) - Get International Business Machines Corporation Report
is well positioned for the health care stimulus.
"If you want a good case study, look closely at IBM," he wrote in an email to
TheStreet
. "IBM Global Financing, the lending and leasing unit of IBM, has already stepped up, making up to $2 billion available to finance IT initiatives in key economic stimulus areas."
This could be a shrewd move.
"This puts them to the head of the class because, although it is designed to help health care organizations move ahead with IT projects that will improve their infrastructure, it helps them secure new business as we move through the economic recovery," Brehm said.
IBM CEO Sam Palmisano has been a vocal supporter of Obama's stimulus package, and Big Blue has a significant health care business. In addition to finance offerings from its
Cognos
acquisition, the firm provides security, compliance and server optimization technologies.
Big Blue also has an eye on the future, when individuals could upload their medical information into
secure private clouds
. IBM, for example, has already teamed up with
Google
(GOOG) - Get Alphabet Inc. Class C Report
and
Continua Health Alliance
to move data from personal medical devices into the search giant's Google Health offering.
GE
Unlike IBM, GE's healthcare division also provides specialist medical devices for radiography, imaging and electrocardiogram testing. Already well known in the medical sector, GE can tout a total "solution" encompassing medical records systems and the actual devices that collect the data.
GE has already suited up for the brave new world of digital IT, buying electronic records specialist
MedicaLogic
back in 2002 and more recently signing a
pact
with Intel to build home health care devices.
This could be a smart deal. With health care firms attempting to reduce expensive hospital stays, analyst firm DataMonitor estimates that the home health monitoring market will grow from $3 billion this year to $7.7 billion by 2012.
In GE's recent second-quarter, however, health care revenue felt the impact of soft demand and pricing pressure, although the firm saw good growth from outsourcing services.
It is also worth noting that the U.S. is not the only country with an ambitious stimulus agenda, and major health care projects are under way in places like India and China. Globally, stimulus packages could be worth around $190 billion, according to GE CEO Jeff Imelt.
GE has nonetheless been laying the foundations to support Obama's health care plan, recently launching a program called 'Stimulus Simplicity', which provides interest-free funding for organizations deploying electronic medical records.
Cerner
Cerner
(CERN) - Get Cerner Corporation Report
, regarded as one of the leaders in health care IT systems, touts a slew of products for hospitals, physicians, home care and life sciences. The company calculates that the The American Recovery and Reinvestment Act will pump a massive $53.7 billion into the U.S. health care market, and it could easily grab a slice of this money.
The firm put out an impressive set of
at the end of July, with earnings rising 24% to $44 million, or 52 cents a share. Cerner's revenue increased marginally to $404 million, although its operating margin stretched from 15% to 16%.
These numbers highlight Cerner's financial health at a crucial time for the company.
Intriguingly, a larger portion of Cerner's second-quarter revenue came from maintenance and services than system sales compared with the prior year's quarter, a sign that hospitals are not buying new computer systems. This, however, may be the calm before the storm, although the firm did reduce its third-quarter revenue forecast, suggesting that it could be some time before Washington's dollars start to flow.
Cerner and its rival
Computer Programs and Systems
(CPSI) - Get Computer Programs and Systems, Inc. Report
(CPSI) are nonetheless well positioned, according to Raj Prabhu, managing partner of Mercom Capital Group, which specializes in health care research.
"Like McKesson, these guys are on the hospital side," he told
TheStreet.com
, adding that customers will soon know what systems they can buy. The U.S. government is currently laying out its criteria for what constitutes "meaningful use" of electronic records, according to Prabhu, who says that this should be in place in October or November.
EMDEON
Although hardly a household name, the e-billing company has been making waves recently.
Emdeon
(EM)
made an impressive start to its first day of trading as a
earlier this month, with shares quickly surging past their $15.50 offering price.
Emdeon handled half of all the electronic health care transactions in the U.S. last year, and is seen as well positioned to exploit Obama's ambitious
health care agenda
.
"It's a very user-friendly, streamlined system that's easily installed and their numbers are quite compelling," Scott Sweet, principal researcher at analyst firm IPO Boutique, recently told
TheStreet
. Some 92 % to 95% of the company's revenue is recurring, he added.
--Written by James Rogers in New York
Emdeon clinched sales of $444.4 million during the first six months of 2009, up from $422.9 million in the same period last year. If this continues, then the next few years could spell big money for the firm.
Follow TheStreet.com on
and become a fan on