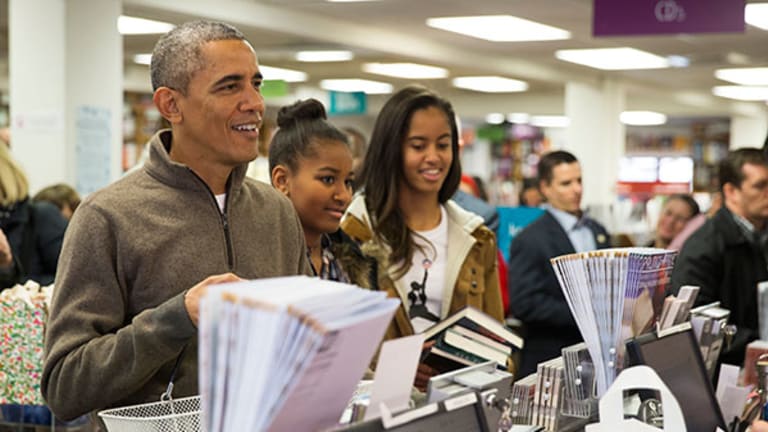 Obama Turns to Apple, Microsoft, Others for Cyber-Diplomacy with China
The Obama administration is now focusing on the tech sector to find common ground with the Jinping government.
NEW YORK (TheStreet) -- U.S. diplomats are honing in on two main objectives regarding cyber-relations with China, as part of Chinese President Xi Jinping's trip to the U.S. this week: They want China to stop stealing trade secrets from U.S. companies, and they want civilian infrastructure like ports and power plants taken off the table as a permissible target of cyber attack.
"We want to see behavior changes in these areas," said former U.S. diplomat Peter Harrell, who negotiated with China on third-party issues including Iran, in an interview with TheStreet. "Cyber is absolutely a top-tier issue."
While Chinese hacking against the U.S. military and civilian agencies like the Office of Personnel Management - a hack that affected the professional records of 22 million people in June - have posed a recurring problem for U.S. diplomats, the Obama administration is now focusing on the private sector to find common ground with the Jinping government.
That's not only because of all the money there is to be made by both countries' opening up their technology markets to each other. More directly, it's because almost all the combatants in cyberspace are companies - not countries.
"The cyber-fight is in the private sector," said Jamie Barnett, a retired rear admiral in the U.S. Navy and head of the cyber-security practice at Washington law-firm Venable. "You can't call in the cavalry or do bombing runs, because the private sector is where your troops are."
That means the commanding officers in cyberspace are CEOs rather than generals. Accordingly, top tech executives like Tim Cook of Apple (AAPL) - Get Report and Satya Nadella of Microsoft (MSFT) - Get Report will meet with their Chinese counterparts as part of the proceedings.
China will bring execs from Alibaba (BABA) - Get Report , Baidu (BIDU) - Get Report , Tencent (TCEHY) and Lenovo (LNVGF) , as well as the heads of a few major Chinese banks.
"The executives are crucial and they make a difference," said former U.S. Secretary of Commerce Mickey Kantor in an interview. "I find it surprising they don't want to spend more time together than they do. There are so many economic opportunities to take advantage of."
Diplomats are hoping the good will built up in meetings will translate into fewer attacks once the CEOs return to running their businesses. They want to see incidents like the 2014 Sony (SNE) - Get Report hack, which was officially attributed to North Korea and resulted in the firing of studio executive Amy Pascal, disappear altogether.
Spirits are high for a good outcome as the frequency of attacks is said to have diminished in the weeks leading up to Jinping's visit, according Paul Rosenzweig, a security consultant and former deputy assistant secretary of policy in the Department of Homeland Security.
Perhaps the best-case scenario is that Jinping's trip will reinvigorate the official discussions about aggression in cyberspace that were derailed in May 2014 by the indictment of five Chinese military hackers for trying to access protected computers in U.S. nuclear power and metals companies. The Justice Department charged the individuals with economic espionage, trade secret theft and identity theft, among other crimes.
If the meeting produces lackluster results, however, and tensions rise once again, a more definitive response is expected from Obama, who signaled in August that he intended to use economic sanctions against Chinese companies that have benefited from stolen U.S. trade secrets.
More than anything, security experts want to see a standardization of behaviors beyond the retaliatory aggression that has come to define U.S.-China relations in cyberspace.
"After the Sony hack," said Venable's Barnett, "all of a sudden North Korea was having problems with its internet. We need to define laws and traditions instead of doing damage."