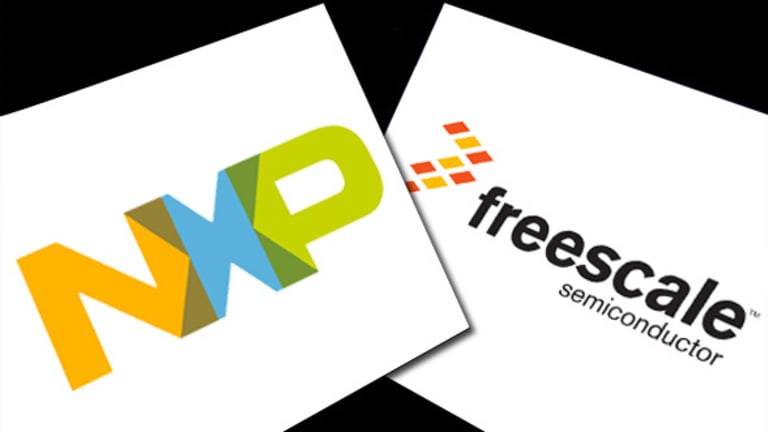 NXP Semiconductors Plunges on Huge Miss: What Wall Street's Saying
NXP Semiconductors shares are plunging on shy revenue and guidance, but many analysts say now is the time to buy in.
Wall Street analysts are seeing the dramatic plunge in NXP Semiconductors (NXPI) - Get Free Report shares following its third-quarter results as an ideal buying opportunity.
NXP Semiconductors, a semiconductor company that supplies chips for Apple's (AAPL) - Get Free Report iPhone 6 phones, as well as other devices, reported third-quarter net income of $1.57 per share, up from $1.35 per share in the prior year period and higher than the $1.49 per share Street estimate.
But the company's third-quarter revenue, which missed estimates, and guidance, are sending NXP's shares into a tailspin.
Shares were down nearly 19% in early Thursday trading, falling to $74.51. Despite the enormous drop, shares shares are still up about 3% over the past twelve months, though they've underperformed the broader NASDAQ.
For the fourth quarter, NXP Semiconductors said it expects total revenues to be down in the low to upper-teens range from total revenues for the third quarter.
Here, in their own words, are some of the reasons why Wall Street analysts are so bullish on NXPI stock after its third-quarter results:
Canaccord Genuity analyst Matthew D. Ramsay (Buy, $130 PT)
"Amidst a weaker macro environment, NXP reported solid Q3/15 results with revenue just below, but EPS above our estimates and consensus. However, citing a weakening macro environment, conservative channel inventory management, and also excluding the sale-pending HPRF business, Q4/15 guidance was well below our expectations across all divisions. Overall, we continue to believe NXP is fundamentally the best positioned mixed-signal semiconductor firm, regardless of market cap. Incorporating the effects of the pending highly accretive Freescale merger, our thesis changes little. We believe the companies' product portfolios are complementary, particularly in automotive and IoT, and should allow for considerable cost synergies, pushing operating margin toward 30% once fully integrated with considerable pro forma free cash flow feeding a resumed buyback program mid-2016. That said, for a company that has executed near flawlessly over the last couple years, this significantly underwhelming guide raises concern."
Jefferies analyst Mark Lipacis (Buy, $116 PT)
"NXP's 3Q15 EPS of $1.57 beat by $0.07 as lower sales were offset by better gross margins and opex. NXP's 4Q15 sales outlook of -15% QoQ implies EPS of $1.07, below consensus $1.52. NXP's outlook is of particular concern as it stands out among most semis reporting improving results. We expect the outlook to be the key focus of NXP's earnings call. NXP's merger with FSL is still pending. See: Acquiring FSL: We estimate $0.40 to $1.40 Accretive Beats 3Q15 EPS. NXP's 3Q15 sales of $1,522m were slightly below consensus $1,550m. Gross margin of 49.1% was above consensus 48.8%, resulting in EPS of $1.57, above consensus $1.50. Missed 4Q15. NXP expects 4Q15 sales to decline "low to upper teens" QoQ, implying $1,294m at the -15% QoQ midpoint, below consensus $1,587m. Gross margin outlook of 49.0% is above consensus 48.6%."
Deutsche Bank analyst Ross Seymore (Buy, $120 PT)
"NXP Semiconductors (NXPI) - 3Q First Look: Poor 4Q guidance begs many questions NXPI reported 3Q15 revenue of $1.52b (+1% q/q), at the low-end of guidance range of up +1-5% q/q, and below DBe/Street estimates at $1.55b (+3%). High Performance Mixed Signal (HPMS) revenue grew +2% q/q (below DBe +4%) to $1.16b with the largest delta to DBe from the SCD segment. Secure Connected Devices (SCD) revenue increased +15% q/q (DBe +20%), while Automotive revs declined -1% q/q (DBe +0%). Secure ID Solutions (SIS) revenue increased +5% in-line with DBe +5% and Secure Interfaces & Power (SIP) revs declined -11% q/q (vs. DBe -9%). Standard Products revenue was up +1% q/q at $325m (DBe +3%), and Corporate/Other revenue came in at $33m. Gross margin (incl SBC) of 48.9% (+40bps q/q) was slightly above DBe of 48.6%, with opex (incl SBC) of $334m well below DBe at $353m, resulting in PF EPS of $1.57 above DB/Street at $1.51/$1.50."
Oppenheimer analyst Rick Schafer (Outperform, $115 PT)
"Wednesday evening NXP delivered 3Q sales of $1.52B, modestly below the Street's $1.55B estimate, but EPS of $1.57 exceeded expectations on better GM and OM. Unfortunately, 4Q sales were guided down a surprising "low to upper-teens range," which at the midpoint of down 15% Q/Q, implies sales of $1.29B, well short of the $1.59B Street estimate and our own $1.56B estimate. Directionally, we anticipated 4Q would be soft; however, the magnitude of the 4Q revenue shortfall caught us off guard. Mgmt attributed the revenue shortfall in 4Q to "increased" demand uncertainty. Below-planned sell-through has led to excess channel inventory. While investors will likely take time to digest this news, ultimately we anticipate estimates will move lower Thursday. We await NXP's earnings call at 8am Thursday for more color before formally updating our model."
Credit Suisse analyst (Restricted)
"Samsung reported C3Q Rev/EPS, slightly above the preannounced results in early October. More importantly the company announced a W11Tn (~5% of market cap) capital return program which is the largest in Company's history - and indicated a commitment to return 30-50% of FCF over next three years, to shareholders. We view this is another sign that memory industry is very different now, and the companies are comfortable returning cash to shareholder. Our Key Takeaways (i) The company grew C3Q DRAM bits in-line with guidance of mid-teens, and grew NAND bits at low teens versus guidance of mid-teens. The company also maintained expectation of industry bit growth of 20-25% in CY15 (versus 25% at beginning of year)."
This article is commentary by an independent contributor. At the time of publication, the author held no positions in the stocks mentioned.