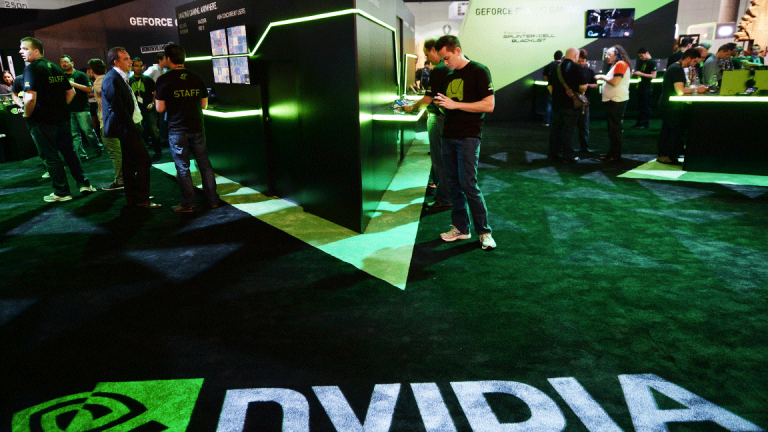 Nvidia Reports Earnings on Thursday: 7 Important Things to Watch
Cloud demand, gaming GPU trends and Mellanox deal commentary are among the things worth watching as the GPU giant reports.
After falling sharply during the last three months of 2018, Nvidia's (NVDA)  once high-flying stock has only recovered a fraction of its losses thus far in 2019, and is heading into earnings close to where it traded two years ago.
That points to subdued expectations for the GPU giant heading into its July quarter (fiscal second quarter) earnings report, which arrives after the bell on Thursday. On average, analysts polled by FactSet expect revenue of $2.55 billion (down 18% annually) and non-GAAP EPS of $1.15 (down 35%). For the October quarter -- Nvidia provides sales guidance in its reports -- the consensus is for revenue of $2.98 billion (down 7%).
TheStreet will be live-blogging Nvidia's report, along with an earnings call that starts at 5:30 P.M. Eastern Time. Here are some things for investors to keep an eye on.
1. Demand from Cloud Giants
A capital spending slowdown among cloud giants and inventory-clearing efforts by enterprise hardware OEMs have been weighing on the sales of Nvidia's Datacenter segment, which covers the company's sales of server GPUs and systems/platforms featuring its GPUs. As a result, Datacenter revenue fell 10% annually during Nvidia's April quarter to $634 million, and the July quarter consensus is for segment revenue to be down 12% to $671 million.
However, while enterprise hardware spending looks soft, firms such as Intel (INTC) and Seagate  (STX) have indicated cloud demand will improve during the second half of the year. In addition, Micron (MU) , which is a major graphics DRAM supplier to Nvidia, said on Monday that it's seeing improved demand from cloud and graphics clients. For now, the consensus is for Nvidia's Datacenter revenue, which has benefited a lot from growing AI-related investments by cloud giants, to be down 1% in its October quarter and (amid easier annual comparisons) up 24% in its January quarter.
Nvidia is a holding in Jim Cramer's Action Alerts PLUS member club. Want to be alerted before Jim Cramer buys or sells NVDA? Learn more now.
2. Gaming GPU Demand
Nvidia's Gaming segment revenue, which is driven by sales of of gaming GPUs and game console processors, fell 39% annually in the April quarter to $1.06 billion amid lower Nintendo Switch processor sales and (notably) channel inventory-clearing efforts that followed a collapse in demand from cryptocurrency miners. Near-term expectations remain low for the segment: The consensus is for its sales to be down 28% to $1.29 billion in the July quarter, and down 11% to $1.57 billion in the October quarter.
The end of inventory-clearing efforts -- Nvidia has signaled this will happen either in its July or October quarter -- should provide the segment with a lift going forward. Growing demand for notebook gaming GPUs (not affected by crypto demand) should also help, as should the steady growth seen in the number of games supporting the real-time ray tracing abilities of many of Nvidia's Turing-architecture GPUs. On the flip side, AMD's (AMD) recent launch of desktop gaming GPUs based on its new Navi architecture (they lack ray-tracing support, but are aggressively-priced) provides Nvidia with tougher mid-range competition.
3. 'OEM and IP' Revenue
Nvidia's OEM and IP segment covers sales of non-gaming GPUs to PC OEMs and others, as well as intellectual property revenue. The segment's near-term sales could be getting a lift from a recent pickup in PC shipments as companies tried to get ahead of new tariffs on Chinese imports, as well as some improvement in demand from crypto miners thanks to the recent rally seen in Ethereum and other GPU-mined cryptocurrencies.
Nonetheless, analyst expectations are low. The consensus is for OEM and IP revenue to be down 10% in the July quarter to $104 million.
4. Workstation GPU Sales
This has been a relative strong point for Nvidia, as sales of the company's Quadro workstation GPU family has benefited from last year's launch of the Quadro RTX GPU line (it supports real-time ray-tracing) and growing demand for using GPUs to accelerate workloads in areas such as data science/analytics and AR/VR content creation. In May, Nvidia launched Quadro RTX GPUs for mobile workstations, and also unveiled Nvidia Studio, a content-creation platform that features its GPUs and a related software stack.
For the July quarter, the consensus is for Nvidia's Professional Visualization segment revenue, which covers Quadro GPU sales, to be up 6% to $297 million.
5. Inventories
Nvidia had $1.43 billion worth of inventories at the end of its April quarter, up 79% annually in spite of a 31% revenue drop. As a result, its days sales of inventory (DSI) came in at 140 days, down by 3 days sequentially but up by 76 days annually. It's worth keeping an eye on how inventories and DSI trended in the July quarter.
6. Stock Buybacks
Though Nvidia didn't repurchase any shares during its April quarter, the company reiterated in May that (inclusive of $797 million spent during its January and April quarters) it expects to spend $3 billion on buybacks and dividends through the end of fiscal 2020 (it ends in Jan. 2020). As a result, buybacks might have boosted Nvidia's July quarter EPS a little.
7. Mellanox Commentary
When it was announced in March, Nvidia said it expects its $6.9 billion, $125-per-share deal for high-speed data center interconnect provider Mellanox Technologies  (MLNX) to close by the end of calendar 2019. However, with Mellanox's shares still trading $17 below the deal price, many investors remain on edge about a potential rejection by Chinese regulators amid ongoing trade tensions. As a result, any comments shared during Nvidia's call about how the approval process for the deal is going will get close attention.
Behind the Label:Nvidia Is Building the Future. How Did It Get There?