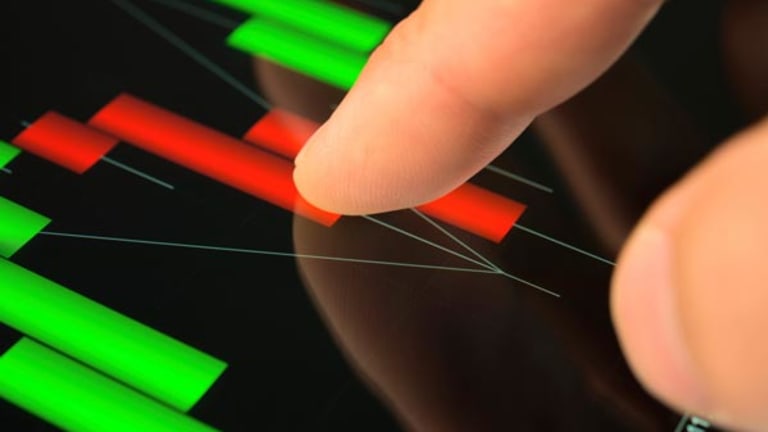 Nvidia May Get Bigger Boost From Tablets
Qualcomm and Intel are in front in the chip market, but Nvidia could perform better than many expect.
NEW YORK (TheStreet) -- The market for chips powering tablets and next-generation smartphones is heating up. Tablet sales are expected to exceed 100 million within the next two to three years.
Although
Qualcomm
(QCOM)
currently has the lead and
Intel
(INTC)
has placed intense focus on this market,
Nvidia
(NVDA)
is providing competition. But can Nvidia be a major player in powering mobile devices in an increasingly competitive market?
ARM
(ARMH)
-based chips are transitioning from powering the majority of smartphones into powering tablets as well. (Even
Apple's
(AAPL)
A4 chip powering the iPhone/iPad is ARM-based.) Qualcomm's SnapDragon has long powered many of the of the leading smartphone devices. But Nvidia, with its ARM-based dual core Tegra chip, is increasingly becoming the go-to destination for next-gen tablets, and even some high-end smartphones. (
LG
recently announced Tegra will power its soon-to-be-released tablet running a new version of Android.)
Nvidia, long known for its graphics processors, gambled on the emergence of new mobile devices requiring both processor and graphics capability. It licensed the ARM core and built a graphics engine into a chip set it promoted as being the most advanced low-power graphics-enabled processor available.
However, its efforts for the past year have gone largely without major success in the smartphone arena. (It did have a major win in
Microsoft's
(MSFT)
KIN smartphones, but the devices failed to sell and were pulled off the market within weeks of launch.)
But tablets have larger screens and are much more media-centric than phones, and Nvidia's recent move to dual core and its enhanced graphics capability means it is finding new respectability. Its primary competitor, Qualcomm, has been successful with the SnapDragon in smartphones, but has fallen behind Nvidia in graphics and dual core. (Qualcomm will ship one shortly.)
And Qualcomm's reliance on a licensed graphics core from Imagination Technologies (which licenses its graphics cores to most ARM producers, including Apple and Intel) means Qualcomm does not completely control its own destiny. But Qualcomm's relationships with most of the smartphone vendors, and the fact that most smartphone vendors will also ship tablets shortly, may give it an incumbent's advantage.
In the race for tablets, there are few chip providers that will be successful in the long term. The race is actually between ARM-based and Intel-based architecture. Clearly, Intel's Atom chips own the market for any Windows-based tablet, since Windows does not currently support anything but Intel architecture (although Windows Phone 7 does run on ARM and could eventually make its way to tablets). But other than Apple's iPad, the vast majority of tablets will run Android, which runs very happily on ARM-based devices. (Intel has also ported Android to the Atom chip.) And graphics performance will increasingly become a product differentiator.
There is no shortage of current contenders in the chip wars. The ARM-based battle lies primarily between Nvidia and Qualcomm at this point, with Nvidia having an edge in graphics capability.
Marvell
(MRVL)
has made some gains with its ARM-based processors, a business it bought from Intel several years ago, but so far has had less impact in the tablet market than it has had in phones.
Samsung
has its chips powering its own successful Android devices.
Texas Instruments
(TXN)
,
Freescale
and others have done well in phones but have minimal presence in the current tablet battles, at least so far.
However, low-end, low-cost devices may give them an opportunity. Completely absent so far is
AMD
(AMD)
, which does not have a competitive product for this class of device and is unlikely to have one in the short term. When it does, it will be x86-based (like Atom). With AMD's graphics prowess, it could potentially rival Intel's Atom, although I'd expect AMD to have a hard time catching Atom in power/performance at this point, given Atom's several-year head start.
So, this may indeed be the year of the Tegra. The market for stand-alone graphics chips is shrinking as an increasing share of PC purchases is being made with integrated graphics built into the CPU. Nvidia needs to find a new high-volume and high-margin market. Tegra in mobile devices just may be the market that provides this opportunity. Certainly its recent wins show that it can compete.
Now, it will depend on how many chips it can sell and if it can keep margins high in an increasingly competitive tablet market. But with 100 million-plus tablets projected to be sold in the next few years, Nvidia stands to gain handsomely if it can stay ahead of Qualcomm (and Intel) in design wins.
Readers Also Like:
>>10 Banks With Earnings Upside Potential
Jack Gold is the founder and principal analyst at
, an information-technology analysis firm in Northborough, Mass., covering the many aspects of business and consumer computing and emerging technologies.