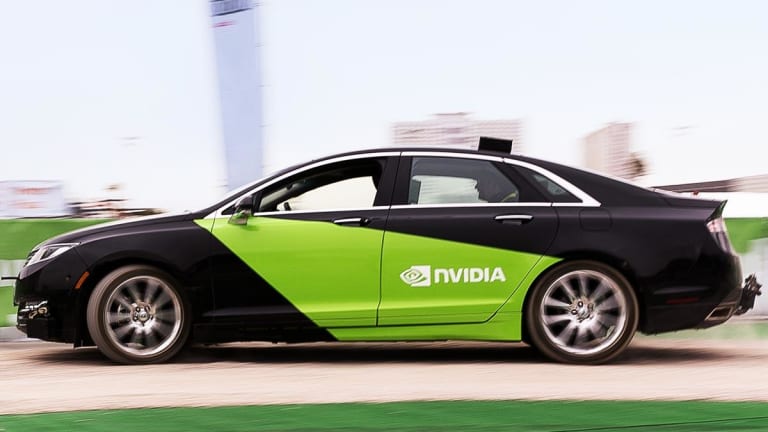 Nvidia (NVDA) - Get NVIDIA Corporation Report   was one of the first companies to present at the Autonomous Vehicle 2018 conference in Novi, MI.
The discussion reaffirmed why one of the autonomous-driving leaders remains atop the leaderboard.
The innovative tech company has been in the news lately, too. Whether that's the more recently announced Turing GPU architecture, the keynote presentation from CEO Jensen Huang in Cologne, Germany or the quarterly earnings results Nvidia released on Aug. 16.
While the quarter had some bumps around cryptocurrency, the rest of the results were very, very strong. Datacenter, gaming and automotive all displayed impressive traction and aren't showing many signs of slowing down.
Specifically looking at automotive, revenue grew 13% to a quarterly record $161 million. The segment grew 11% sequentially and registered the first double-digit growth rate in three quarters. Perhaps more exciting, though, is the fact that Nvidia began shipping its DRIVE Pegasus platform, the same platform that Daimler (DDAIF) and Bosch chose to build their auton`omous taxi service on.
Pegasus will enable level 4 and level 5 autonomous driving capabilities. The fact that it's now shipping brings autonomous driving and mobility-as-a-service platforms that much closer to being reality. 
Nvidia's Autonomous Driving Plans
Another Nvidia product that should safely accelerate the realization of autonomous driving? DRIVE Constellation, a colossal project that will allow developers to test their programs in virtual worlds. Put simply, Constellation will allow for synthetic testing environments.
What does that mean?
Like most things in life, testing for autonomous driving is about quality over quantity. It doesn't do much good to test a system on a straight and empty passage over and over again. Conversely, testing in a more realistic environment can yield concrete improvements in autonomous capabilities.
While more realistic testing environments are preferred, it comes at a cost: Time and safety. Put simply, it takes a lot of time to log miles in the real world. While doing so, it puts drivers at risk of a potential accident.
In the virtual world, though, learning time is greatly accelerated, thanks to scalability, while safety isn't a concern because real drivers are not at risk. This may cause some to wonder whether virtual testing is a sufficient solution to perfecting autonomous driving.
Real-world testing is still necessary and synthetic testing isn't a one-stop shop to success. But it will play an enormous role in accelerating the technology and doing so in a safer manner. 
During his presentation at AV18, Danny Shapiro, the senior director of automotive for Nvidia, gave a glimpse at what Constellation can do. Want to see how your driverless software operates during those few minutes a day where the glare from the sun is right in the car's sensors?
Instead of driving a few cars in that scenario each day and hoping for optimal conditions, a developer can test that specific scenario thousands of times over and over -- and do so 24/7. With Constellation, the user can manipulate the angle of the sun, add obstacles such as people or cars, alter the weather and go from day to night. There are a near endless amount of scenarios a team of developers can come up with to test their software.
But what completes the process is how Constellation is tied into Pegasus, Nvidia's onboard solution for autonomous driving.
While one server is running all of these scenarios on Constellation, another server is "seeing" all of these situations as it runs the autonomous driving hardware on Pegasus. In other words, the software running on Pegasus thinks all the scenarios it's encountering are real and it's reacting in that manner.
That allows developers to tweak and alter the system when it performs the incorrect function, and reward it when it performs the correct action. While not perfect, this system greatly expedites the process and keeps drivers safe.
There's a reason why a company like Alphabet's (GOOGL) - Get Alphabet Inc. Class A Report (GOOG) - Get Alphabet Inc. Class C Report Waymo can drive 10,000 test miles in a day in the real world and 10 million test miles a day in a virtual environment.
Although Waymo doesn't use Constellation, it's clear how much there is to gain from various companies and mobility-as-a-service providers using it. Given that Nvidia is working with more than 370 automotive partners (not all of which will use Constellation), it's also clear that there will be interested parties when it is widely available. One possibility? Mercedes. The company already uses Nvidia to power its impressive MBUX A.I.-powered infotainment system, and as we mentioned earlier, will use DRIVE Pegasus to power its autonomous fleet offering. Based on its current relationship, it wouldn't be unreasonable to think it could be a perfect candidate for using Constellation. 
Of course, all of these tests result in a massive amount of data -- something that most companies are not prepared for at the moment, Shapiro said. But Nvidia is offering solution after solution to help in this quickly budding industry. 
Nvidia and Alphabet are holdings in Jim Cramer's Action Alerts PLUS member club. Want to be alerted before Jim Cramer buys or sells NVDA or GOOGL? Learn more now.
This article is commentary by an independent contributor. At the time of publication, the author had no positions in the stocks mentioned.