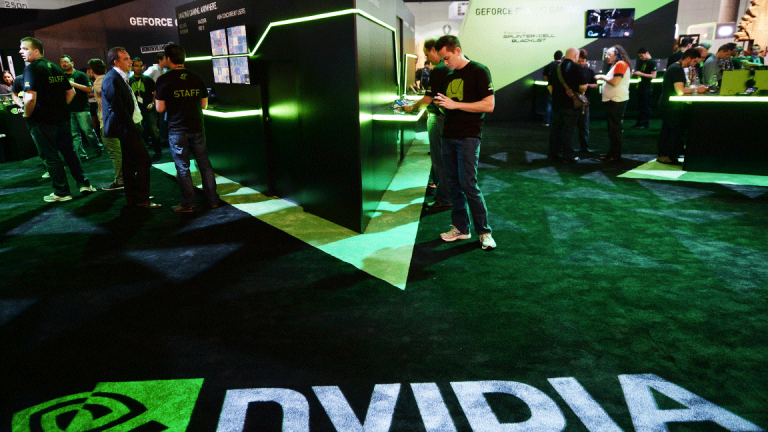 Nvidia Gains on Better-Than-Feared Earnings and Guidance: 7 Key Takeaways
The GPU giant beat quarterly estimates and offered a sales outlook that was better than what many feared. In a post-earnings talk with TheStreet, CFO Colette Kress suggested sales of Nvidia's latest gaming GPUs will be strong this quarter.
A quarterly beat, margin growth and better-than-feared sales guidance are giving a lift to Nvidia's (NVDA) - Get NVIDIA Corporation Report shares.
After the bell on Thursday, Nvidia reported July quarter (fiscal second quarter) revenue of $2.58 billion (down 17% annually), GAAP EPS of $0.90 and non-GAAP EPS of $1.24. That compares favorably with consensus analyst estimates of $2.55 billion, $0.82 and $1.15.
For the October quarter, the GPU giant guided for revenue of $2.9 billion, plus or minus 2%. That's below a consensus of $2.98 billion and represents a 9% annual drop at the midpoint. However, with investor expectations fairly low going into earnings, the outlook is going over well.
Nvidia's shares, which went into earnings down over 42% from their 52-week high, rose 5.6% in after-hours trading to $157.09. AMD's (AMD) - Get Advanced Micro Devices Inc. Report shares rose 1.3% and Intel's (INTC) - Get Intel Corporation Report shares rose 0.9%.
Here are some notable takeaways from Nvidia's report and earnings call, along with some comments made by CFO Colette Kress during a talk with TheStreet that took place shortly after Nvidia's call.
1. Gaming Product Sales Were a Little Better Than Expected
Nvidia's Gaming segment, which covers sales of PC gaming GPUs and game console processors, posted revenue of $1.31 billion -- up 24% sequentially, down 27% annually and a little above a $1.30 billion consensus.
As expected, sales of desktop gaming GPUs (hurt by channel inventory corrections that have followed the cryptocurrency mining bubble collapse) fell on an annual basis, as did game console processor sales (largely Nintendo Switch-driven). But Nvidia did indicate that notebook GPU sales (aided by numerous gaming notebook launched from major PC OEMs, and unaffected by the crypto market) saw healthy growth.
And following a quarter that both saw Nvidia launch its "Super" line of mid-range and high-end gaming GPUs and saw AMD launch mid-range gaming GPUs based on its new Navi architecture, Nvidia sounded upbeat about expected Super demand. The company also noted production ramps for new Nintendo Switch models are providing a near-term lift.
"We are excited about what we are seeing early on" with Super, Kress said, while suggesting that the products will contribute to a more favorable gaming GPU sales mix during the October quarter. She added Nvidia is working "very feverishly" to supply Super GPUs to graphics card makers (and by proxy, to retailers), and noted that they're still out of stock in many places.
Nvidia is a holding in Jim Cramer's Action Alerts PLUS member club. Want to be alerted before Jim Cramer buys or sells NVDA? Learn more now.
2. Datacenter Segment Sales Missed Expectations, But Management Was Mostly Upbeat About Demand
Nvidia's Datacenter segment revenue, which among other things covers sales of server GPUs and the company's GPU-packed DGX servers, came in at $655 million -- up 3% sequentially, down 14% annually and a little below a $669 million consensus. On an annual basis, revenue was pressured by lower sales to cloud giants (the proverbial hyperscalers), partly offset by growing sales to traditional enterprises.
On Nvidia's call, CEO Jensen Huang mentioned that Nvidia has little sales visibility for "a handful of customers in hyperscale." But he added Nvidia is seeing "broad-based growth" with other hyperscalers, and talked at length about how the demanding needs of "conversational AI" solutions such as voice assistants -- both in terms of training and running AI models -- will be a growth driver for Nvidia in cloud environments. Kress indicated that GPU sales for cloud services provided by cloud giants to third parties remained solid, and noted "the engineering focus on AI" at hyperscalers continues growing amid the current spending slowdown.
When asked after the call if the development of custom chips (ASICs) by some of the hyperscalers was affecting Nvidia's sales, Kress insisted that's not the case, while stressing that Nvidia's total value proposition for the hyperscalers doesn't merely consist or chips but of an end-to-end platform that also leverages major software investments. "The overall advancement in CUDA, the overall advancement in helping them with that software is essential in terms of their work," she said.
Regarding enterprise sales, Kress noted the sales pressures currently reported by some enterprise hardware suppliers aren't necessarily an issue for Nvidia, since the company is inking deals to drive AI-related workloads that enterprises didn't previously support. "These are long deals, we've been working on them for a long time," she said.

Nvidia's quarterly sales by product type and end-market. Source: Nvidia.
3.Automotive Revenue Was Much Stronger Than Expected
Though only accounting for 8% of total revenue, Nvidia's Automotive revenue, which covers both infotainment processor sales and its autonomous driving efforts, rose 30% annually to $209 million, easily beating a $177 million consensus. Nvidia said the segment's growth largely stemmed from a new autonomous development agreement (Volvo, which expanded its partnership with Nvidia during the quarter, is a possibility), with lesser contributions coming from AI cockpit solutions and other development agreements.
Nvidia is trying to temper near-term expectations for hardware sales related to autonomous engagements. Kress says Nvidia expects autonomous production ramps "further out in the next couple of years," and also noted that development agreement revenue can be "a little lumpy" from quarter to quarter. At the same time, she reiterated that Nvidia expects Automotive to be a long-term growth driver.
4. Margins Are Improving
Boosting Nvidia's EPS: Non-GAAP gross margin (GM) was 60.1% -- up 1.1 points sequentially, down 3.4 points annually and above a guidance range of 59% to 60%. In addition, Nvidia is guiding for its GM to rise to a range of 62% to 63% during its October quarter.
In its CFO commentary, Nvidia attributed its sequential GM improvement during the July quarter to Automotive development services, a more favorable Gaming segment mix and lower component costs. Kress indicated on the call that gaming product mix improvement will likely be the biggest driver of sequential margin growth during the October quarter.
5. Nvidia Still Forecasts the Mellanox Deal Will Close By Year's End
Amid worries about a potential Chinese rejection of the deal as trade tensions remain high, Nvidia says it still expects its $6.9 billion deal to buy data center interconnect provider Mellanox Technologies (MLNX) - Get Mellanox Technologies, Ltd. Report to close by the end of 2019. On the call, Kress said Nvidia has received U.S. approval for the deal, and is "engaged with regulators in Europe and China."
Mellanox shares rose 0.7% in after-hours trading to $108.30. That still leaves them well below their $125-per-share buyout price.
6. Stock Buybacks Are On Pause
In May, Nvidia said that it expects to spend $3 billion on stock buybacks and dividends through the end of fiscal 2020 (it ends in Jan. 2020), inclusive of $797 million spent in its prior quarters. Now, however, the company says it "will return to repurchasing our stock after the close of the Mellanox acquisition."
No stock was repurchased during the July quarter. That, along with $823 million in free cash flow, helped Nvidia's cash balance rise by $670 million sequentially to $8.47 billion. Debt stood at $1.99 billion at quarter's end.
7. It Could Be a Little While Before Nvidia's Next Flagship Server GPU Arrives
Nvidia's flagship server GPU, the Tesla V100, began shipping back in July 2017. And based on Huang's earnings call remarks, it could still take a bit of time for Nvidia to roll out a successor to the V100, which is based on the company's Volta GPU architecture and is widely used for AI model training and other demanding high-performance computing (HPC) workloads.
"Data center products can't churn that fast," Huang said when asked about the V100's successor. "Gamers could churn [through] products quickly because they're bought and sold one at a time, but data center infrastructure really has to be planned properly, and the buildout takes time. And we expect Volta to be successful all the way through next year."
Huang added that software advances have allowed the V100, which faces a measure of competition from AMD, Google and others, to see major performance gains since its launch. "We're still improving systems on it and...in just one year, we improved our AI performance on Volta by...80%," he said.
TheStreet's Eric Jhonsa previously covered Nvidia's earnings report and call through a through a live blog.
Nvidia is a holding in Jim Cramer's Action Alerts PLUS member club. Want to be alerted before Jim Cramer buys or sells NVDA? Learn more now.