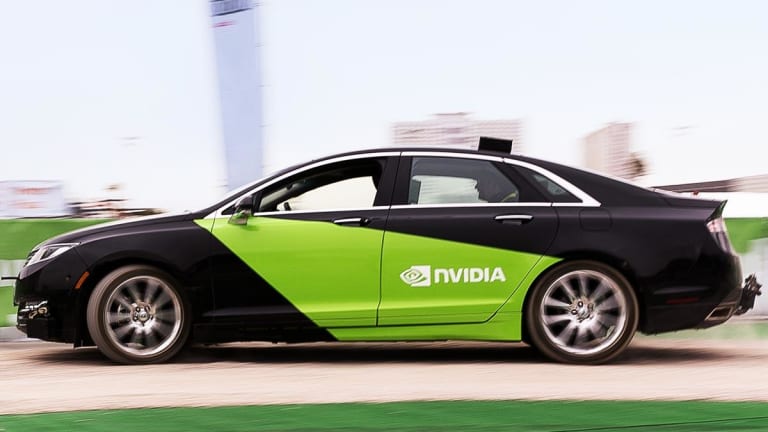 Nvidia and Intel's Mobileye Both Continue Racking Up Autonomous Driving Deals
Nvidia's new deal with Volvo is the latest sign that two companies now dominate the battle to supply autonomous driving processors to top-tier automakers.
Though Tesla  (TSLA) and Alphabet's (GOOGL) Waymo have made different choices, auto industry incumbents remain pretty committed to working with either Nvidia  (NVDA) or Intel's (INTC) Mobileye unit on their autonomous driving projects.
Volvo provided the latest evidence on Tuesday, when it announced that it plans to use Nvidia's Drive autonomous driving hardware/software platform within commercial vehicles such as trucks, buses and construction vehicles. The Swedish automaker says it will use Nvidia's powerful Drive AGX Pegasus computing board, declare to be capable of handling 320 trillion deep learning operations per second, as well as its Drive AV software stack and Drive Constellation driving simulation system. The alliance is declared to be "a long-term partnership spanning several years."
Volvo, which has been working with Nvidia for years, is far from the only major automaker that the GPU giant has a Drive-related partnership with; others include Toyota (its partnership with Nvidia was recently expanded), Audi and Mercedes parent Daimler. Nvidia also has deals with major auto suppliers such as Bosch, Continental and ZF Corp, and with Baidu's Apollo self-driving unit. Uber also uses Nvidia's hardware for its self-driving work, but Nvidia has been eager to stress Uber isn't using the Drive platform.
Intel's Mobileye, long the top supplier of vision processors for driver-assistance (ADAS) systems, has also been no slouch when it comes to forming self-driving partnerships with big-name automakers; its client list in this field includes BMW, Audi, Nissan, Fiat-Chrysler and Volkswagen. Other partners include Lyft, auto parts giant Aptiv and Chinese automakers SAIC and NIO.
It still isn't known which company is acting as the processor supplier for Ford's autonomous driving efforts, or for General Motors' Cruise self-driving unit. But Nvidia and Mobileye are widely seen as the most likely candidates.
Nvidia and Alphabet are holdings in Jim Cramer's Action Alerts PLUS member club. Want to be alerted before Jim Cramer buys or sells NVDA or GOOGL? Learn more now.
To an extent, Nvidia and Mobileye have different strengths in this battle. Among Nvidia's strengths: The horsepower that GPUs can provide for running trained AI/deep learning models, the speed at which Nvidia has been rolling out new self-driving hardware and its ability to offer end-to-end solutions that cover both in-vehicle hardware/software and the simulation and AI training systems used within their data centers. Among Mobileye's strengths: The low power consumption of Mobileye's chips; its ability to leverage roughly two decades of software investments related to ADAS processors, and its efforts to create maps for self-driving systems via its Road Experience Management (REM) platform, which is supported by several big automakers.
But regardless of which company one declares to be ahead, Nvidia and Mobileye have clearly left their direct competitors (such as, for example, NXP Semiconductors' (NXPI) BlueBox system) in the dust when it comes to autonomous driving engagements. Rather, their biggest competition appears to be the indirect challenges posed by Tesla and Waymo.
Tesla, which has used Nvidia's Drive PX 2 computing boards to power its second-gen Autopilot system, recently unveiled its Full Self-Driving Computer (FSD), which is powered by two internally-developed processors. Though some of Tesla's initial claims about its chip's performance relative to Nvidia's Drive systems were misleading, the company did do an impressive job with regards to power efficiency -- Tesla says the FSD can perform 144 trillion operations per second while consuming just 72 watts, or about one-seventh of Pegasus' power consumption.
Waymo, which last year launched a limited self-driving taxi service in the Phoenix area, relies on Intel's Xeon CPUs and programmable chips (FPGAs) to power its self-driving systems. However, the company isn't working with Mobileye, and is instead fully relying on its own self-driving software and maps.
But Tesla, though having grown its sales considerably over the last couple of years with the Model 3's help, is still just one high-volume automaker out of many. And while Waymo has struck deals with Fiat Chrysler and Jaguar Land Rover to buy and retrofit cars for its own self-driving fleets, top-tier automakers have been reluctant to date to strike deals to use Waymo's technology within cars that they would sell to third parties, reportedly out of a fear of surrendering control of their R&D efforts and the user experience.
As a result, Nvidia and Intel/Mobileye still have their hands full working with major automakers on autonomous driving projects -- projects that run the gamut from
Level 2+ systems
that augment existing ADAS capabilities for mass-market cars, to driverless taxis lacking any pedals or steering wheels. And given that the cost of autonomous driving systems can (depending on the capabilities) run from several hundred dollars to several thousands, each is staring at a pretty big revenue opportunity.