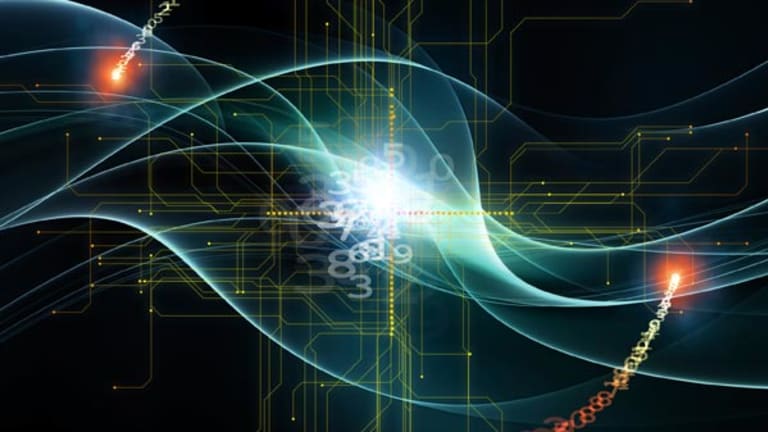 Novatel MiFi 3G/4G for Sprint Gets High Marks
The Novatel MiFi 3G/4G on Sprint gets a very high grade. There isn't a product as good as this one in the market today.
NEW YORK (
) -- "There you go business pro, there you go." That's what the
National Car Rental
commercials proclaim, in reference to the elevated needs of business professionals, in contrast to casual consumer folk. That pretty much summarizes the rationale for the
Novatel
(NVTL)
MiFi 3G/4G for
Sprint
(S) - Get Report
in the market today.
It was May 2009 when the first Novatel MiFi portable battery-driven WiFi router emerged on Sprint and
Verizon
(VZ) - Get Report
. There had been no product like it in the market. Small as a stack of six credit cards, the first MiFi remains an icon in industrial design.
The MiFi solved two critical needs of mobile users of laptops and tablets that didn't contain a cellular modem. First is ubiquitous coverage. No more hunting for a WiFi hotspot. In business, time is money -- typically a
lot
of money. A few minutes can, in extreme cases, be measured in the millions of dollars, depending on your business and your situation. No serious business person should rely on public WiFi. At a minimum, having a MiFi-style device is just prudent insurance.
Second is security. Even if you find a public WiFi hotspot quickly enough, they are security cesspools. I could make disgusting analogies here, but basically I tell everyone not to stick your finger -- or any other body part -- into a potentially lethal WiFi hotspot disguised as your friendly neighborhood cafe. Use only your own cellular connection or private WiFi hotspot, such as the Novatel MiFi.
The initial Novatel MiFi device therefore became a success, primarily on Sprint and Verizon. In the months that followed, GSM/HSPA versions also launched on international carriers as well as relatively recently on
AT&T
(T) - Get Report
.
T-Mobile USA
is expected to launch models from multiple manufacturers imminently.
That said, the initial Novatel MiFi had two deficiencies. First, its battery was too small, and second, it didn't have a display so it could show some basic status indicators.
In addition, two major market events have happened since the launch of the initial MiFi in May 2009:
1. 4G services have been launched broadly on multiple carriers, covering every major city. Arguably, the most ambitious project to date has been Clearwire's (CLWR) WiMax network, currently launched in at least 71 markets. Sprint owns about 50% of Clearwire;
2. Many smartphones now support the basic WiFi hotspot functionality. Android, Palm/HP and now most recently the Apple (AAPL) - Get Report iPhone. Research In Motion's ( RIMM) BlackBerry is expected to follow around mid-year 2011.
In short, Novatel, in conjunction with Sprint/Clearwire, has solved these challenges with this new product. This new device 1) has a bigger battery; 2) has a great display; 3) has 4G in this WiMax version; and 4) has better functionality than those embedded in all of the smartphones available in the market today.
Let's start with the most important question: Why bother with a stand-alone device when I can get the basic functionality inside most smartphones? It's a great question. There are two answers.
If you are a casual user without a critical business need, indeed you may not find the superior performance of the Novatel MiFi 3G/4G worth your money. You can pay nothing, or a more modest amount, to get 1-10 Gbs per month through your smartphone.
But if your time is worth a lot, and you need superior functionality, you will find the Novatel MiFi 3G/4G on Sprint worth every penny.
There are two reasons why.
First, Sprint is the only carrier offering unlimited use for a fixed price. This should eliminate Verizon, AT&T and T-Mobile from the consideration of many. Of course, it does not rule out Sprint's other offerings, whether in the smartphone format, or competing stand-alone formats. These include a competing offer from
Sierra Wireless
(SWIR) - Get Report
, as well as three Android smartphones -- two from
HTC
and one from
Samsung
.
Second, smartphones just don't offer the same functionality. For starters, this functionality is a huge battery drain. You may not want to penalize your smartphone by multiplying your battery drain. In addition, all smartphones I know don't allow invisible network names. The iPhone is particularly atrocious, as the network name can only be the name of your device. This leads to confusion in coffee shops where you will find a laundry list of "iPhone 4" networks, and you don't know which one is yours!
What are the important hardware and performance specs of the Novatel MiFi 3G/4G on Sprint? It's a beautiful device in gray scale, with a spectacularly elegant e-ink display just like the
Amazon
(AMZN) - Get Report
Kindle. It looks like brushed aluminum on the front, while the back is in a non-slip rubber, and the overall design would have made Apple proud. That's as high a grade as I can give.
The battery life is much-improved. I think four hours under the heaviest possible use, but much longer during sporadic use when it goes to sleep. It does run very warm under heavy use, but not more scary-frying-an-egg-hot than the
Motorola
(MMI) - Get Report
Droid Pro.
Most importantly, what about the performance? I get a steady 1 Mbs upstream positively everywhere, so that means it's got a high ceiling, but is capped. Downstream, I get mostly between 5 Mbs and 6 Mbs. These numbers are lower than is being reported on the newer (and therefore not very heavily used) Verizon network, but generally very competitive, especially considering that there are already a fair number of users on the network, and Clearwire has only lit up a small part of its spectrum yet. Keep in mind Sprint's trump card here: It offers unlimited service, without throttling the speed -- unlike Verizon, A&T and T-Mobile USA. This advantage is a knock-out blow against the competition.
I give the Novatel MiFi 3G/4G on Sprint a very high grade, at least a nine out of 10, most likely a flawless 10 out of 10. Indeed, I have not tried a product that's as good as this one in the market today. That said, other competing products -- smartphone as well as stand-alone -- are being launched in the near future on Sprint, Verizon, AT&T and T-Mobile USA, so this high grade is a moving target.
But for now, I can highly recommend the Novatel MiFI 3G/4G for the business pro, just as the National Car Rental television advertisements say.
At the time of publication, Wahlman was long GOOG,AAPL, RIMM, CLWR, NVTL and SWIR
.
This commentary comes from an independent investor or market observer as part of TheStreet guest contributor program. The views expressed are those of the author and do not necessarily represent the views of TheStreet or its management.
Anton Wahlman was a sell-side equity research analyst covering the communications technology industries from 1996 to 2008: UBS 1996-2002, Needham & Company 2002-2006, and ThinkEquity 2006-2008.