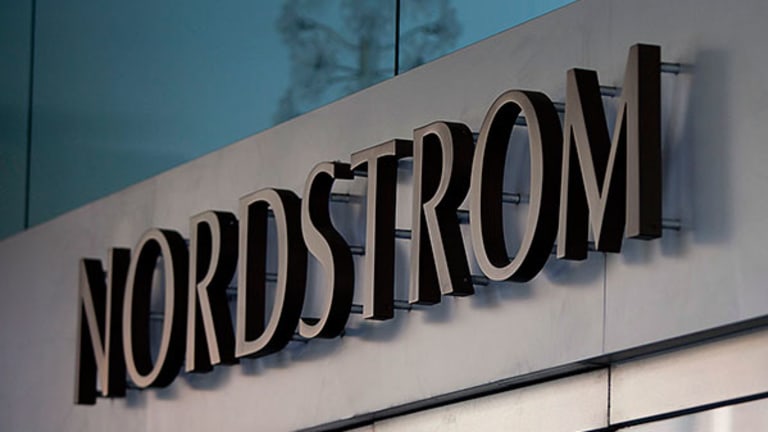 Nordstrom Sacrifices Earnings as It Makes a Big Bet on Online Sales
Nordstrom may have disappointed investors with its weaker 2015 outlook, but the department store chain's heavy investments e-commerce should bring rosier numbers down the road.

NEW YORK (TheStreet) -- Nordstrom (JWN) may have disappointed investors with its weaker 2015 outlook Thursday, but the department store chain is making a big investment in its e-commerce operations that could pay off down the line.
Nordstrom posted fourth-quarter earnings of $1.32 a share, missing analysts' expectations of $1.35. The retailer also lowered its gross profit expectations for this year.
The Seattle-based company hopes that sacrificing earnings now to invest in technology and its online shopping platforms will start to pay off in 2016 or 2017.
"While it might take some time to leverage past investment, we believe these longer-term guideposts could offset the weaker 2015 guidance as the Street looks out to another year of flat earnings growth," William Blair analyst Amy Noblin wrote in a research note. "We believe longterm holders will be rewarded by past investment, as the company continues to show its prowess in evolving with the changing needs of customers, accelerating growth, and setting up its long-term competitive advantage through multiple channels."
One of the major investments Nordstrom made in the last year was acquiring Trunk Club, a subscription-based shopping service. Nordstrom estimated the acquisition cut earnings by 13 cents per share. 
Still, Trunk Club saw its sales double last year and is forecasting that they'll double again in 2015. According to Nordstrom CFO Michael G. Koppel, the earnings hit from the acquisition will taper off in 2016 thanks to increased operating profitability. He believes earnings overall for the company will be much higher post-2015.
Nordstrom also is opening up a third fulfillment center in Pennsylvania, which will help expedite shipping for online customers.
"[A]lmost half of our customers are within a two-day ground delivery of that Pennsylvania fulfillment center," Nordstrom president Blake Nordstrom said in the earnings call. "The long-term strategy here is to have a fulfillment network that gets practically all, at least over 90% of our customers and Nordstromrack.com and HauteLook in the United States, within a two-day ground [delivery], and this is one step in that direction."
These investments in e-commerce eventually could help Nordstrom's bricks-and-mortar stores as well. After changing its policy to let customers return purchases from NordstromRack.com and Hautelook to its Rack stores, Nordstrom is seeing nearly 1 million incremental trips to its Rack stores, with more than 70% of HauteLook and Nordstrom Rack returns ending up at Rack stores.
The company also upgraded its point-of-sale system, mobile offerings, online checkout process and texting tools for salespeople.
Nordstrom isn't slowing down its investments either. In the next five years, it plans to invest $4.3 billion, with technology spending accounting for 35% of that total. Some of the rest will go towards expanding its loyalty program and opening up new stores, which Nordstrom anticipates will lead to $30 million in expenses in 2015.
Nordstrom is making these investments because of the strong numbers it's seeing out of its online retail sites. E-commerce made up 18% of Nordstrom's  fourth-quarter sales -- 15% from Nordstrom.com and 3% from NordstromRack.com and HauteLook.
E-commerce is also crushing physical stores in terms of sales growth. While Nordstrom's full-line stores only saw 0.5% growth in the fourth quarter, Nordstrom.com saw 19.4% sales growth, while NordstromRack.com and Hautelook surged 27.7%.
"In our view, JWN remains one of the only true growth stories in traditional retailing," Credit Suisse analyst Michael Exstein wrote in a research note. "We expect investments to begin to be leveraged in late '15 and should set up at least a three year period in which EPS could grow in excess of 20%."
--Written by Rebecca Borison in New York
>Contact by Email.