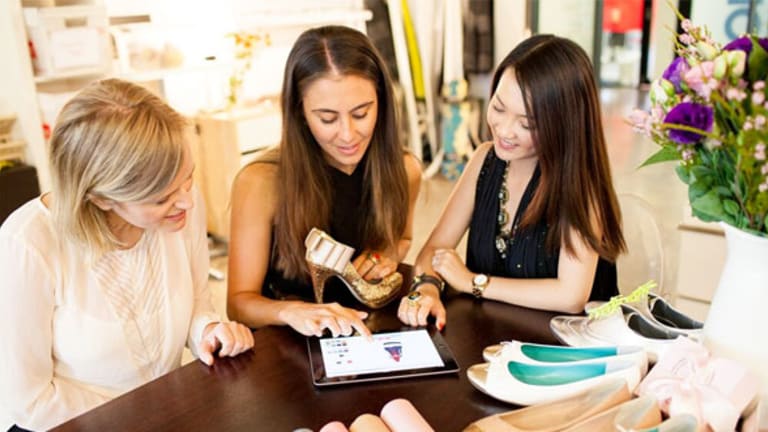 Nordstrom Boosts Omnichannel Efforts With Investment in Shoe Start-Up
Shoes of Prey lets shoppers create their own customized shoes.
Continuing its commitment to investing in new shopping models, Nordstrom (JWN) - Get Free Report  is backing a startup called Shoes of Prey, which lets shoppers create their own customized shoes.
Nordstrom has already partnered with Shoes of Prey since earlier this year on physical design studios within six Nordstrom locations, plus a dedicated section on Nordstrom.com for Shoes of Prey.
But now Nordstrom is putting its money behind the partnership as a part of a $15.5 million series of funding for Shoes of Prey. BlueSky Venture Capital, Greycroft, and Khosla Ventures also participated in the round, which brings Shoes of Prey's total funding to $24.6 million.
Shoes of Prey was founded in 2009 and has since sold more than five million customized shoes. Its customers have the ability to choose the style, heel height, material, color, size, and width of every pair of shoes they purchase.
The startup will use its new funding to ramp up its omnichannel efforts and to expand into new categories like women's handbags.
Shoes of Prey aligns with Nordstrom's emphasis on blending the worlds of digital and physical in retail.
"Nordstrom has shown an affinity for investing in and testing newer trends and capabilities in retailing as seen in their acquisition of Trunk Club and flash sale site Haute Look," said Bridget Weishaar, an analyst at Morningstar.
Nordstrom acquired the menswear startup Trunk Club last year for $350 million in stock. Similar to Birchbox, Trunk Club periodically sends customers a selection of custom-picked clothing to choose from. They can then return the items they don't like.
Previously, Nordstrom acquired the flash sales site Hautelook in 2011 for $180 million in stock.
Weishaar said she wouldn't rule out the possibility of Nordstrom acquiring Shoes of Prey down the line.
"In my opinion, this investment makes perfect sense for them," Weishaar added. "Given Nordstrom's relatively upper-middle class, computer savvy, clientele, I think this is a good investment and will keep them ahead of the curve in retailing trends."
And while the investment may not have a huge impact on near-term performance at Nordstrom, Weishaar said, "It could draw in new customers or help convert existing customers and result in some increase in sales."
Nordstrom has promised to spend $1.2 billion of its $3.9 billion capital budget -- nearly 31% -- on e-commerce technology between 2014 and 2018. Stifel analyst Richard Jaffe estimates online purchases made up 15.1% of Nordstrom's total sales in 2014, and will make up 17.2% in 2015.
"We want to serve customers in many different ways to deliver highly relevant experiences," Scott Meden, Executive Vice President and General Manager-Merchandise of Shoes at Nordstrom, said in a statement. "With personalization becoming more important to how the customer views good service, it's important for us to find opportunities to stay increasingly relevant. Shoes of Prey offers us a way to enhance and deliver a great customer service experience that aligns well with our strategic vision and long-term goals as a company."