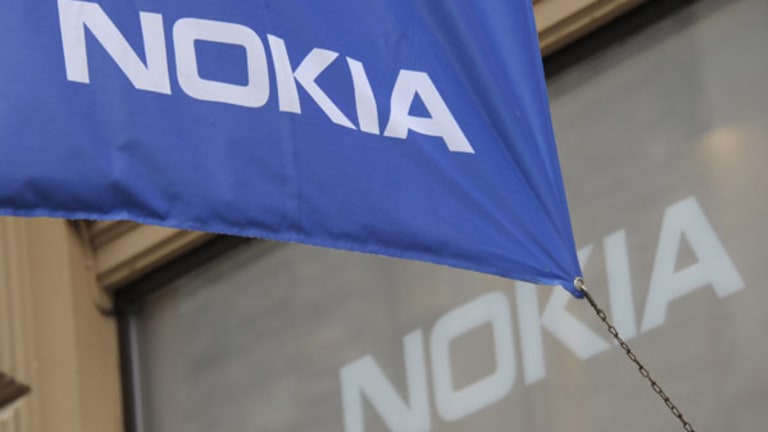 Nokia Sells Cell Phone Business to Microsoft Just in Time
First-quarter results show rapidly declining numbers for Nokia's phone division. But that's now Microsoft's problem.
NEW YORK (TheStreet) -- It looks as if Nokia (NOK) - Get Free Report sold its smartphone business to Microsoft (MSFT) - Get Free Report at the right time. The Finnish company's first-quarter numbers included dismal results for its now former cellular phone business.
In Nokia's last earnings report as an independent cellular phone manufacturer, the company announced phone sales had dropped 30%. The decline was seen in both its low-end Asha featurephones as well as its Lumia smartphone models. Nokia explained the Asha decline as the industry's heated race "for the bottom" while its higher-end Windows phones had to compete with Apple (AAPL) - Get Free Report iPhones and the myriad of models running Google's (GOOG) - Get Free Report Android operating system.
Nokia shares were gaining more than five percent to $7.40 and Microsoft shares were up 0.51% to $41.08 in premarket trading in New York.
According to the just-released results, Nokia's net sales in the first quarter were off 15% from a year ago mostly because of the money-losing smartphone business. Non-IFRS diluted EPS in the first quarter was 6 cents a share, up from 1 cent in the year-earlier quarter. Reported earnings were 4 cents a share, compared with a year-earlier loss on the same basis of 3 cents a share. Analysts expected earnings of 3 cents a share in the first quarter.
Nokia's Device & Services business lost nearly $452 million on revenue of $2.67 billion in the first quarter. The company didn't publish a breakdown of the numbers for its feature and smartphone models.
Nokia reported that underlying operating profitability for its continuing operations -- the parts not going to Microsoft -- increased to $424.4 million, or 11.4% of net sales, compared with $352 million (8.1% of net sales) in the first quarter of 2013. Nokia's network business ($300 million profit in the first quarter) and its HERE mapping unit ($13.8 million) showed good growth. The company also entered into patent licensing agreements (including with HTC) worth $119 million.
Microsoft's $7 billion purchase of Nokia's phone manufacturing business was announced in September and officially closed last Friday. Because of the late closing date, Nokia expects the final sale price to be adjusted by nearly $170 million. The exact number will be decided during the second quarter.
Nokia also announced that its networking division boss, Rajeev Suri, will be the company's next CEO taking over from interim CEO Risto Siilasmaa on May 1. Former Nokia CEO Stephen Elop has already stepped into his new role as vice president of Microsoft's Devices & Services business unit.
Siilasmaa commented that he was very hopeful for his company's future without its phone division: "With the closing of our transaction with Microsoft, Nokia begins a new era. We are confident in our future. Nokia's vision is to be a leader in technologies which will be important in a world of billions of intelligent connected devices.
-- Written by Gary Krakow in New York.
To submit a news tip, send an email to tips@thestreet.com.
Gary Krakow is TheStreet's Senior Technology Correspondent.