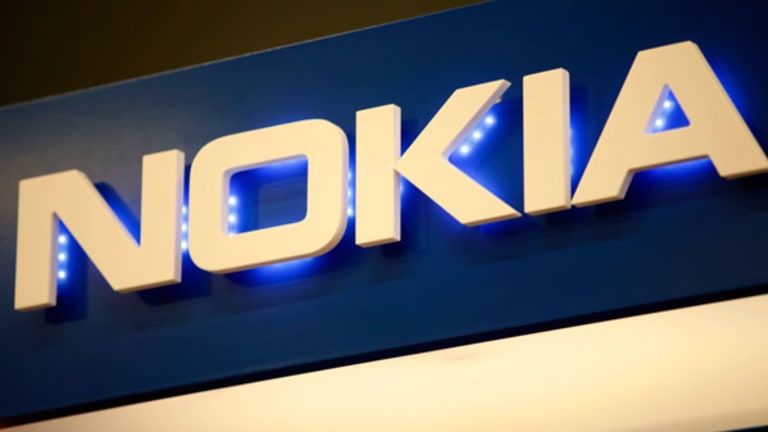 Publish date:
Nokia Seeks to Sidestep Ericsson Contagion With Quarterly Results
Having fallen sharply on its rival's profit warning, the Finnish telecom equipment maker will need to reassure investors about its own mobile broadband business..
Having fallen sharply on its rival's profit warning, the Finnish telecom equipment maker will need to reassure investors about its own mobile broadband business..
When Nokia (NOK) - Get Report   reports third-quarter results this Thursday investors will want evidence that the Finnish telecom equipment player can avoid the type of troubles that have plagued rival Ericsson (ERIC) - Get Report , which reported declining earnings last week on mobile broadband weakness as it delivered a bleak medium-term outlook. 
Espoo, Finland-based Nokia is scheduled to report third-quarter results early on Thursday.
A consensus of 40 analysts for Nokia compiled by FactSet calls for earning per share of €0.04 on net profit of €244 million ($266 million) and sales of €5.82 billion. That compares with EPS of €0.08 on net profit of €189 million and sales of €3.04 billion in the same period a year earlier. The sales jump reflects the acquisition of Alcatel-Lucent earlier this year. 
Nokia stepped up its transformation from a devices maker into a network and wireless equipment company with the purchase of the French telecom equipment company in January.  That made it a more powerful competitor to Sweden's Ericsson as well as to Cisco Systems (CSCO) - Get Report and Juniper Networks. (JNPR) - Get Report
Nokia is now comprised of the networks business, which supplies mobile and broadband network providers, and a much smaller technologies business, which focuses on technology development and licensing. The networks business accounted for 92% of second-quarter revenue.
In May, Nokia acquired Withings, a French consumer electronics company focusing on health and activity trackers. In July, Nokia expanded its patent cross -icensing agreement with Samsung Electronics (SSNLF) .  These activities are included in the company's technology business. 
The market consensus points to third-quarter revenue from the networks business of €5.39 billion, up from €5.18 billion in the first quarter when the company acquired Alcatel-Lucent, and from €5.22 billion in the second quarter.
In the first two quarters, the networks business suffered revenue decreases of 8% and 11% on a "like-for-like" basis. The company attributed the weak performances to its mobile and ultra broadband networks businesses, in echoes of Ericsson's travails.
Telecom equipment makers are suffering as their customers invest less in 4G services, and even less in 3G, as they wait for the introduction of 5G networks. 
On Oct. 21, Ericsson said net sales for the third quarter dropped 14% year-on-year, with the networks business suffering a drop of 19%. (On Wednesday Ericsson said Börje Ekholm, the head of the Patricia Industries portfolio company of Investor, would become its new president and CEO as from January, replacing interim boss Jan Frykhammar).
But while Ericsson's earnings decline raises concerns about the wider telecom equipment market,  Credit Suisse analysts suggested earlier this month that the "bulk of this miss could be Ericsson-specific."
Credit Suisse said that while both Ericsson and Nokia are exposed to Russia, Brazil and the Middle East -- the regions for which Ericsson blamed for its disappointing earnings -- the degree of Ericsson's exposure to those regions is not enough to explain its weak performance. The analysts added that the regions account for an even lesser portion of Nokia's sales.
The Credit Suisse analysts added that Ericsson has more company-specific elements such as unstable operational control as well as "negligible exposure to fixed/optics networks."  Ericsson is also suffering steep declines in North American sales. 
Shares in Helsinki and Nasdaq-listed Nokia have dropped by around 25% in the last twelve months. The shares tumbled on Oct. 12 when Ericsson issued a profit warning for the third quarter. By mid-afternoon in Helsinki on Wednesday the stock was up 2% at €4.62.
(Cisco Systems is held in Jim Cramer's charitable trust Action Alerts PLUS. See all of his holdings here.)