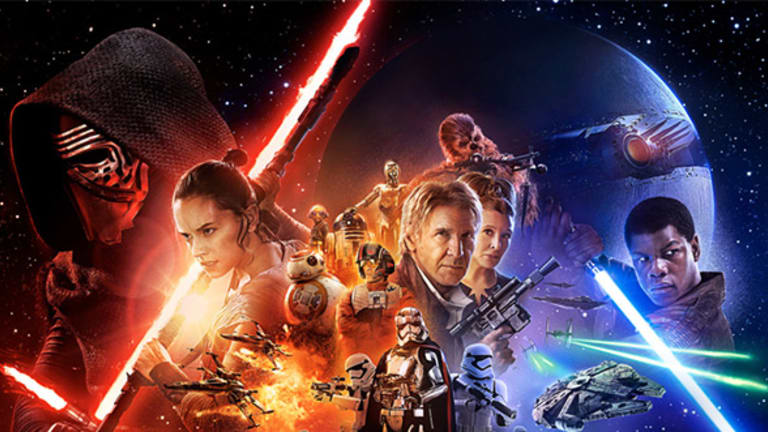 No One Is More Excited About 'Star Wars' Than Google
Google continues to geek out over 'Star Wars' and has a new 'Easter egg' surprise for movie lovers.
Updated from 9:44 a.m. to reflect the search results are clickable.
Google continues to geek out over Star Wars.
The tech giant and division of Alphabet (GOOG) - Get Alphabet Inc. Class C Report (GOOGL) - Get Alphabet Inc. Class A Report that is famous for hiding Easter eggs -- unexpected features -- in its products, has a new surprise for StarWars lovers ahead of the film's seventh installment, Star Wars: The Force Awakens, due out in December.
To find the nugget, search Google (in Chrome or Safari) for "A long time ago in a galaxy far far away." The results appear in the format of the iconic film's opening crawl, original John Williams' music score included. Originally the results were not clickable, but it appears Google has indeed allowed users to click on them.
The feature does not work in either Internet Explorer or Firefox, however.
Google has been rolling out a number of products and features in honor of the latest Star Wars film's release.
It is offering a comprehensive Star Wars-themed overlay across several of its apps and services, including Google Calendar, Chrome, Chromecast, Gmail and YouTube. All users have to do to get started is head to google.com/starwars and choose a side -- light or dark. In a blog post Monday, Google vice president of product management Clay Bavor called the site "a place for fans, by fans."
The search giant is also collaborating with Disney (DIS) - Get Walt Disney Company Report , which bought the franchise for $4 billion from Lucasfilm in 2012, and Verizon (VZ) - Get Verizon Communications Inc. Report to release the first-of-its-kind serialized Google Cardboard Virtual Reality (VR) experience. Set to launch December 2, the VR experience will live in the official Star Wars app, available for iOS and Android, and combine a story tied directly to the opening of the upcoming film.
"The galaxy far, far away is coming to you. Let it in like never before," read a statement announcing the moves Monday.
One of the most anticipated films of the year and planned to hit theaters December 18, Star Wars: The Force Awakens marks the first new installment of the franchise to be released in a decade.
Disney knows the stakes are high, especially in a year that has not been particularly kind to Hollywood. In turn, it is trying to downplay big box office expectations, especially for opening weekend.
"There are a number of things that put this film in uncharted territory, literally uncharted territory, making it even more difficult than usual to predict what the opening weekend will be like," Walt Disney Studios chairman Alan Horn recently told The Hollywood Reporter. He added that it is "rare" to see a big debut in December. "People are shopping, they're traveling, they also know that their kids are going to be on vacation in a week and they're going to all go see movies together," he said.
Disney CEO Bob Iger was similarly cautious in his assessment of the Star Wars enthusiasm in his third-quarter conference call with Disney investors in August.
"As enthusiastic as we are for what we know of the film, we have not seen a Star Wars film -- an original one -- since 2005. And there are markets around the world that are less familiar with Star Wars than, say, the United States, for instance," he said. "So, while the enthusiasm is, I think, rather apparent, we just want to be careful that the world doesn't get ahead of us too much in terms of the estimates."
THR reports tracking services show the film opening domestically in the $185 million to $220 million range, but some have shot much higher in their assessments. Morgan Stanley analysts, for example, forecast the film to make around $500 million in its opening weekend.
It is already on track to make a splash. Movie booking site Fandango, which has already sold more than $50 million in advanced tickets to the film, told Varietythat the picture is the biggest pre-seller in its history, surpassing the first installment of young adult franchise Hunger Games.