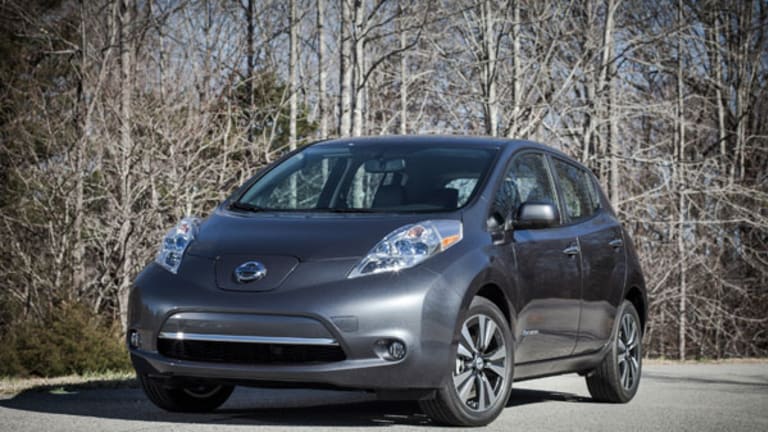 Nissan to Extend Electric Car Leadership With 135-Mile Leaf
Nissan looks to introduce its longer-range all-electric LEAF already in 2014, ahead of the competition.
NEW YORK (TheStreet) -- The purpose of this article is to talk about the timing of the next-generation Nissan (NSANY) Leaf, which I expect to deliver 135 miles of range -- up from 84 miles today -- and start at $33,000, up from $29,000 today.
I believe this significant leap forward will take place as early as September or October of this year, extending Nissan's current electric car leadership.
The first version of the Nissan Leaf was the 2011-2012 model, which was improved in 2013. To date, over 100,000 Leafs have been sold, making Nissan the undisputed world-wide electric car market leader.
Despite the improvements on the 2013 Leaf, the car retains three main problems inhibiting sales:
1. Range. This is simple: 84 miles simply isn't enough for most people. As most electric car owners know, on very cold days range can drop by 30%. This means you have a de facto 60-mile car.
For those who have short daily commutes, or for those who can charge at work, this may be enough. However, for many people with longer commutes or those who have other additional driving needs, the current Leaf simply does not offer what is needed.
2. Range depletion over time. It is not just cold weather that diminishes range in all electric cars on the market. Nissan has also had a particular problem with the Leaf in terms of the cars losing capacity faster than some competitors, especially General Motors (GM) - Get Report. If after a few years, you have lost 25% of capacity, you now have an average of 63 miles left (75% of 84). Then drive on a cold day and you have 44 miles left, assuming 30% range loss (70% of 63). Clearly, Nissan has to solve this horrific 25% range loss over time.
3. No telescoping steering wheel. For tall people with long legs, the Nissan Leaf is simply uncomfortable to drive. Nissan needs to learn to design for tall people with long legs, just like BMW with its i3.
This article focuses on the first of those three items.
I can see where some of you are saying "So what?" about my claim that a 135-mile Nissan Leaf will be coming to market -- and you would be right. Of course a 135-mile Nissan Leaf will be coming -- just like a faster computer will also be coming in a few months from now.

All other things equal, every automaker will be delivering more battery range for less money every few years going forward. Not only will Nissan have a 135-mile electric car, but at some point it will also have a 200-mile electric car and probably also 250- and 300-mile electric cars. It's all a natural evolution with technology, in this case battery technology.
But that's not the issue here.
The issue is: When?
General Douglas MacArthur used to say that behind every lost battle there are two words: Too late. Would it matter if Nissan launched the 135 mile Leaf in 2014, 2015 or 2016?
Absolutely! Launching in 2014 compared to 2015 compared to 2016 would make all the difference in the world. The industry has widely pointed to 200-mile electric cars being available in 2016 or 2017.
For example, in an interview with Bloomberg BusinessWeek last December 12, GM's CEO talked about its 200-mile electric car for 2016.
More recently, Audi's CTO confirmed that it will be producing a 200-mile electric car soon, with any reasonable interpretation of that meaning some time before 2018.
In other words, for Nissan to launch a 135-mile Leaf in 2016 would not count as remarkable or even competitive. It would be better than today's car but nevertheless miss its relevant competitive mark. GM, Audi and probably several others would crush that proposition sometime in 2016 or 2017.
However, launching the same car in 2014 or even early 2015 would be entirely different. Right now, the leading competitors in the relevant price range come from GM, Ford (F) - Get Report, BMW and soon also VW. Those all tend to be electric cars priced in the $28,000 to $43,000 range, and they have approximately same 84-mile range as the current Nissan Leaf.
So therefore, timing is everything: Deliver the 135-mile Leaf in the next 12 months and Nissan extends its EV market leadership. Deliver the car later and this advantage starts to disappear.
So what about the timing? Why do I believe Nissan will deliver the enhanced 135-mile Leaf already in the next five to 11 months as opposed to the next one to three years?
It is a combination of at least three things:
1. Nissan has been talking about delivering this kind of enhanced battery since at least 2009. 
At the time, in 2009, the market for longer-range electric cars was essentially zero and not the highest priority. This obviously changed in 2012, and one can assume that Nissan has pulled in the ability to deliver on the longer range from 2015 to late 2014. As such, it should be possible to enter production in August-September 2014 and start delivering cars by September-October 2014.

2. As has been reported widely earlier this year, Nissan is sending out surveys to existing Leaf owners asking how much people would be willing to pay for a Leaf with 150 miles of range.  Nissan would not do this unless all the testing and specifications of the car were pretty much written in stone. You don't want to alert too many people about a much-improved future model. As to why that is the case, it should be obvious. 150 miles vs my 135 estimate? Historically, it has been prudent to assign a 10% discount to range claims.
3. Nissan's two most recent presentations at the large U.S. automotive trade shows were very different. In Los Angeles in November, there was no mention of Nissan's electric cars.  However, just two months later, January 2014 in Detroit, the tone had shifted dramatically.
Just watch and listen to Nissan's product boss Andy Palmer in the January video: "We will not relinquish our lead in electric vehicles. Despite the naysayers, this is the era of electrification and electronics. It is inevitable, and Nissan is at its forefront. This is what powers Nissan. It is our momentum now, and it is our momentum for the future, and I pledge that Nissan will maintain its leadership in EVs."
Watch Palmer's body language and listen to his animated and passionate emphasis in going from Nissan ignoring EVs last November to pounding the table in January 2014. There cannot be much doubt that Nissan is planning a significantly upgraded Leaf already in 2014 -- not 2015 or 2016. Why? Because if it doesn't, it would no longer be the leader as promised.
Conclusion: While not an absolute certainty, I give it a very high probability that Nissan will launch the much-improved, 135-mile range, all-electric Leaf car this Fall 2014, at a price starting close to $33,000.
Delivering this car in late 2014 would be the key intermediary stepping stone to delivering the slightly larger, all-electric Nissan in late 2016 or early 2017, that could fit a larger battery for the purpose of approaching 200 miles of range, even if the base price would be closer to $39,000.
This would, in turn, line up where the other major automakers would be at that time: broad-based industry availability of 200-mile electric cars priced not too far from $40,000.
At the time of publication the author had no position in any of the stocks mentioned.
This article represents the opinion of a contributor and not necessarily that of TheStreet or its editorial staff..