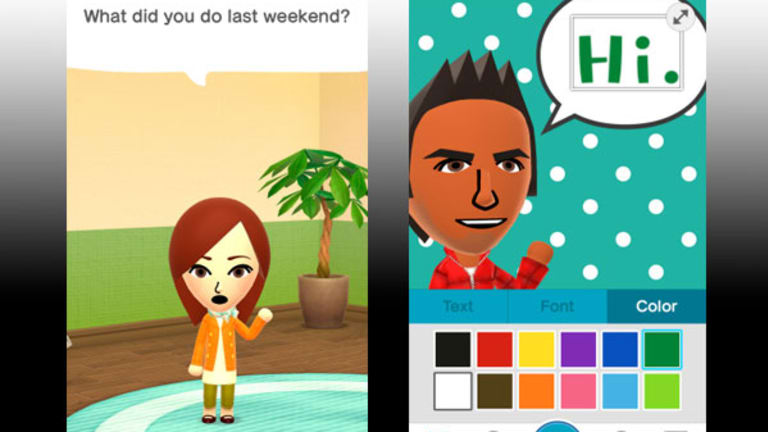 Nintendo Is Bringing Its First Smartphone Game to the U.S. and Fans Couldn't Be More Excited
Nintendo is finally bringing its first smartphone game, Miitomo, to the U.S., a sign the company is taking mobile gaming seriously.
After waiting for what seems like forever, Nintendo (NTDOY) - Get Nintendo Co. Ltd ADR Report is finally bringing its first smartphone game to the U.S. and the excitement may cause fans and investors to snag a few extra golden coins.
Following a successful launch in Japan, which saw Miitomo, a game akin to a social network, top 1 million downloads in its first three days, Nintendo is bringing the game to both iOS and Android devices on March 31.
"With Miitomo, Nintendo takes its first step into the world of smart devices," said Scott Moffitt, Nintendo of America's Executive Vice President of Sales & Marketing in a statement. "Miitomo brings the special Nintendo charm and polish that people around the world love to an entirely new format and audience."
Mobile games are one of the keys to Nintendo's future, as the company has seen falling sales of its Wii U game console to go along with a slumping stock price. Following the news of the successful launch of Miitomo in Japan, Nintendo shares surged 8% on March 21, their biggest jump in over a month.
In October 2015, the company announced that Miitomo would be its first game for mobile devices, but fans and investors weren't exactly "powering up" when they heard about it. That sentiment has changed, at least in Japan, and it will be interesting to see if there's a similar reaction in the U.S.
So far, it appears there's considerable excitement surrounding the news:
Unlike a game like Super Mario or Donkey Kong, Miitomo allows users to create a Mii character and customize their looks or personality. Once the Mii is created, gamers can add friends within the game, or link it to their Facebook or Twitter accounts to find friends there.
There's also the ability to use the camera on your phone and take and share photos, using Miifoto in the app.
To get the app on your device, users need to first have a Nintendo account (no, Super Mario doesn't come over when you sign up) and go to https://miitomo.com before March 31 to receive an email when the app is ready to download.
Nintendo has said its next mobile game will feature one of its more popular characters, but hasn't gone into much detail about who (or what) that actually is.