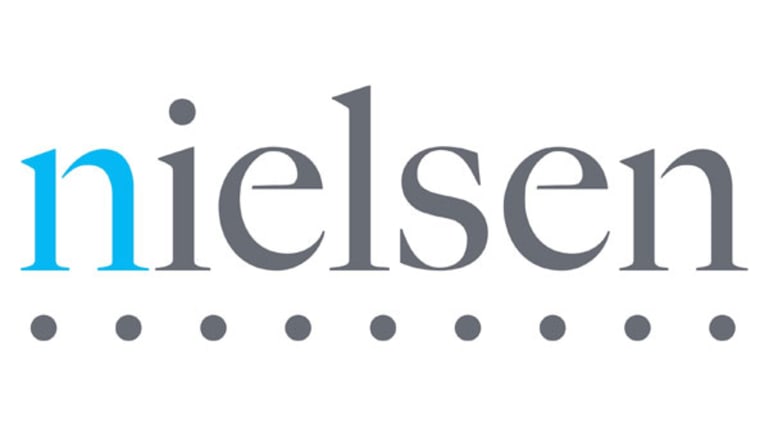 Publish date:
Nielsen Proving That It's Still the Industry Standard
Nielsen edged out analyst expectations and rose over 5% Tuesday. But some TV and advertising executives say it still isn't doing enough to measure viewers outside of linear TV.
Nielsen edged out analyst expectations and rose over 5% Tuesday. But some TV and advertising executives say it still isn't doing enough to measure viewers outside of linear TV.
NEW YORK (TheStreet) -- Media ratings company Nielsen (NLSN) - Get Nielsen Holdings Plc (NLSN) Report is enjoying its biggest two-day climb in over a year and a half, gaining over 7.6% after its second-quarter earnings beat Wall Street expectations.
The jump is a something of a pick-me-up for Nielsen, which has been criticized by many of the world's largest media companies and advertisers for allegedly being slow or incapable of capturing audience growth on digital platforms. 
But by reporting a profit of $114 million, or 66 cents a share, compared with the mean Wall Street forecast of 64 cents, Nielsen is demonstrating that it's still attractive to investors.
"Nielsen's durability has never gone away. I think the only thing that's changed is the degree to which investors have perceived that to be the case." said Brian Wieser, a senior media, Internet and advertising analyst at Pivotal Research Group. "Nielsen has had challenges telling their story, they're working harder at telling their story and the numbers in the second quarter supported their story."
The Dutch company is known for surveying a sample of households to determine audience size and, by extension, the price of space during a commercial break on television. Along with serving as a punching bag for frustrated media companies, Nielsen has also had to contend with new rivals led by comScore (SCOR) - Get comScore, Inc. Report and Rentrack Corporation (RENT) , each providing alternative cross-screen metrics.
For its part, Nielsen has said its plans to release a more comprehensive ranking to better capture data from streaming and over-the-top services by the end of the year.
"Nielsen is finally catching up to its rivals in terms of the market believing that they have a path towards not only a digital methodology, but a cross-platform currency," said Thomas Eagan, a senior media analyst at Telsey Advisory Group. "With all that said, execution in Q4 is going to be important."
Nielsen's 18 to 49 demographic remains the key metric in the TV industry, even as many in that audience segment are moving away from linear television.
"It's still the currency, it's still what's traded in the upfronts," said Dan Ackerman, who heads AOL's programmatic television advertising team, in a presentation hosted by the recent Verizon's (VZ) - Get Verizon Communications Inc. Report acquisition on Tuesday. "But we've seen massive declines in it. This is the audience, millennials and 18 to 49 year-olds that are moving away from traditional television consumption."
On an earnings call with analysts Tuesday, Nielsen CEO Mitch Barns said the company should have a "total audience measurement framework" that better incorporates data from more digital content and other non-linear television sources in 16 markets accounting for 95% of global digital advertising spending by year-end.
As of April, Nielsen has an agreement with over-the-top video service Roku to incorporate viewers that use their devices into its ratings.
But many giant media companies, some of Nielsen's key customers, have taken jabs at Nielsen for what they see as shortcomings in their services.
Viacom (VIAB) - Get Viacom Inc. Class B Report CEO Philippe Dauman has criticized traditional Nielsen ratings for failing to include viewing from mobile apps, gaming devices and other digital platforms.
In February of this year, David Zaslav, CEO of Discovery Communications (DISCA) - Get Discovery, Inc. Class A Report, said Nielsen was "under-measuring," but expected its metrics to improve.
At a panel hosted by Verizon's (VZ) - Get Verizon Communications Inc. Report AOL on Tuesday, Jamie Power of MODI Media, a division of WPP's (WPPGY) Group M, said Nielsen ratings will remain the industry standard "for the foreseeable future" or "until someone comes up with another unified way that we can measure television."
Another panelist, Dan Aversano a vice president in the ad sales department of Time Warner's (TWX) Turner Broadcasting, said the television business needs to accept that advertisers no longer rely just on Nielsen ratings, but might use other metrics as alternative "currency" when they buy ad space.
"We're moving further and further from the idea of standardization of currency and we have to be okay with that, because advertisers are going to know their customers better than we ever will," said Aversano.
Nielsen is hoping to help clients reach a consensus about updated ratings standards, Barns told analysts Tuesday.
"The need is for the definition of the currency to be broadened to incorporate more of the ways that consumers are watching television content across all these different environments today," said Barns. "And so we've been fostering that conversation."