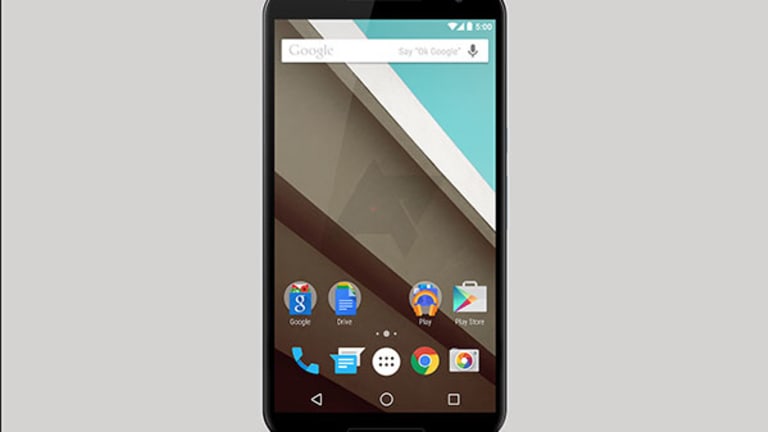 Nexus 6 Review: The Best Android Phone Ever If You Can Find One
Motorola-made, with a 6-inch display, it's the first phone to ship with the Android 5.0 Lollipop operating system.
NEW YORK (TheStreet) -- Motorola makes great Android phones, with the Moto X, the reasonably-priced Moto G and all the Droid-branded phones just to name a few. As Google (GOOG) - Get Alphabet Inc. Class C Report likes to showcase its bleeding-edge Android wares by creating Nexus devices along with top-line manufacturers, choosing Motorola was a no-brainer to make the new Nexus 6 smartphone.
The Nexus 6 is a very large smartphone, or a very small tablet that can make and receive calls. Think of it in terms of Apple (AAPL) - Get Apple Inc. (AAPL) Report iPhone 6 Plus large, which is currently the trend.
The Nexus 6 is a collection of top-of-the-line components squeezed into the handset, which measures 6.27 by 3.27 by 0.40 inches and weighs 6.49 ounces. For those who like to compare, the iPhone 6 Plus is 6.22 by 3.06 by 0.28 inches and weighs 6.07 ounces. The iPhone is slightly more squared off while the Nexus is a little more rounded with the infamous Moto battery hump on the back.
Nexus 6 has a 5.96-inch touchscreen display that's capable of delivering a density of 493 pixels per inch (ppi) from its 2560 by 1440 pixels and is protected by the latest version of Corning (GLW) - Get Corning Inc Report Gorilla Glass. By comparison, the iPhone 6 Plus has a 5.5-inch screen with a 401 ppi rating.
The latest Nexus smartphone runs on a 2.7 GHz, quad-core, Qualcomm (QCOM) - Get QUALCOMM Incorporated Report Snapdragon 805 processor, comes with 3 GB of RAM and either 32GB or 64GB of built-in storage, with no option for micro-SD card expansion. There is a 13MP camera on the back (that uses a Sony (SNE) - Get SONY GROUP CORPORATION SPONSORED ADR Report sensor) and a 2 MP shooter on the front. That rear camera features auto-focus and optical image stabilization systems as standard equipment. It is capable of capturing images measuring up to 4128 by 3096 pixels as well as 2160p videos at 30 frames-per-second.
That top-to-bottom battery hump hides a non-user-replaceable, 3220 mAh, rechargeable battery pack, which Google says it's good for as much as 24 hours of talk time and nearly 14 days of standby. In our tests, we were able to get a full day of heavy use - including checking email, Google+, Facebook (FB) - Get Facebook, Inc. Class A Report and Twitter (TWTR) - Get Twitter, Inc. Report accounts, watching video from Netflix (NFLX) - Get Netflix, Inc. (NFLX) Report and Time Warner Cable (TWC) as well as stream music from Spotify and Tidal. The Nexus 6 also boasts Qualcomm's Quick Charge technology which gives you up to 6 hours of battery life from a 15 minute charge, a welcomed feature.
Also included in the Nexus 6 are the latest Wi-Fi, Bluetooth, GPS and NFC connectivity features. In addition, the Nexus 6 works on all U.S. major carriers right out of the box. Of course you'll need the a proper nanoSIM card from your carrier but the same phone can be used with Verizon (VZ) - Get Verizon Communications Inc. Report , AT&T (T) - Get AT&T Inc. Report , Sprint (S) - Get SENTINELONE, INC. Report , T-Mobile (TMUS) - Get T-Mobile US, Inc. Report and U.S. Cellular (USM) - Get United States Cellular Corp Report -- a welcomed change for what we've become used to.
While the hardware is a first-rate draw, we can't forget the new software inside. Nexus 6 is the first phone to come loaded with Android 5.0, codenamed Lollipop, a near total reworking of Android. It changes the way the system looks and feels and in some cases, how it works. Some of the new features include little things like how you get from the alert screen (you now need to double-tap if you want to go directly to an alert) to big things like the new Gmail and Calendar apps and much more.
In my review, the new OS worked perfectly during tests, as it's fast and accurate. Because the OS is now 64-bit ready (just like Apple's iOS), it means at some point soon Android devices will be able to take advantage of increased amounts of system memory to complete more intensive computing tasks.
Despite all of this, I have to admit I found there to be somewhat of a learning curve getting used to Android 5. I don't remember thinking that in the past when upgrading from Android 2-to-3 or even Android 3-to-4. It's not a super difficult process, but it is something you need to be aware of nonetheless.
I haven't had the Nexus 6 long enough to put the rear camera through all of its paces, but I did find that it takes really terrific photos, day and night. The videos I shot with the 6 looked amazingly good on the phone's display and when viewed on a flat-screen HD television using a Google Chromecast. 
The Nexus 6 is also one of the best sounding phones we've ever heard, coming standard with stereo speakers, both above and below the screen. They play loud and sound fantastic and streaming CD-quality tunes via Tidal was pretty remarkable. Voice calls were very clear too.
You should now realize that we really like the phone and feel it's the best Android smartphone to date. It's due to the screen, both the size and the quality. In fact, it could almost be considered the best small Android tablet to date as well. But, the large screen can be a double-edged sword, as a 6-inch display is just about the upper limit for smartphones. As much as I love the Nexus 6, it is a bit cumbersome to hold to your ear (even with large hands) and even harder to comfortably carry in a pocket or purse. There are other great "phablets" on the market today (like the iPhone 6 Plus, Samsung's (SSNLF) Galaxy Note 4 and the OnePlus One) which have slightly smaller screens and are ultimately a bit more portable.
The Nexus 6's level of quality doesn't come cheap. Unlocked version will retail for $649 (32 GB) and $699 (64 GB). Check with your carrier to see how they'll dole out those prices over a 2-year contract.
If you're an Android fan, or you're looking to switch from another system, you owe it to yourself to see the Nexus 6 in person and witness what a near-perfect Android looks, acts, feels and even smells like. That's if you can find one. The phones will reportedly be in very short supply in the near term. At the moment, the Nexus 6 is Android's "King of the Hill" and "Top of the Heap" all rolled into one device. You'll understand as soon as you try one.
Final Grade: 9.1/10.
-- Written by Gary Krakow in New York.
To submit a news tip, send an email to tips@thestreet.com.
Gary Krakow is TheStreet's Senior Technology Correspondent.