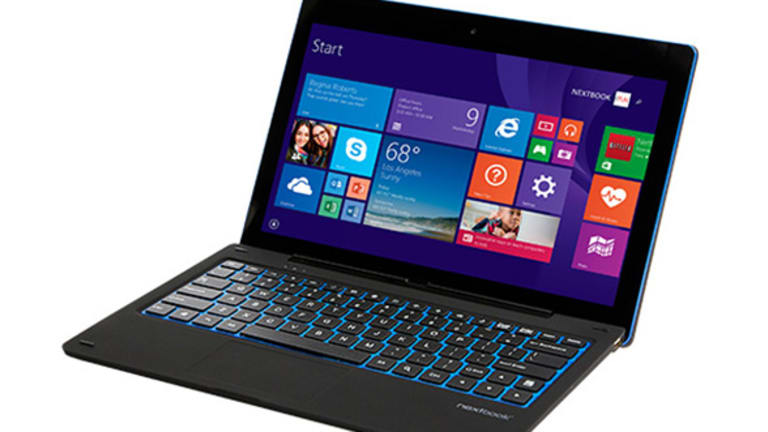 Nextbook Flexx 11 Review: Challenging Microsoft's Surface Tablets
Competitive pricing and use of Windows 10 make these E-Fun devices a solid alternative to pricier, more powerful tablets and Chromebooks.
Microsoft's (MSFT) - Get Microsoft Corporation (MSFT) Report  new Surface 3 Windows tablet is a very good computer -- it's lightweight, fast and capable. But even though at it carries a starting price of $499 and is cheaper than the Surface Pro 3, there are others out there that offer a similar design at a small fraction of the Surface 3's cost.
Enter E-Fun's new Nextbook Flexx 2-in 1 line of Windows 8.1 tablets/notebooks.
Last year, E-Funintroduced its Nextbook small Windows 8.1 tablet, selling the device for only $99 as a Walmart (WMT) - Get Walmart Inc. Report  Black Friday promotion. At the time, we thought that device was a pretty good deal for the price.
The company's new Flexx devices are an even better deal. There are two models: One is the Flexx 10 with a 10.1-inch IPS touch display (1280 by 800 pixels), 64-bit, quad-core, 1.8 GHz Intel (INTC) - Get Intel Corporation (INTC) Report Atom processor, 2 GB of RAM, 32 GB of internal storage, a sturdy detachable keyboard cover, 1 TB of Microsoft cloud storage for a year and 60 world minutes on Skype. The price? $178.
Our test model was the Flexx 11, which offers a touchscreen that measures 11.6-inches (1360 by 768 pixels), has the same Intel processor, 2 GB of RAM, 64 GB of internal storage and comes with a back-lit keyboard, all for $227.
Both new devices are available at Walmart and both feature Wi-Fi, Bluetooth 4.0, a pair of 2 megapixel cameras (front and back), a MicroSD card expansion slot, a micro HDMI connection and two USB 2.0 ports. One of the biggest features is that both are eligible for a free upgrade to the much improved Windows 10 operating system.
As a Windows 8.1 computer, the Flexx 11 is quite a good performer. The processor seemed fast, and with 2 GB of RAM, it was able to handle high-definition video streams. The backlighting under the keyboard was a nice extra in some dimly-lit situations but, at times, was bright enough to annoy others nearby. The battery provided three to five hours of power, depending on how the device was used. Streaming on Netflix was on the lower end, while occasional Web surfing and email checking came out on the higher end.
We found the Flexx 11 to be a great deal for the price. Overall, it's close in size to late 2014's Asus Eee PC, which was also a Black Friday special. Despite the unit's weight of 2.97 pounds, at least one pound more than either of Microsoft's similar designs, most people will probably be using it as a laptop replacement, and keeping it firmly planted on a desk most of the time. In that regard, the Nextbook's hard shell keyboard cover offers a much more solid footing than Microsoft's somewhat flimsy, optional keyboard cover.
The Nextbook Flexx is amazing for the asking price. Yes, the Surface 3 and 3 Pro are lighter in weight, more refined, and better at handling process-intensive tasks such as complex gaming, Photoshop and the like.
Bottom line: if you're in the market for a solid touchscreen computer that can be used as a tablet or notebook and can run Windows 10 -- either of these Nextbooks could be right for you.
Overall Score: 8.5/10
Buy the Nextbook Flexx 11 tablet on Amazon.
This article is commentary by an independent contributor. At the time of publication, the author held no positions in the stocks mentioned.
Disclosure: TheStreet has advertisers and partnerships; we may get a share of the revenue from your purchase.