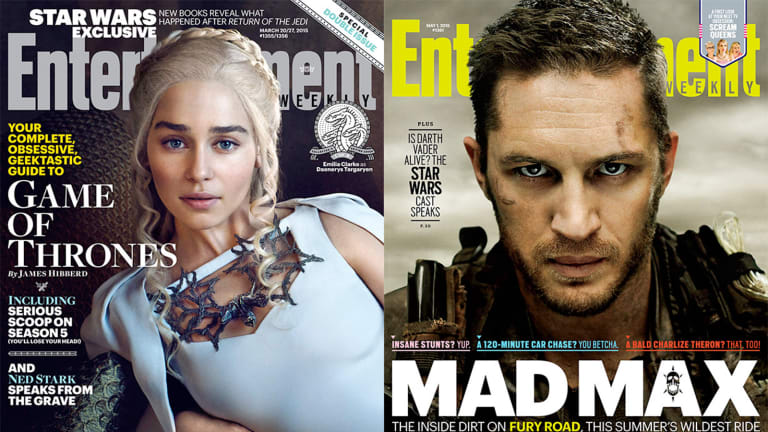 News Corp, Time, New York Times Have Big Plans for Mobile Video
For legacy print companies like The New York Times, News Corp and Time, short-form mobile video may be the answer to surviving the digital age.
LOS ANGELES (TheStreet) -- For legacy print companies including New York Times (NYT) - Get New York Times Company Class A Report, News Corp (NWSA) - Get News Corporation Class A Report and Time (TIME) , short-form mobile video may be the answer to surviving the digital age. 
"I don't think there's any particular genius or magic behind it," said Doug Arthur, a senior analyst at Huber Research Partners. "The advertising rates in video are fairly high."
Digital video advertising rose to $5.8 billion last year and is expected to climb to $14 billion by 2019, according to eMarketer, as advertisers dedicate more spending to the smartphones and tablets preferred by younger consumers.
"Online video is the fastest-growing medium out there from an advertising growth point of view and from a consumption point of view," Arthur added.
News Corp CEO Robert Thomson is using Storyful, which the company acquired in 2013, to discover and deliver short videos from around the Web to its various Web sites. New York Times has expanded its award-winning video operation to complement many of its top stories, encouraging its videos be shared through social media. Time plans to use is magazines Entertainment Weekly and People to push its own pop culture-infused short videos to its users.
All three efforts reflect the rising interest and acceptance of marketers for mobile platforms.
Indeed, digital ad sales at the New York Times appear to be gaining momentum. Digital ad sales have grown at a double-digit pace for multiple quarters, including nearly an 11% rise in the quarter ended March 31. Mobile revenue has grown at a 40% year-over-year clip at the newspaper publisher and now comprises more than a tenth of all digital ad revenue.
New York Times CEO Mark Thompson has pointed to mobile and video along with native advertising, paid ads meant to blend into a story's text, as key drivers of digital growth, and the company forecasts that digital ad sales will continue at the same clip in the current quarter.
The New York Times' video division, Times Video, was part of its Pulitzer Prize-winning coverage of the Ebola outbreak in Africa last year. The newspaper also plans to debut video series on family-run business, six women's roles in Arab Spring as well as young people entering adulthood in cash-strapped Detroit.
Staid media companies' effort capitalize on mobile video is the latest stage in a decade-long quest to squeeze what they can out of digital advertising following the collapse of the print ad market.
Print ad sales for the New York Times were down 11% in the first quarter.
The companies, which haven't succeeded in turning the same profits as before, are also playing catch up to BuzzFeed and Vice, two closely held Web sites that have transformed into influential media companies in large part on the strength of their multimedia offerings.
BuzzFeed was valued at $850 million last year. Vice, which has earned investment from News Corp Chairman Rupert Murdoch, tops both the New York Times and Time in total value at $2.5 billion.
"What a company will reap the rewards from is understanding what the reader wants and at what point in the connection with your brand or your masthead," said Anoushka Healy, News Corp chief strategy officer.
The company's Wall Street Journal hopes to attract a stronger digital audience through Americana, a series of 40 short films about the spirit of economics and entrepreneurship that begins with European settlement in North America.
Healy describes News Corp's strategy as connecting with readers, whether it's through soccer highlights for consumers in the United Kingdom or Asia, or its IAF (Internet Action Force) series where comedians and self-proclaimed "nerds" respond to the day's topics popular on social media.
"It comes down to the core of all journalism, which is to understand your reader and how they're reading you, what they need at that moment and what you can use in terms of visual images and video to add to their experience of the story," Healy said.
The mobile video ad market, however, is far from a certain win. The marketplace is competitive, and there is risk ad rates many fall if it gets too crowded too quickly, Arthur said.
The mobile advertising market also receives just 8% of digital ad spending although people use about a quarter of their media-consuming time on mobile, according to Mary Meeker, a venture capitalist at Kleiner Perkins Caufield & Byers. Meeker pegs that as a $25 billion growth opportunity for mobile in the United States, but it also suggests marketers are still shying away from mobile.
For the old guard, the sticky question is also how quickly digital ad revenue will surpass declines elsewhere.
Google's (GOOGL) - Get Alphabet Inc. Class A Report YouTube and AOL (AOL) have shown that digital ads, though often more cumbersome on a phone or tablet than a traditional 30-second TV spot, can be sold around short video for significant revenue.
Shares of The New York Times, which has been written off for dead in the past, are up 6.4% on the year and up more than 10% since reporting their first quarter earnings on April 30, in part on the strength of digital.
"It's more than a finger in a leak," Arthur said of New York Times.
"It's not going to take long before digital subscriptions and digital advertising is growing faster than the drop in print, so that you'll get a switch over," Arthur added. "It's not today, it's not even tomorrow, but it's out there in a few years."
This article is commentary by an independent contributor. At the time of publication, the author held no positions in the stocks mentioned.