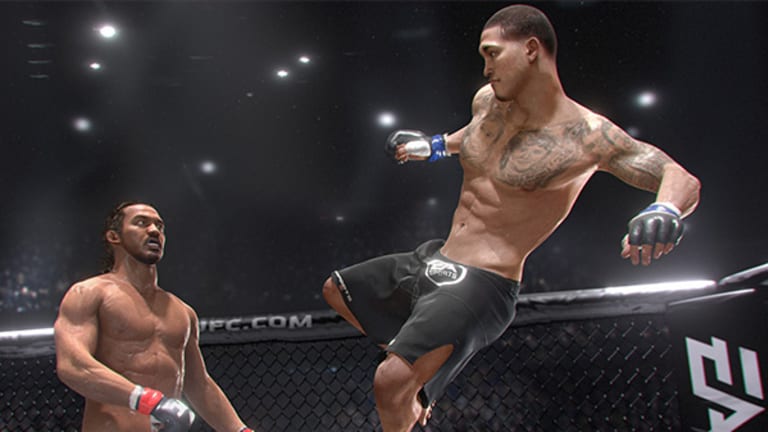 New UFC Video Game Is A Hard Hitting Combat Spectacle From EA Sports
Gaming powerhouse Electronic Arts (EA) has wasted no time in rolling out what is perhaps its most anticipated title of the year, EA Sports UFC.
Now that the 2014 Electronic Entertainment Expo has concluded, gaming powerhouse Electronic Arts (EA) - Get Electronic Arts Inc. Report has wasted no time in rolling out what is perhaps its most anticipated title of the year, EA Sports UFC.
Presented by EA and the Ultimate Fighting Championship, or UFC,on Monday, June 16, UFC fighters and athletes stepped inside a full size UFC octagon constructed in the heart of New York's Times Square to demo EA's new flagship combat sports title giving the public its first crack at real game play. 
In the works for over three years, the game is being touted as one of the best combat sports titles ever created.
It was developed with a selection of current UFC stars as well as UFC "Hall of Famers" and a special appearance by martial arts legend Bruce Lee, EA Sports UFC captures the blood, sweat, muscle and spectacle that is as close to authentic as the real, live experience inside the octagon.
EA Sports UFC creator and chief developer Brian Hayes is extremely confident that the game will forever change the landscape of combat sports entertainment.

Said he: "I knew one of the big things, making this game for the Sony (SNE) - Get SONY GROUP CORPORATION SPONSORED ADR ReportComputer Entertainment Playstation S4  and Microsoft (MSFT) - Get Microsoft Corporation (MSFT) ReportXbox One, we had to make it as visually spectacular as we possibly could, make it as accessible and fun as we possibly could. We want to blow people's minds with how amazing the game looks, and when they pick up the controller, they'll have had had a blast, punching and kicking each other in the face."
With nearly all stages of its conception run through and examined by the UFC, Hayes spoke highly of EA's relationship with the Las Vegas-based fighting promotion.
"I hope it's the start of something big, certainly this being the first EA Sports UFC game. We really wanted to create a solid foundation for this long term partnership and by creating something brand new for the next generation of video game consoles...there is a potential that a lot of people who are not hardcore UFC fans will be like, 'you know, I want to check that out just because it looks fun and it looks amazing,' so there's a growth opportunity both for us and even for the UFC."
As the public gets their hands on the game, excited UFC fighters were able to experience and fight as their electronic selves for the very first time. 
Take current Light Heavyweight Champion Jon "Bones" Jones: "It's a great feeling to play yourself in a video game, just to see how far I've come in my personal life, and where the sport of MMA has come. It's great, man. It's like a dream come true, it's hard to believe, actually."
Former Interim Welterweight Champion Carlos Condit describes his playing experience as "crazy man, it's surreal," adding, "here's the cool thing. They got the movements, the individual movements of each fighter, each character, very, very down, its on point...its really cool to play yourself."
With near human-like fighter development, detailed martial arts techniques, violence and play-by-play from UFC regular commentators Mike Goldberg and Joe Rogan, EA Sports UFC is set to make a big splash in the sports game market for the rest of this year and into 2015. There's no word yet on whether the game will eventually be an annual series as other EA Sports titles have become.
EA Sports UFC hits stores today, June 17, and will be released worldwide on June 20.
EA stock is up slightly today to $35.83.
Last month, EA said profit rose 14% to $367 million, or $1.15 a share, for its fiscal fourth quarter, from $323 million, or $1.05 a share, a year earlier.
Revenue fell to $1.12 billion from $1.21 billion
EA expects an adjusted per-share profit of $1.85 for its fiscal year, well above analyst expectations of $1.52. Revenue is expected to be $4.1 billion, about in line with expectations.