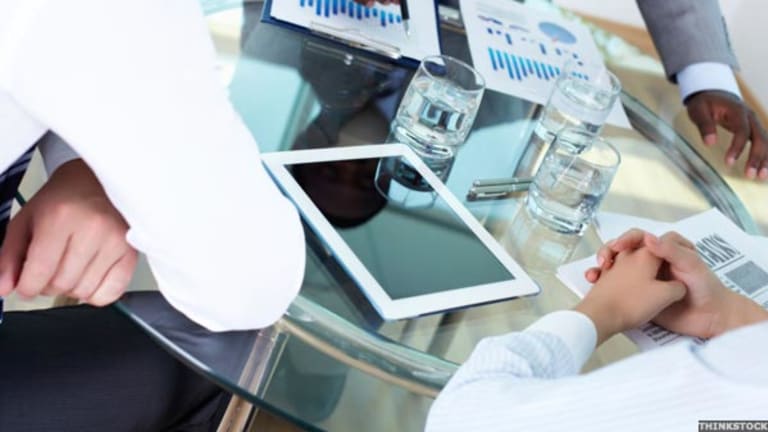 New HP Needs Some Old IBM
New HP CEO Meg Whitman may choose a decade of transition and deals, like IBM's retiring CEO Palmisano.
New HP CEO Meg Whitman may choose a decade of transition and deals, like IBM's retiring CEO Palmisano.
NEW YORK (
) --
Hewlett Packard's
(HPQ) - Get Report
future may hinge on
IBM's
(IBM) - Get Report
past.
As new HP CEO Meg Whitman mulls how much she wants to transform the world's largest computer maker through mergers and spins, there's plenty of wisdom she can pick up from the deals made by outgoing IBM CEO Samuel J. Palmisano.
Whitman's September hire as HP's CEO comes at a time when the company weighs deals that may transform the HP from personal computer businesses toward software and services. That could match the turnaround at IBM completed by Palmisano, who's set to step down as CEO and be replaced by sales head Virginia M. Rometty at the end of the year -- Palmisano will continue as IBM's chairman.
HP's Whitman could pursue a strategy of acquisitions and divestitures in the mold of IBM's multi-decade move to higher profit margin businesses, which under Palmisano's leadership, included a sale of its own PC business, an acquisition of
PriceWaterhouseCoopers'
consulting arm and a handful of other deals that established Big Blue as a software and technological services giant.
HP has already started. It purchased a controlling stake in British software giant
Autonomy
for $10.3 billion earlier this month and is now deciding whether to continue former CEO Leo Apotheker's plans of tipping the balance of sales from PC's to services and software businesses by spinning its computers division.
After Apotheker's plan was approved by the company board and announced in August, he was then fired in September after just eleven months as HP's head and replaced by Whitman, a former
Ebay
(EBAY) - Get Report
CEO. Whitman has said that by the end of October, the company and its board will decide once and for all if it will spin its $40 billion computers business.
In an earlier article,
TheStreet
concluded that a PC spin and software transformation would require Whitman to cut a
flurry of deals. Whitman's separately said in October that the company won't be in the deals market anytime soon.
An HP spokesperson said in an email to
TheStreet
, "Our approach to M&A has not changed. Across HP's portfolio, we will continue to pursue growth through organic innovation, we'll continue to partner, and we'll continue to evaluate M&A opportunities that make strategic, operational and financial sense."
Since deals may make Whitman HP's transformative CEO, she'd be wise to reflect on how Palmisano succeeded at IBM.
If you ask IBM'ers about how Palmisano used acquisitions and divestitures to change the tech giant's course, they say he bolstered existing businesses with new capabilities gained in acquisitions -- and ones that committed to clients, instead of a computing innovation war. "History is for what's written in the books, you've got to continue to reinvent yourself," said Robert LeBlanc an IBM senior vice president in a phone interview.
"Certainly, the IBM culture up to the 1990's was that 'we build it ourselves'... We came to the conclusion that we didn't have every great idea that's out there," said LeBlanc about the deals that turned IBM around under CEOs Lou Gerstner and later Palmisano in the late 1990s and early 2000s.
The interview was conducted prior to Palmisano's retirement. The strategy led to IBM's 1995 purchase of email innovator Lotus and middleware software company Tivoli a year later, both deepened IBM's software push. LeBlanc added, "We lost our way with the client and thought it was about technology." Palmisano's deals as CEO show what LeBlanc calls a realization that "It's not about the technology, it's about the client."
After taking the helm of IBM in March 2002 and replacing Lou Gerstner whose leadership he credited with leading "IBM back from its darkest days", Palmisano completed the transformation of the company in a flurry of acquisitions and divestitures.
Just six weeks on the job, Palmisano sold IBM's lossmaking hard-drives business to
Hitachi
( HIT) for over $2 billion. Nine months in, Palmisano bought PwC's 30,000 employee strong consulting arm for nearly $4 billion -- bolstering its larger Global Services unit headed by now soon to be CEO Rometty. At the time, it was the largest ever services acquisition and the foundation for its now over 200,000 consultant strong unit responsible for over half of the company's near $100 billion in annual revenue.
About Palmisano's deals signature after becoming IBM's leader LeBlanc said, "I think we have evolved our thinking and have become more mature. When you think about the first big acquisitions we did in software like Lotus and Tivoli... we treated them like subsidiaries, we've evolved our thinking where now we integrate
acquisitions very quickly."
Palmisano's PwC acquisition and Rometty's ability to quickly integrate PwC consultants into an already giant Global Services tech consulting division without defections, "got the company focused where the growth opportunities are," said LeBlanc.
In 2004, Palmisano made his boldest cut, selling IBM's computers business to
Lenovo
(LNVGY)
for $1.75 billion. At the time the deal was announced, the division contributed upward of $10 billion in revenue and was both IBM's most widely recognizable brand and a symbol of its
Nobel Prize
winning heritage for innovation.
Whitman is presently weighing an even more significant spin. The importance of HP's world leading PC business to overall revenue is larger than IBM's was at the time of the Lenovo divestiture -- as is its tech heritage.
Founded in Palo, Alto -California in 1939, HP was the first of many computing giants born from a California garage, it was also the seed from which present day Silicon Valley sprung -- the company even gave legendary
Apple
(AAPL) - Get Report
founder Steve Jobs his first internship.
For IBM, the PC spin was a cathartic moment that set the stage for its present day strength. Citing a focus on the highest value businesses in the "rapidly changing
IT industry" Palmisano said at the time of the deal, "over the past several years, we have aggressively repositioned IBM to be the world's leading provider of innovation-enabled solutions for businesses and institutions of all sizes, in all industries." IBM's earnings show the success of Palmisano's deals imprint.
The Dec. 2004 PC spin was announced just as IBM was capping one of its worst years since it lost a record $8.1 billion in 1993. In Palmisano's push for margin growth that led to acquisitions and divestitures, the company succeeded. From 2004 to the year ended in 2010, IBM's revenue grew marginally to $100 billion but its profitability almost doubled to $18.1 billion and its earnings per share more than quadrupled.
IBM's earnings were bolstered by the PwC acquisition, as well as other Palmisano deals like a $4.5 billion acquisition of business intelligence specialist Cognos for its Information on Demand push in 2007, a $1.58 billion purchase of Rational Software in 2002 and a $1.67 billion buy of analytics company Netezza in 2010. Since 2004, IBM's services revenue has grown over 20% fueled by its tech consulting division, software sales have grown 37%.
The deals are now being blended together with other businesses, like WebSphere, which grew organically from IBM's research labs, setting a growth path projected in IBM's 2015 Roadmap.
Speaking about the culture of integrating newly acquired businesses into IBM's existing specialties, Mahmoud Naghshineh a vice president of its Services Innovation Labs said, "look there is always this concern
in research to say how would M&A fit in." Citing the change to IBM's tech research after its PwC consulting purchase, Naghshineh said, "because of PwC we were able to exponentially get greater impact in delivering industry specific innovation...M&A is very much a complement to work that we do in research."
The challenge that Whitman faces in cutting deals at HP is very much the same as that of IBM when Gerstner and Palmisano took on the task of reviving one of America's iconic businesses.
With Autonomy, its third largest acquisition, HP will gain $1 billion of software revenue at a fast growing company. The big question in a PC spin will be whether HP can leverage pieces of its $100 billion-plus overall PC, printing, server & network and security businesses in growth spurring acquisitions. Currently, HP is making its software push by keeping separate existing businesses from newly acquired ones -- like IBM with its Tivoli acquisition. It's a signal of where the company is in its potential deals based transformation.
Whitman, if anything, is on the verge of deciding on an even more ambitious change than that of IBM. To be seen is whether HP has the groundwork for such a large turnaround. Depending on Whitman's PC decision, previous acquisitions may one day look like IBM's Tivoli, Lotus and PwC deals -- catalysts of a tack in strategy for the company, which earned $126 billion in revenue last year.
In the spring of 2010, HP purchased 3Com for $2.7 billion to bolster its networking business, and later it bought Palm for $1.2 billion to sell handsets and leverage its webOS platform. In the summer, the company bought Fortify, a software security company that helps users connect to mobile devices using a firewall. That fall, the company paid $2.35 billion for 3Par's storage capabilities and $1.5 billion for ArcSight in a push to security services. As a result of the deals, HP's Technology Solutions group is growing at a 13.4% in the last two years, its fastest growing business. Whitman and the board are likely assessing how HP's Services division can leverage that growth in a PC spin.
Another question Whitman will ask is whether HP even needs to sell its PC's division. While HP's reported declining profitability and revenue recently, is not anywhere close to the multi-billion dollar losses IBM recorded before embarking aggressively on a turnaround. Additionally, after HP announced its computers spin plan, second largest P.C. maker
Dell's
(DELL) - Get Report
shares skyrocketed. Mac computer sales are still
Apple's
(AAPL) - Get Report
second biggest product line, growing at over 11% in the past two years -- signaling that the computers business might not be so bad.
About what it took for IBM to embark on what was a near 15 year turnaround, LeBlanc of IBM said, "Sometimes it takes a near death experience to make that shift."
-- Written by Antoine Gara in New York
Readers Also Like:
5 Industries That Are Doomed to Fail