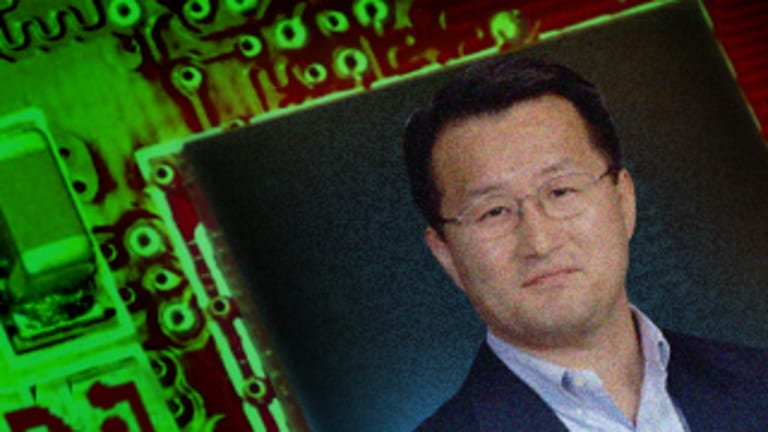 Netlist Transforms With High-Margin Bet
Netlist shares have rallied on the introduction of a new high-margin product, leaving investors to debate the company's true value. TheStreet looks at high-volume, under-$5 stocks each day in The Dollar Store.
IRVINE, Calif. (TheStreet) -- Netlist (NLST) shares have rallied an astonishing 670% over the last three months on the back of a product it hasn't even sold yet.
Netlist, which makes online memory subsystems, has become one of the early tech stars in this young new year. A recent pullback in the company's shares, though, has shone a light on the pitfalls of being a penny stock. Netlist has little institutional ownership and no analyst coverage, and a long string of quarterly losses and brutal competition from rivals, including STEC (STEC) and Smart Modular( SMOD) , may give some investors pause.
But even without yet recognizing a single sale from its new HyperCloud memory module, Netlist's high-margin bet has put it back on traders' radars. Netlist CEO Chuck Hong and believers in Netlist are making the bet that HyperCloud will help complete the company's transformation from embattled commodity memory maker to an innovative powerhouse.
Netlist has been a publicly traded company for just over three years. In November 2006, the company priced its initial public offering of 6.25 million shares at $7, and its stable of customers including Dell (DELL) - Get Report , IBM (IBM) - Get Report and Hewlett-Packard (HPQ) - Get Report attracted plenty of early interest. Enthusiasm for the IPO pushed the stock north of $11 a share, but the pinch of the recession and industry-wide weakness for memory makers took a heavy toll on its share price. In March 2009, one share of Netlist could be had for a mere 11 cents.
"Last year, it was obviously a difficult period for IT companies," Hong said in an interview with TheStreet.com. "Over the last three years, the memory industry lost billions of dollars. Outside of the automotive industry, memory was probably the worst industry worldwide. If you're dealing with commodities in that environment, you're going to lose your shirt."
>> Read the entire interview with Netlist CEO Chuck Hong
But November marked a turning point for Netlist, as fortunes changed for both the company and its ardent shareholders. HyperCloud, which Netlist has dubbed as the "world's first 16-gigabyte, 2 virtual rank memory module," has been the catalyst of the stock's sharp ascent.
Once the technical jargon is stripped away, it's no wonder why investors love with Netlist. Simply put, Netlist has created a computer memory module that takes off-the-shelf memory chips and makes them go faster, consume less power, and create higher capacity. That means fewer, better performing computer servers and, in turn, fewer costs for datacenter customers.
"It takes the same Samsung DRAM or Toshiba flash chip that everyone else uses and basically turns them into something much more high performance, beyond what those manufacturers can themselves do," Hong adds.
Investor enthusiasm has been rampant, apparent in the spike of trading activity. Prior to Netlist's HyperCloud announcement, share volume rarely topped 100,000 per day. Even after Netlist reported disappointing third-quarter earnings on Nov. 2, volume barely topped 228,000 shares.
Since HyperCloud's formal introduction, though, share volume hasn't fallen below 500,000. During one stretch in November, daily share volume exceeded 11 million for seven straight sessions. During this time, Netlist shares rallied from below $1 to nearly $8, where it began trading back in 2006. The stock pulled back some but has remained around the $4 level.
HyperCloud and NetVault, another new product the company is working on, are part of Netlist's altered approach to dominating the memory market. While Netlist went public on a business supported by memory board-level design and packaging that addressed thermal issues, the company has been transformed on the two proprietary product lines.
"We're a different business and a different company since then," Hong said. "We saw the writing on the wall as we ran into heavy losses and tough market conditions. It quickly dawned on us that we needed to look to create other values besides board-level and chip-packaging technology and create proprietary chips."
As Hong puts it, Netlist now takes low-grade crude oil and turns it into rocket fuel by use of this proprietary engine it has with HyperCloud, rather than turning the low-grade crude into more low-grade commodity parts. "We kept our head down and got out of the commodity stuff. We got into an R&D mode and we were lucky enough to succeed in creating these very valuable, proprietary controller products," he said.
Netlist stands to benefit mostly from the emerging trend of cloud computing. The technology offers computing power and storage via the Internet, allowing the industry to transition to utility computing. Instead of businesses housing a server room and staff of IT people, the trend is to have offsite servers managed by another company.
"The more important trend in the industry, and probably the biggest trend in the IT industry, is the build out of cloud computing," Hong asserts. "HyperCloud plays off the cloud-computing trend, which is going to continue to grow over the next five to six years."
Hong says that as companies push further into cloud computing, data centers owned by Yahoo! (YHOO) , Google (GOOG) - Get Report , Microsoft (MSFT) - Get Report , IBM and EMC (EMC) will need more servers and more memory in those servers.
"A lot of the search applications are memory intensive, like YouTube downloading. That's all driven off of DRAM memory, as opposed to the hard drive," Hong said. "Customers need high-density memory at the lowest cost possible. They want that memory to run fast with low power. And that's what our product does."
Of course, the real benefit to Netlist won't come until it actually sells HyperCloud to its customers, and that's brought scrutiny from investors who are not convinced in Netlist's turnaround. While Hong says its customers were also initially skeptical that Netlist could do what it said it could theoretically do, the company is now at the point where it has samples to present and show customers that the technology exists.
"To get ... a product where it is mass producible with all the reliability in mission critical applications, that's going to take some work. But the hard part of getting the product to work well has been done," Hong said. "The specifications about the cost performance and power were said to be unattainable. But we're now at the point where we have engineering-level samples, and they've seen first hand that it is doable. It has been done."
That isn't to say Netlist investors are experiencing risk-free returns. As is the case with any penny stock that has rallied sharply, risk always moves higher in lockstep. And while the share price has ballooned on the expectated sales performance of HyperCloud, it won't show up in Netlist's overall revenue stream until late in the second quarter or early in the third quarter.
In addition, there is no analyst coverage of the stock, as Netlist hasn't provided guidance. And because Netlist traded below $1 for so long, institutional ownership is nearly nonexistent. But Hong says that all could change very shortly, given the expectations for the new memory module's performance.
"We're already talking to analysts and we will have some research coverage pretty shortly," he said. "Over the last few weeks, we've met with dozens of interested institutions. I think over the course of the last few months, many of them have purchased. I see indications that they're getting back in now. I think we'll start to see that."
In December, Netlist shares were hammered after Inphi Corp sued for patent infringement, arguing that Netlist's memory modules, such as HyperCloud, infringe on two patents Inphi holds.
Netlist immediately fired back that the suit is "without merit" and was only in response to a patent infringement action filed by Netlist against Inphi in September 2009. Netlist first initiated the patent suits against Google and Inphi, Hong says, adding that he's very confident Netlist's patents will hold up to anything.
"We feel this to be a seminal patent and a family of patents now in server memory. It's really a breakthrough in server memory," he said. "The HyperCloud product really emanates from this patent. We came up with it starting with an invention in 2004 when creating a product for Apple (AAPL) - Get Report . It didn't come out of a vacuum. It's a technology platform that has legs for the next decade or more."
For now, speculators will continue to debate whether the remarkable comeback in Netlist shares now reflects the company's true value or whether the trading action is part of a pump-and-dump move by speculators driving the stock higher. But Hong is optimistic about what lies ahead for Netlist. If third-party analyst reports are correct, HyperCloud is going to be a juggernaut in what is set to be a very large market, he argues.
"The resulting end product is custom and high value, so there's really no alternative anywhere else," Hong said. "We have ourselves in a very strong position in the market."
-- Written by Robert Holmes in Boston.
Check out all of Friday's high-volume, under-$5 stocks at the Dollar Store
Follow Robert Holmes on Twitter and become a fan of TheStreet.com on Facebook.