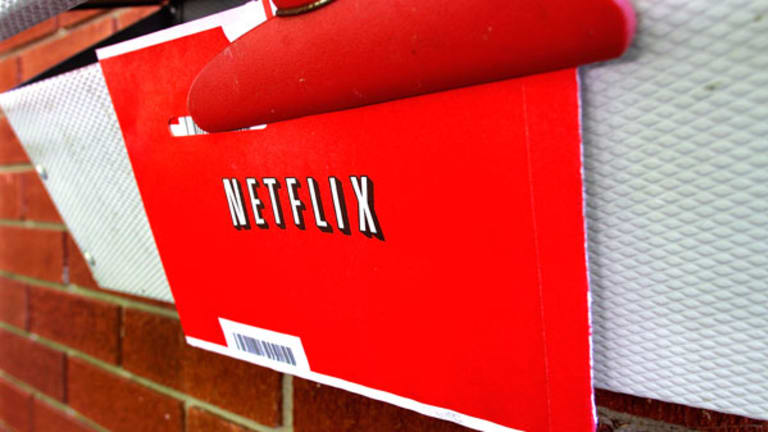 NEW YORK (
) -- Investors need to pay attention to the hidden costs of the original content spending strategy
Netflix's
(NFLX) - Get Netflix, Inc. (NFLX) Report
House of Cards
in the company's second-quarter earnings results expected after the close of trading today.
House of Cards
,
Arrested Development
and
Orange Is the New Black
are helping to boost expectations on
Netflix's
(NFLX) - Get Netflix, Inc. (NFLX) Report
subscriber growth and earnings, however, those critically acclaimed original series may also prove to be a problem for the near 30 million-member strong network.
Netflix is expected to report its highest quarterly profit in 18 months, as nearly 1 million new members join the streaming video service and the company sees a declining percentage of subscribers switching to other media such as
Hulu
,
Amazon
(AMZN) - Get Amazon.com, Inc. Report
Prime and traditional cable. The only problem is that Netflix is also expected to report a fourth consecutive quarter of negative free cash flow (FCF), as a result of heavy capital investment on its original programming.
"The investments that will continue to weigh on our cash flow relative to net income are Originals and non-Originals content (ongoing) and our Open Connect conversion (primarily in 2013)," the company
said
in April.
Over the long-term, the company's cash flow and profits will have to converge as money spent on programming weighs against Netflix's earnings. If investors are caught off guard, the original content driving optimism on Netflix's shares
.
The divergence in Netflix's cash flow and its profitability stems from how the company accounts for its spending on original shows.
While Netflix spends heavily up front to make its original series -- about $50 million a season -- very little of that money is expensed to the company's bottom line. Instead, Netflix treats its original programming as a capitalized asset that will be depreciated over multiple quarters.
Because of the accounting, Netflix's recent earnings reflect very little of the cost of its spending, however its cash flow statement shows the full amount of the money going out the door for original shows.
Investors should, at the very least, factor Netflix's streak of negative quarterly cash flow into expectations of the company's long-term profitability, and scrutinize such numbers in second quarter earnings results.
Netflix is forecast to report adjusted earnings of roughly $25 million, or 40 cents a share, according to
Bloomberg
data. The company, however, said it expects to see a mismatch between cash flow and net income for 2013 and analysts project about -$10 million in free cash flow for the quarter.
For the
, Netflix reported operating profits of $31.8 million and adjusted earnings per share of 31 cents. Those figures, however, excluded $45 million in quarterly cash costs related to original content that pushed overall free cash flow to negative $42 million.
Netflix's cash flow statement also showed $591 million in cash spent on its streaming content library, but just $485 million in streaming content expense amortized in the first quarter.
The divergence indicates its original content expense is yet to be fully amortized.
Put another way, Netflix hasn't had to recover every dollar it spends on shows like
House of Cards
in the quarter they are released. Netflix's expectation, as per its accounting, is that the company will see long-term revenue from current content spending among subscriptions paid by a rising number of users.
If Netflix is correct on its assumptions, it should earn revenue equal or beyond the amortization of spending in coming quarters.
Monday's earnings and the second half of 2013 will be a big test for Netflix.
If Netflix's depreciation and amortization expense hits the company's income statement more than expected, or if its gap between cash flow and net income widens, investors may be underestimating the costs the company faces in making original shows.
While CEO Reed Hastings is right to see about 2 million new subscriber additions in the first quarter as validation of the appeal of original content, Netflix may need far more new users to prove the rationale to investors.
Hastings said earlier in 2013 he sees a total addressable subscriber market of up to 90 million users for Netflix. Ninety million users would do the trick in making
House of Cards
a profit generator for Netflix, however, it remains unclear whether 30 million users will suffice.
-- Written by Antoine Gara in New York