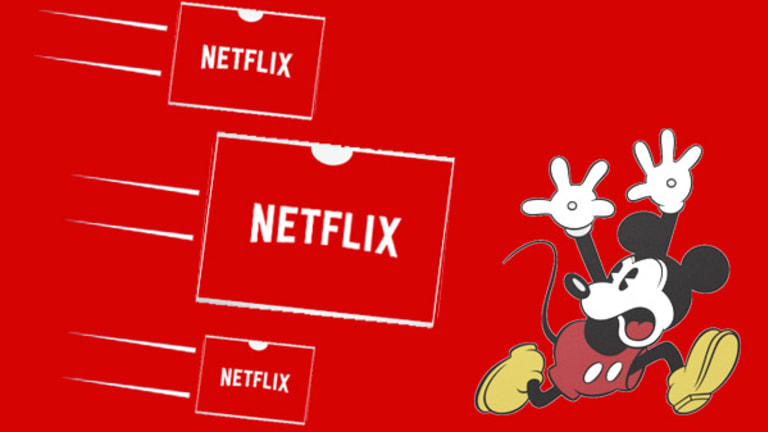 Netflix's Grand Ambition: Become Bigger Than Disney
Netflix's goal is to have close to 500 million subscribers around the world, a huge jump from the roughly 65 million who pay for the service now.
Updated from Sept. 23 to include comments from Jim Cramer.
NEW YORK (TheStreet) -- Netflix (NFLX) - Get Netflix, Inc. Report is no longer content just being the world's biggest video streaming service.
It now wants to become the world's biggest media company, surpassing Walt Disney (DIS) - Get Walt Disney Company Report , according to multiple people familiar with the company's thinking.
Netflix's goal, according to these people, is to have close to 500 million subscribers around the world, a huge jump from the roughly 65 million who pay for the service now. To do that, Netflix is expanding its global presence far beyond what it has announced publicly. Besides gaining entry into countries like Japan and Australia, the company has signaled its intention to go after the big prize -- China.
The task won't be easy. A number of big players like Amazon (AMZN) - Get Amazon.com, Inc. Report, Sling TV (DISH) - Get DISH Network Corporation Class A Report and Verizon (VZ) - Get Verizon Communications Inc. Report already offer their own streaming services. In addition, Apple (AAPL) - Get Apple Inc. Report is rumored to be launching its own streaming service sometime next year.
On top of that, content providers are openly questioning the value of providing their shows to Netflix. "Where's Netflix without our great content?," Discovery Communications (DISCA) - Get Discovery, Inc. Class A Report CEO David Zaslav complained recently.
Netflix, of course, has started creating its own content, including the popular House of Cards and Orange Is the New Black. But the competition there is also fierce, with new players jumping in all the time. 
"Netflix is about to expand to every country in the world," said TheStreet's Jim Cramer. "It is the leader in original content that works everywhere. When I spoke to Reed Hastings on CNBC's MAD MONEY last Friday it was pretty clear that Netflix will be the world's first network and I like the stock."
Exclusive Look Inside:
You see Jim Cramer on TV. Now, see where he invests his money and why. Learn more now.
All that hasn't deterred Netflix. The company, led by CEO Reed Hastings, has consistently said that as Internet TV becomes the main source of video entertainment, companies will have to provide a broad range of services to survive. 
"Over the following decades, Internet TV will replace linear, and we hope to keep leading by offering an amazing entertainment experience," Netflix says on its investor relations site.
A Netflix spokesman declined to comment for this story.
To expand, Netflix will need to continue working with Internet device makers and teaming up with media companies in other countries, allowing users to sign up and get a month or two free. The goal is to become what RBC Capital Markets analyst Mark Mahaney calls an "entertainment utility."
"HBO is a video utility and it seems to be that Netflix is making a broader play in availability and content than anyone else in the market," Mahaney said. "It's entertainment ubiquity." RBC gives Netflix shares an outperform rating with a $140 price target. The shares were trading around $97 on Tuesday.
Los Gatos, Calif.-based Netflix has always been a forward-thinking company. In 2007, it unveiled its plans for a streaming service, moving away from renting DVDs by mail, well before streaming services such as Amazon Video, Time Warner's (TWX) HBO Now, Hulu or other services were introduced.
Investors have continued to bid up shares of the $40 billion company as it adds streaming subscribers, although the stock has slumped since the August "Black Monday" slide. Some industry experts believe that Netflix shares trade largely on the company's ability to add more and more subscribers, with Netflix currently in customer acquisition mode.
Down the line, the thinking goes, Netflix can raise prices. It's done so in the past, and more hikes could show the earning power of its business model. Netflix currently charges $8.99 a month for its streaming service, compared to $14.99 a month for HBO Now and $7.99 a month for Hulu's service with ads, or $11.99 for Hulu without ads. 
Netflix has said that it plans to complete its international rollout toward the end of next year. At the end of the second quarter, it had more than 23 million international streaming subscribers. And it looks primed to launch in China and maybe India as well.
Netflix is available in many countries -- among them, the U.S., Canada, much of Latin America, the U.K. and much of Northern Europe. Earlier this year, Netflix announced it was coming to Australia and New Zealand. It's just starting to roll out in in Japan, with help from telecommunications and Internet company Softbank (SFTBF) , which Bank of America Merrill Lynch analyst Nat Schindler said would "likely lift sub[scriber] growth."
Netflix has also publicly said that it is entering the Portuguese, Spanish and Italian markets in October. Additionally it's looking to expand in Asia by early next year, in countries such as Hong Kong, Singapore, South Korea and Taiwan.
China is a priority for Netflix. On the April 15 earnings call, Chief Content Officer Ted Sarandos said, "We are anxious and open to all forms of doing business in China."
In May, Netflix was reported to be working to enter the Chinese video market, which could be the most lucrative of all, given its size and scope. By 2018, the Chinese market is expected to nearly triple in size to as much as 90 billion yuan ($14.1 billion), according IResearch, a Shanghai-based consulting firm.
BTIG analyst Rich Greenfield, one of the more bullish Wall Street analysts on Netflix, believes the company is "winning the daily war for consumer time and attention," as it now exceeds more than two hours a day per subscriber.
Sandvine, a leading provider of intelligent broadband network solutions, wrote earlier in September that Netflix now accounts for almost 10% of peak downstream Internet traffic in Austria and France, despite having just launched there in September 2014. Netflix also claims more than 20% of Internet traffic in the U.K. and Ireland. As of May 2015, Netflix accounted for more than 36% of downstream traffic in the peak evening hours, Sandvine wrote.
In June, Greenfield raised his worldwide streaming subscriber estimates, saying he now expects Netflix to have more than 108 million subscribers by 2017, up from a prior outlook of 101 million.
Though Netflix dominates the streaming world, becoming the world's largest media company is another story altogether.
Walt Disney, the current largest media company, has a market capitalization of about $174 billion. It's home to beloved brands and franchises like Star Wars, Marvel, Pixar, Disney Animation, ABC and ESPN. And in addition to its movie studios and television networks, Disney also owns theme parks across the globe, with plans for several more in the future.
To its credit, Netflix has created its own brands, albeit on a much smaller scale than Disney. House of Cards, starring Kevin Spacey, has become an enormous success, helping Netflix garner 34 Emmy nominations and several wins. Other hits include Orange Is the New Black,Daredevil (a partnership with Disney's Marvel) and Narcos, about the rise and fall of Columbian drug lord Pablo Escobar.
But if Netflix wants to have a level playing field with Disney, it needs to limit offerings that don't perform so well. Marco Polo, which cost a reported $90 million to make, was not critically well received, despite being heavily marketed. Lilyhammer, Netflix's first original show, was canceled after three seasons.
Netflix is slowly becoming a movie distributor, with films like the much buzzed-about Beasts of No Nation. But measuring success for its movies will be difficult. Netflix is releasing movies to subscribers and putting them in theaters at the same time, making it hard to know whether a movie is a commercial success, since box office figures won't add up to the entire picture.
"The traditional modes of measurement don't really apply unless... something gets a theatrical release," said Paul Degarabedian, senior media analyst at Rentrak. "I think critical acclaim is a really important measurement for Netflix -- if they get decent reviews, people will want to see the movie. It's more about reviews and the talent involved. If big name talent is involved, they're operating in a different kind of ecosystem and a world where the traditional box office doesn't measure their success."
And as Netflix seeks half a billion subscribers, it will likely be a tough road.
For years, companies like CBS (CBS) - Get CBS Corporation Class B Report , Fox (FOXA) - Get Fox Corporation Class A Report and others licensed the rights to their older content to Netflix in exchange for payment, giving Netflix valuable content to hook subscribers in. The media companies got a revenue boost for content that wasn't doing much.
That appears to be changing, though.
At a recent investor conference, several media executives, including Fox CEO James Murdoch and Discovery's Zaslav, expressed concern with their Netflix deals, hinting that a change might be in the air. Murdoch saying the relationship is "evolving."
"We have a long partnership with Netflix that has been good for both sides," Murdoch said. "But we increasingly do more and more business with Hulu."
That public sentiment echoes what media executives have said in private for months now. One media executive, who wished to remain anonymous and is not authorized to speak publicly, said giving older content to Netflix seemed like helping the enemy.
There's also the matter of Netflix's model -- going straight to consumers and eschewing the traditional cable bundle. In recent months, HBO, CBS, Showtime, Sling TV, Verizon, Nickelodeon (owned by Viacom (VIAB) - Get Viacom Inc. Class B Report ) and others have come out with their own over-the-top services, or services that run on the Internet instead of via traditional TV or cable.
In an effort to fight back, Netflix has been moving more toward its own content, inking deals with entertainment heavyweights such as Brad Pitt, Chelsea Handler, Adam Sandler and others to produce content strictly for Netflix.
Netflix also recently announced it was ending its deal with movie channel Epix, which supplied blockbuster movies like Hunger Games: Catching Fire, World War Z and Transformers: Age of Extinction. In a blog post, Sarandos mentioned that these movies are widely available on other platforms, then said that content exclusively for Netflix should make for a better viewing experience.
"Through our original films and some innovative licensing arrangements with the movie studios, we are aiming to build a better movie experience for you," Sarandos wrote.
Despite the wrangling over content and licensing, it's clear that streaming services are here to stay. And Netflix appears well on its way. Mahaney noted that for at least 18 months it's been clear that people who own content "have to consider Netflix as a must-shop," as viewing habits change around the world.
While some, including Pivotal Research's Jeffrey Wlodarczak, believe that Netflix "has already won the global OTT race," it remains to be seen whether Netflix can become the largest media company in the world.
One thing is clear though -- it won't be lack for trying.