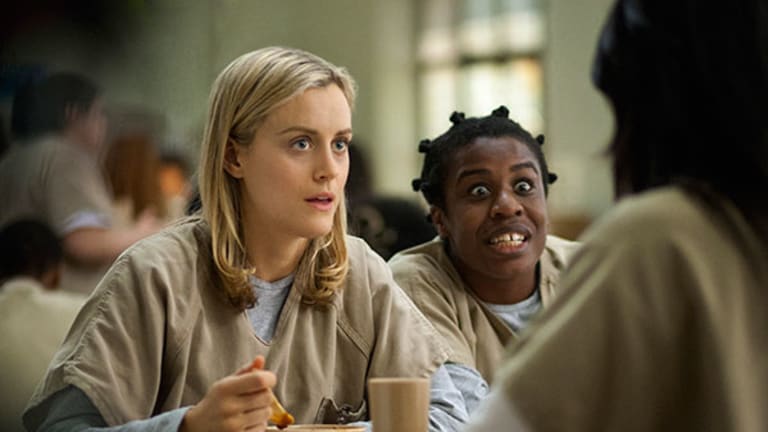 Netflix Ups Betting on Original Content
Netflix sees its top competitor as Time Warner's HBO and boosting its original content offerings is how the streaming service plans to best the Game of Thrones-producing network.
NEW YORK (TheStreet) - Netflix (NFLX) sees its top competitor as Time Warner's (TWX) HBO and boosting its original content offerings is how the streaming service plans to best the Game of Thrones-producing network.
"We are approaching 50 million global members, but that is far short of HBO's 130 million. We are eager to close the gap," Netflix's management writes in a letter to shareholders on Monday announcing first-quarter earnings.
The Los Gatos, Calif.-based Netflix earned 86 cents a share on $1.27 billion in revenue for the March 31-ending quarter, as the company surpassed 35 million streaming subscribers, of which 34.38 million are paying. Streaming margins hit 25.2% in the first quarter. Analysts surveyed by Thomson Reuters were expecting the company to earn 83 cents a share on $1.266 billion in revenue for the first quarter.
Netflix also said that it plans to raise prices for new members, to the tune of $1 or $2 depending on the country. "Existing members would stay at current pricing (e.g. $7.99 in the U.S.) for a generous time period," the letter read. "These changes will enable us to acquire more content and deliver an even better streaming experience."
Which brings us back to the heart of the matter - the ever need for more and more content, specifically original content, so that Netflix users can "binge-watch" seasons in one weekend. So far, Netflix seems to be delivering. Reed Hastings, co-founder and CEO of Netflix, specifically noted on the conference call that when it comes to original content, "If we want to continue to expand ... We have to eventually increase prices a little bit."
"We are pleased with consumer reception to our early work, as demonstrated in a Morgan Stanley survey from March, showing that 17% of respondents viewed Netflix as the service that offered the best original programming, second only to HBO, and ahead of Showtime and Starz. To have achieved this recognition in our second year of original content creation is exciting and we are optimistic about building on our initial success," management said in the letter.

WATCH:More market update videos on TheStreet TV
Netflix said that House of Cards, which is now two seasons deep, "attracted a huge audience that would make any cable or broadcast network happy," according to the letter. "The on-demand nature of Netflix means that as we promote Season 2, we can still see significant new enjoyment of Season 1." The company didn't break out specific viewership numbers. (Avid watchers, don't worry a third season is coming likely next year, reports said in February.)
When asked on the call whether Season 2 of House of Cards had a greater impact in terms of new members, Ted Sarandos, Netflix's Chief Content Officer, discussed the difference between the "hungry" audience for the second season versus the "curious" audience for Season 1 last year who had "no idea" what an original Netflix series looked like. For the second season, "there was a lot of pent up demand -- a lot of very early front-weighted viewing ... which told us America was ready for more," Sarandos says.
The company pointed out that it garnered its first Oscar nomination for "the impactful documentary" The Square. Netflix also announced last quarter, its first original "live-action" comedy series, Grace and Frankie, featuring Jane Fonda and Lily Tomlin.
Coming this quarter: Season 2 of the Ricky Gervais series, Derek, on May 30in most territories. Additionally, Netflix will debut Season 2 on June 6 of Orange is the New Black. This month, Netflix announced that the second season of its supernatural thriller Hemlock Grove would debut on July 11. Netflix's summer line up also includes the animated comedy series BoJack Horseman and the final six episodes of The Killing, it said.
"Momentum will continue throughout 2014 and into 2015 as webring our members additional kids series through our partnership with DreamWorks Animation, andlaunch new original series including the epic adventure of Marco Polo; a psychological thriller from thecreators of Damages; Marvel's Daredevil; sci-fi drama Sense 8 from the Wachowskis, and Narcos, anaction-drama series from Brazilian director Jose Padilha on the fall of Colombian drug kingpin PabloEscobar," the letter said.
Netflix has no shortage of competitors also looking to attract original content series from Amazon (AMZN) to Yahoo (YHOO) to Microsoft (MSFT) to Hulu, besides major networks.
The company boasts that its "advantages" against other Internet firms include "our scale in video and our focus and that advantages "against linear TV networks are Internet on-demand consumption and targeted show marketing."
"The huge competition amongst all of us for great writers and producers means there's never been a more robust market for quality serialized television," the letter states.
--Written by Laurie Kulikowski in New York.
Disclosure: TheStreet's editorial policy prohibits staff editors, reporters and analysts from holding positions in any individual stocks.