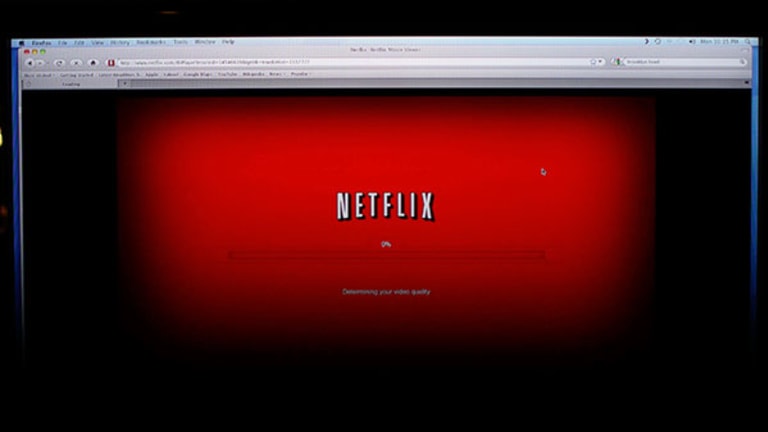 Why Netflix Is Raising Prices
Netflix shares surged after the online entertainment company posted first-quarter results that were mixed.
Updated from 4:46 p.m. to include the comments from conference call infused throughout the story.

NEW YORK (TheStreet) -- Netflix (NFLX) - Get Netflix, Inc. Report shares rose after the online entertainment company posted first-quarter results that were mixed, and it topped 35 million streaming subscribers. The company also announced a price increase for new members.
Los Gatos, Calif.-based Netflix earned 86 cents a share on $1.27 billion in revenue for the quarter, as the company surpassed 35 million streaming subscribers, of which 34.38 million are paying. Streaming margins hit 25.2% in the first quarter. Analysts surveyed by Thomson Reuters were expecting the company to earn 83 cents a share on $1.266 billion in revenue for the first quarter.
On the conference call, CEO Reed Hastings continued to reiterate that Netflix's total addressable market in the U.S. is between 60 million and 90 million households, but throughout the world, it's "everyone who loves TV and has the Internet."
Shares were rising in after-hours trading, gaining 6.7% to $371.97.
In the letter to shareholders, CEO Hastings said the company's international performance was strong. Netflix added 1.75 million international subscribers during the quarter, bringing its total to 12.7 million members. "Due to rapid growth in our international segment we aren't experiencing the same level of seasonality as in the U.S., and we anticipate over 50% y/y growth in Q2 net additions despite slight headwinds from the World Cup," Hastings said in the letter.
Hastings noted that the company is on a path to achieve profitability this year from its international ventures, though continued and substantial expansion in Europe, along with investments in content and marketing will keep the unit at a net loss.
When the company announced its fourth-quarter results, Netflix said it expected to earn 78 cents a share for the first quarter,  above the consensus estimate of 76 cents a share.

WATCH:More market update videos on TheStreet TV
The company ended the quarter with $8 million in free cash flow, up from $5 million in the fourth quarter of 2013.
In the first quarter, Hastings noted that House of Cards, Season 2, which debuted in February, "attracted a huge audience that would make any cable or broadcast network happy," though he declined to give specific numbers.  "During the quarter, we also announced our first original live-action comedy series, Grace and Frankie, featuring Jane Fonda and Lily Tomlin. Already this quarter, we've brought members additional episodes of Turbo F.A.S.T. On May 30, we will launch Season 2 of the Ricky Gervais series, Derek, in most territories and on June 6th, we'll debut Season 2 of Orange is the New Black, giving our members around the globe the opportunity to immerse themselves in this rich and engaging world. The trailer will give you a sense of what's in store for this tremendously popular show."
In the letter, Hastings also talked about the upcoming summer line-up, which includes Hemlock Grove Season 2, the animated comedy series BoJack Horseman and the final six episodes of The Killing.
Recent set-top boxes have been kind to Netflix, including the introduction of the Amazon (AMZN) - Get Amazon.com, Inc. Report Fire TV, announced earlier this month. "We continue to see more capable Internet television devices launched. Chromecast, Roku Streaming Stick, and Amazon Fire TV (on which we expect to support voice search later this year) push the quality of experience and price points for adapter products," Hastings wrote in the letter.
On the call, Hastings was complimentary of the Fire TV and Amazon Prime Instant Video, noting he is a Prime member, and he sees Prime as a complimentary service to Netflix. "It's a great relationship all around," Hastings said on the call.
It appears as if consumers are taking to Netflix's content offerings, as Hastings cited a Morgan Stanley survey from March, which had 17% of respondents citing Netflix as offering the best original programming, "second only to HBO, and ahead of Showtime and Starz. To have achieved this recognition in our second year of original content creation is exciting and we are optimistic about building on our initial success."
Turning to the price increase, Hastings said there will be an increase for new members of $1 or $2, depending on the country. "Existing members would stay at current pricing (e.g. $7.99 in the U.S.) for a generous time period," Hastings noted. "These changes will enable us to acquire more content and deliver an even better streaming experience." On the call, Netflix said that most of the increase in revenue from the price increases would go towards spending on original content. The revenue increase in the short-term would be "modest."
Hastings also took a shot at AT&T in the letter, noting the company's DSL service, U-Verse, is exceptionally slow:
"Our long-term ISP performance index shows some positive data, and some surprising data, particularly in the U.S. The positive is that Comcast is providing a much improved Netflix experience to their broadband subscribers, and now nearly all cable Internet households receive great quality Internet video. The surprising news is that AT&T fiber-based U-verse has lower performance than many DSL ISPs, such as Frontier, CenturyLink & Windstream. This reinforces our view that connectivity to the broader Internet is critical to the quality of experience consumers receive. The 249 customer comments on AT&T's anti-Netflix blog post indicate that AT&T customers expect a good quality Netflix experience given how much they pay AT&T for their Internet service. It is free and easy for AT&T to interconnect directly with Netflix and quickly improve their customers' experience, should AT&T so desire."
Shares of Netflix closed the regular session higher, gaining 0.80% to close at $349.49.
--Written by Chris Ciaccia in New York
>Contact by Email.