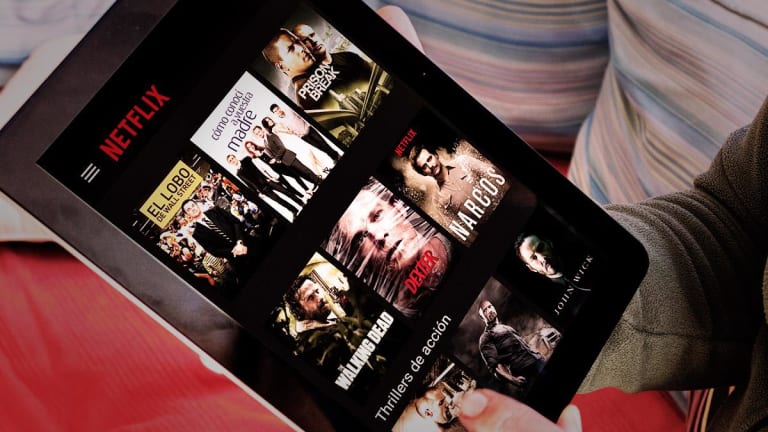 Netflix Slides Despite Topping Subscriber Guidance: 8 Key Takeaways
The streaming media giant's subscriber growth trends still look pretty solid, especially overseas.
Though Netflix's (NFLX) stock is taking a post-earnings breather following its recent run-up, the streaming giant's subscriber growth trends still look pretty solid.
After the bell on Thursday, Netflix reported Q4 revenue of $4.19 billion (up 27% annually) and GAAP EPS of $0.30. Revenue slightly missed a $4.21 billion consensus, while EPS topped a $0.24 consensus.
Reed Hastings' company added 11.36 million streaming subscribers in Q4, handily topping October guidance for 9.4 million streaming net adds. Paid net adds totaled 8.84 million, beating guidance of 7.6 million.
And for Q1, Netflix forecast it would see 8.9 million paid net adds (it's no longer providing guidance for free trial net adds). That's above a pre-earnings analyst consensus of 8.2 million.
This article has been updated to discuss remarks made during Netflix's earnings call.
Nonetheless, Netflix shares fell about 4% after-hours on Thursday and were down about 2.6% to $343.90 in pre-market trading on Friday. After getting clobbered during the market's December selloff, Netflix had risen over 50% from its late-December lows heading into earnings
Here are eight notable takeaways from Netflix's report and call:
1. International Momentum Remains Very Strong
Netflix added 9.27 million international subs (7.31 million paid accounts, 1.96 million free trial accounts) in Q4, easily beating guidance of 7.6 million. The company now has nearly 89 million international subs overall.
In Q1, Netflix expects to add another 7.3 million international paid net adds, which is above an analyst consensus of 6.37 million.
2. U.S. Subscriber Trends Are Decent, Particularly Given the Price Hike
Netflix added 2.09 million U.S. streaming subs (1.53 million paid accounts, 560,000 free trial accounts) in Q4, which is above guidance of 1.8 million. That brings Netflix's subscription count in the U.S., which is believed to have around 127 million households overall, to nearly 61 million.
In Q1, Netflix expects to add 1.6 million paid U.S. accounts, which is a little below a consensus of 1.86 million but respectable given that many analyst estimates haven't been updated since Netflix announced  a price hike this week. On the call, investor relations chief Spencer Wang insisted Netflix's Q1 U.S. subscriber guidance is meant to be neither aggressive nor conservative.
3. Free Cash Flow Guidance Is Unchanged for Now
Netflix had free cash flow (FCF) of negative $3 billion in 2018. That figure fits with the outlook it gave in October.
The company also reiterates (in spite of the price hike) that it expects 2019 FCF to be similar to 2018 levels, before improving in the following years.
4. A Strong Dollar Is Weighing on ASPs and Revenue
After having risen 8% annually in Q3, Netflix's subscription average selling price (ASP) rose just 3% in Q4. Slower ASP growth, caused in part by the impact of a strong dollar on international ASPs, weighed on Q3 revenue. And with Netflix forecasting Q1 revenue of $4.49 billion (up 21% annually and below a $4.6 billion consensus) in spite of strong subscriber growth, forex appears set to take a toll this quarter as well.
At the same time, it's worth noting that Netflix's forex-neutral international ASP growth slowed to 6% from Q3's 11%. Naturally, Netflix expects its recent U.S. price hike to boost its ASP. The company also forecasts revenue growth will improve over the course of 2019.
5. Netflix Is Now More Eager to Share (Some) Viewer Stats About Hit Originals
A couple weeks after disclosing that over 45 million accounts had seen at least 70% of horror movie
Birdbox
during its first week of availability, Netflix says the film will be watched by "over 80 million member households" during its first four weeks.
The company also says it expects psychological thriller You and British comedy Sex Education will each be seen by over 40 million households during their first four weeks, and that Spanish original Elite has been seen by over 20 million households during its first four weeks.
Netflix has already been going out of its way to sell studios, directors and actors that it wants to work with on the reach that it can provide for them. Sharing viewership figures such as the ones it just disclosed certainly doesn't hurt those efforts.
On the call, content chief Ted Sarandos indicated that Netflix wants both consumers and artists to have a better grasp of its global reach. "What's important is [for subscribers to know that] for part of your Netflix subscription, you're in the zeitgeist," he said. "You're...watching the programming that the rest of the world is loving at the same time."
6. Management Insists Heightened Streaming Competition Is Nothing to Be Worried About
Echoing prior remarks, Netflix says in its shareholder letter that it's unconcerned about rivals such as Disney (DIS) , Hulu and Amazon (AMZN) , and that it views its competition as digital entertainment in general rather than just streaming video services.
"In the US, we earn around 10% of television screen time and less than that of mobile screen time," Netflix said. "We compete with (and lose to)
Fortnite
more than HBO...Our focus is not on Disney+, Amazon or others, but on how we can improve our experience for our members."
7. Marketing Spend Soared in 2018

Netflix's marketing spend rose 65% last year to $2.37 billion. That's officially above prior guidance of $2 billion, but it's worth noting an accounting recently led to some of Netflix's general & administrative (G&A) expenses to be re-classified as marketing spend.
Regardless, based on the new accounting method, Netflix poured over 15% of its full-year revenue into marketing. On the call, CEO Reed Hastings reiterated that the bulk of Netflix's marketing spend is directed towards promoting its content, rather than direct customer acquisition efforts.

8. It Looks as if Content Spend Will Grow Meaningfully in 2019

Wang said on the call that unlike for 2018, Netflix isn't giving "individual expense line-item guidance" for 2019. However, he did provide a bit of color about Netflix's content spending plans.
Wang noted the company's streaming content amortization costs rose to $7.5 billion last year (up 22%), and suggested this figure will grow at a "pretty similar" trajectory in 2019. Here, it's worth noting that Netflix's cash content spend was likely above $12 billion in 2018.
Sarandos, meanwhile, suggested that local content investments in places that have "unique content tastes," such as Japan, India and South Korea, will be one of Netflix's spending priorities this year. The company's massive global scale can make it easier for some of these local content investments to pay off, in the event that it gets some fraction of subscribers in other regions to also watch the content.
TheStreet's Eric Jhonsa also covered Netflix's earnings report and call through a live blog.