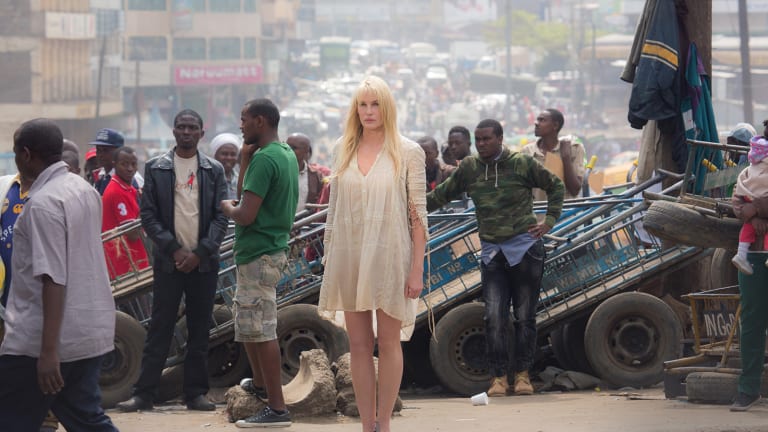 Netflix Shows No Sign of Slowdown Despite Lots of Competition
Netflix's stock has soared this year even as the company faces a growing array of rivals in the subscription video space, including Amazon, Hulu and Time Warner's HBO Now.
NEW YORK (TheStreet) -- Netflix (NFLX) - Get Report is riding high. Maybe too high.
The share price of the world's largest subscription video-on-demand service recently touched $623, nearly double what the stock was trading at in December. At 3:36 p.m. EDT, shares were priced $625.77. The rapid climb was fueled by revenue that jumped 24% to $1.57 billion for the three months ended March 31 as the company added nearly 5 million new subscribers for a worldwide total of 62 million.
The surge in Netflix's stock price has generated speculation that shares have become overbought, and that a pullback may be in the offing.
Yet as summer approaches, Netflix is spending more on original programming to bolster the offerings of a streaming service synonymous with binge watching.
On June 5, Netflix will premiere Sense8, an ambitious sci-fi series from Matrix creators the Wachowskis, followed by the June 12 kickoff of the third season of hit show Orange Is the New Black.
The new comedy series Wet Hot American Summer debuts July 17, and on Aug. 28 Netflix is planning to release its first original movie, a sequel to the 2000 hit Crouching Tiger, Hidden Dragon, that audiences can see simultaneously at Imax (IMAX) - Get Report theaters. On top of that, Netflix said last week that it's picking up A Very Murray Christmas, a holiday special arriving in December starring Bill Murray and directed by Sofia Coppola.
The company's overall plan is to offer 320 hours of original content in 2015, roughly triple last year's total. Netflix CEO Reed Hastings also indicated on the company's latest investor conference call that original programming could eventually comprise as much as 50% of his company's overall content, a rise from 15% to 20%.
That means spending millions of dollars as the largest content creators led by Time Warner (TWX) , CBS (CBS) - Get Report and Disney (DIS) - Get Report have done for years, all in the quest for breakout hits. Internet-based content providers are also stepping up their production efforts.
Amazon (AMZN) - Get Report is offering its own roster of new shows including the Golden Globe Award-winning series Transparent on its Prime service. According to reports last month, the world's largest Internet retailer is in talks with Spike Lee to direct a film as its first high-profile feature.
Hulu, the joint-venture between Comcast (CMCSA) - Get Report, 21st Century Fox (FOXA) - Get Report and Disney, is also ramping up its programming. Its shows include a deal with J.J. Abrams and Warner Bros. Television for a nine-hour miniseries to be called 11/22/63 and based on Stephen King's novel about the assassination of Presiddent John F. Kennedy. Additionally, there's Amy Poehler's Difficult People and Jason Katims' The Way.
And then there's HBO NOW, the standalone streaming service introduced in April by Time Warner. Considering that HBO set the template some 35 years ago for delivering high-quality original programming, Netflix would appear to be under added pressure to expand its offerings beyond House of Cards and Orange Is The New Black.
"The reality is there are an increasing number of competitors for high-quality, premium content," said Tim Hanlon, founder and CEO of The Vertere Group, an advisory firm focusing on media and digital technology. "That said, I don't think there can be dozens of premium subscription services."
For now, Netflix enjoys a wide lead over its would-be rivals in the race to capture American homes. In the second half of 2014, Netflix represented 34.9% of downstream traffic in North America during peak traffic hours; Amazon had 2.6% and Hulu 1.4%, according to the Sandvine Global Internet Phenomena Report.
Similarly, Nielsen reported in March that among U.S. TV households with subscription video on demand services, 36% had access to Netflix, 13% to Amazon Prime, and 6.5% to Hulu Plus.
"Right now, Netflix, from a usage standpoint, is a much bigger part of people's lives than either Hulu or Amazon Prime [Instant Video]," said Morningstar equity analyst Neil Macker. But as new competitors enter the fray, including YouTube, which is expected to furnish a paid offering later this year, Netflix is at higher risk of losing market share.
Fending off rivals also means higher spending. Amassing quality content while expanding into international markets hasn't come cheap for Netflix. The company's cost of revenues -- primarily for licensing streaming content -- totaled more than $1 billion in the first quarter alone.
Netfix's international business is losing money currently and the company doesn't expect it to generate material profitability until 2017. Hulu doesn't distribute its service outside the U.S.
RBC Capital Markets analyst Mark Mahaney's research note last Thursday, howeveer, cited positive adoption trends for Netflix in France and Germany, as well as in the U.S., based on surveys by the firm. In raising his price target on the stock to $700 from $600, Mahaney also pointed to continued momentum for the company's original programming.
In particular, he said that Daredevil, which debuted in April, had the highest rating of any original Netflix series to date (4.6 stars) and garnered almost 400,000 reviews in its first week. House of Cards, meanwhile, maintained its average rating of 4.5 stars, and Orange Is the New Black has 4.4 stars.
Citi analyst Mark May last week also hiked his price target on Netflix, to $722 from $584.
While Netflix's share price has been hitting all-time highs since mid-April, it has a history of wide swings. "It's a volatile stock," said Macker. On its site, Morningstar recommends investors consider selling Netflix when its share price hits $675.
This article is commentary by an independent contributor. At the time of publication, the author held no positions in the stocks mentioned.