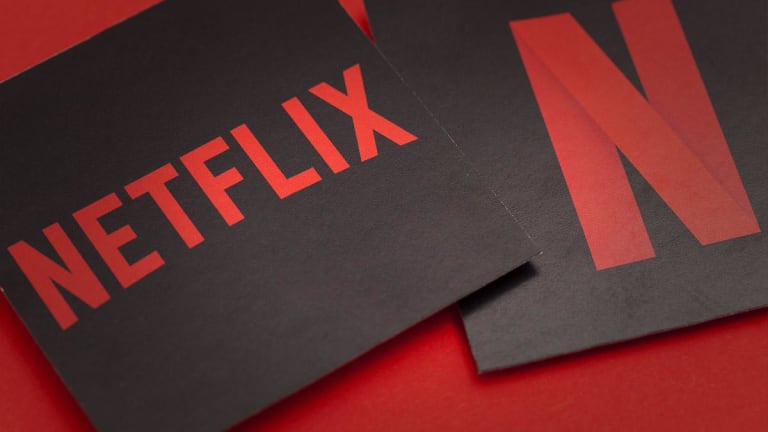 Netflix Reports Second-Quarter Earnings: 5 Important Things to Watch
Pricing trends, cash flow guidance and viewing stats for originals are among the things to watch as the streaming giant reports.
After rocketing higher during the first two weeks of 2019 with the help of a price hike announcement, Netflix  (NFLX) has traded in a fairly narrow range, with neither the streaming giant's Q4 report or Q1 report having a major impact on shares.
TheStreet will be will be live-blogging Netflix's Q2 report on Wednesday after the close. Please check our home page then to join!
Just maybe, Netflix's Q2 report, which arrives after the bell on Wednesday, will yield a stronger reaction. On average, analysts polled by FactSet expect Q2 revenue of $4.93 billion (up 26% annually) and GAAP EPS of $0.56. And for Q3 (Netflix shares quarterly revenue and EPS guidance), the consensus is for revenue of $5.23 billion (up 31%) and EPS of $1.03.
However, Netflix's subscriber additions, together with its quarterly subscriber add guidance, generally has a bigger impact on how its stock moves post-earnings than its revenue and EPS numbers. In April, the company, which has been beating its subscriber guidance in recent quarters, forecast it would add 4.7 million paid international streaming subs and 300,000 paid U.S. streaming subs in Q2. For Q3, the consensus is for 5.45 million international and 890,000 U.S. paid streaming net adds.
Aside from Netflix's subscriber adds, here are some key things for investors to keep an eye on.
1. ARPU Trends
With Netflix's latest U.S. price hike having gone into effect in March, Q2 will be the first quarter during which the hike had a major impact on the company's domestic average revenue per user (ARPU). Likewise, recent price hikes carried out in various foreign markets presumably gave a lift to Netflix's international ARPUs, which have been pressured in recent quarters by a strong dollar.
In Q1, Netflix's global ARPU fell 2% annually in dollars, and was up 3% excluding forex pressures. The company guided for its Q2 ARPU to be up 2% annually in dollars, and 7% excluding forex.
2. Free Cash Flow Guidance
Netflix originally guided for its 2019 free cash flow (FCF) to be comparable to a 2018 level of negative $3 billion. However, in April, the company said it now expects FCF of negative $3.5 billion, a change that was attributed to tax payments related to a change in Netflix's corporate structure and investments in real estate and other infrastructure.
If subscriber growth and/or ARPUs are proving stronger than what Netflix originally modeled, the company could respond by hiking its 2019 FCF guidance. On the flip side, if Netflix has decided to spend more on content than what it originally expected, that could lead to another FCF guidance cut.
3. Commentary About Content Plans
We're four months away from seeing the launch of Disney's (DIS) Disney+ service, which over time will become the exclusive streaming home of a number of Disney-owned films that for the moment are available on Netflix. And in recent weeks, we've seen Comcast's (CMCSA) NBCUniversal announce that it will be pulling The Office from Netflix at the end of 2020 and placing it on an ad-supported, NBC, streaming service, and have also seen AT&T's (T) WarnerMedia announce that it will pull Friends from Netflix at the end of 2019 and place it on its upcoming HBO Max service.
Given all of this, any comments shared by Reed Hastings or other Netflix execs about how they could potentially respond to moves from rivals -- whether in terms of increasing Netflix's total content spend or investing more in particular types of content -- is worth paying attention to. And given the success Netflix has seen to date with foreign-language original shows and movies, any fresh details shared about international content investments is also worth watching.
Disney and Comcast are holdings in Jim Cramer's Action Alerts PLUS member club. Want to be alerted before Jim Cramer buys or sells DIS or CMCSA? Learn more now.
4. Operating Expense Growth
Though its content spending -- now more than $13 billion per year on a cash basis -- has naturally gotten more attention, Netflix has also been investing heavily in marketing and R&D. In Q1, the company's marketing spend rose 15% annually to $616.6 million, while its "technology and development" spend rose 32% to $372.8 million. In addition, general and administrative (G&A) spend rose 50% to $202 million.
It wouldn't be surprising if operating expenses grew sharply again in Q2, as Netflix keeps spending aggressively on promoting originals and optimizing its user experience.
5. Viewing Stats for Originals
In its last two shareholder letters, Netflix shared a slew of numbers related to how much popular originals were watched in the weeks immediately following their release. Look for the company to do the same in its Q2 shareholder letter.
In time, other viewing stats might also be shared. During the Q1 earnings interview, content chief Ted Sarandos said that Netflix plans to begin sharing more granular viewing data later in 2019, with the company planning to share them first with content creators and then with customers and the media.
On July 8th, Netflix disclosed that 40.7 million "household accounts" have tuned into Season 3 of sci-fi original Stranger Things since it was released on July 4th.
Before You Binged: A History of Netflix