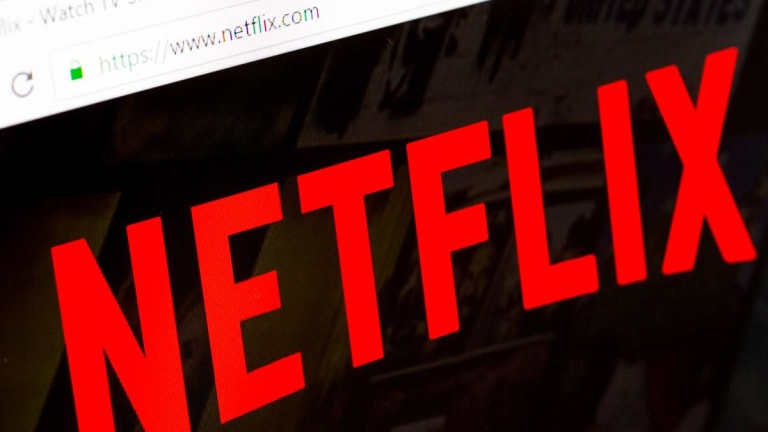 Netflix Reports Earnings on Thursday: 5 Important Things to Watch
Subscriber guidance and 2019 spending budgets are among the things to track as the streaming giant reports.
Subscriber guidance and 2019 spending budgets are among the things to track as the streaming giant reports.
After getting clobbered during the market's December selloff, Netflix's (NFLX) - Get Report stock has been on a tear over the last three weeks, and the U.S. price hike that the company just unveiled certainly hasn't done anything to spoil the fun.
That probably spells a higher bar for Netflix, which at the start of the month was clearly pricing in some bad news, going into Thursday's Q4 report. At the same time, the streaming giant's rally has only brought its shares back around the levels they were at before Netflix delivered strong results and guidance in October.
On average, analysts polled by FactSet expect Netflix to report Q4 revenue of $4.21 billion (up 28% annually) and GAAP EPS of $0.24. However, the company's subscriber figures usually play a much bigger role in how its stock moves post-earnings.
For Q4 -- a seasonally big quarter for subscriptions -- Netflix guided for 9.4 million streaming subscriber adds (7.6 million international, 1.8 million domestic). And for Q1, the analyst consensus is for 5.96 million international and 1.71 million U.S. streaming adds.
Here are some things for investors to keep an eye on as Reed Hastings' company delivers its report after Thursday's close and hosts an "earnings interview" at 6 P.M. Eastern Time. TheStreet will be live-blogging both events; please check out our home page then for more details.
1. The Expected Impact of the Price Hike
Netflix's Q1 subscriber guidance will naturally take into account its expectations regarding the impact of its U.S. price hike on domestic subscriber growth. And given that the hike was announced shortly before earnings, the company could choose to guide conservatively.
Also, given that prior U.S. Netflix price hikes have coincided with or been shortly followed by price hikes in other locales, it's worth keeping an eye on whether Netflix signals that its Q1 international subscriber guidance reflects the impact of non-U.S. pricing actions.
2. This Year's Content, Marketing and R&D Budgets
Netflix has indicated its content spend, guided to total $7.5 billion to $8 billion in 2018 on a profit-and-loss basis (and likely totaling over $12 billion on a cash basis), will rise in 2019. However, it hasn't yet shared a formal outlook. The price hike, together with the pending launch of Disney's (DIS) - Get Report Disney Plus service and Netflix's heady international ambitions, could motivate the company to once more up its content spend by a double-digit percentage.
Netflix might also issue marketing and R&D spending forecasts for 2019. A year ago, the company guided for its marketing spend to rise 56% in 2018 to $2 billion, and its "technology & development" spend to rise 23% to $1.3 billion.
3. Free Cash Flow Guidance
In October, Netflix forecast its 2018 free cash flow (FCF) will be "closer" to the low end of a range of negative $3 billion to negative $4 billion, and that its 2019 cash burn will be at similar levels. Will the price hike lead Netflix to revise that outlook? If Netflix doesn't change its content spend in response to the hike, the hike is likely to boost the company's FCF by over $1 billion in the 12 months after it has been fully implemented.
4. Commentary on Asian Progress and Pricing
Netflix has begun investing heavily to grow its Asian footprint -- and not just in content, but also in areas such as marketing and optimizing its services for local languages and slow or unreliable web connections. However, progress has been mixed to date, as Netflix battles both Amazon.com (AMZN) - Get Report and established local players while dealing with the cost-sensitivity of emerging markets such as India and Indonesia.
Keep an eye out for any commentary from management on how Netflix's subscriber growth is trending, and what the company has learned to date from its efforts in the region. The same goes for any comments about recent Asian tests in which Netflix has been offering cheap mobile-only subscription plans.
Disney and Amazon.com are holdings in Jim Cramer's Action Alerts PLUS member club. Want to be alerted before Jim Cramer buys or sells DIS or AMZN? Learn more now.
5. The Impact of a Strong Dollar
Like many other U.S. multinationals, the dollar's recent strengthening has begun weighing on Netflix's top line. For Q3, the company reported forex swings had a $90 million negative impact on its international revenue, which now accounts for about half its total revenue. The figure might be a little higher in Q4.
At the same time, it's worth noting that in spite of forex pressures, Netflix's subscription average selling price (ASP) rose 8% annually in Q3, as the company benefited from its late-2017 price hikes and (from the looks of things) a greater mix of HD and 4K-capable streaming plans. On a forex-neutral basis, international ASP rose 11%.
Join Jim Cramer on Thursday at 11:30 a.m. ET when he unveils his "10 Lessons for a Bear Market." Jim will release his tips during a live monthly videoconference call with his Actions Alerts PLUS club for investors. The call is normally for members only, but Jim is opening it to the public this month for the first time ever. Register now and join in!