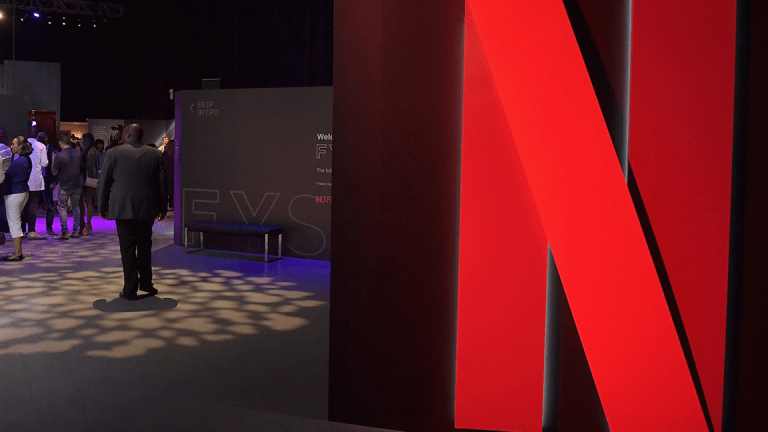 How Long Can the Netflix Surge Last?
The good times rolled for Netflix this week, with analysts ratcheting up targets and the stock reaching record highs as the overall market slumped. How much longer can the Netflix rally last?
The good times rolled for Netflix this week, with analysts ratcheting up targets and the stock reaching record highs as the overall market slumped. How much longer can the Netflix rally last?
The love for Netflix (NFLX) - Get Report  isn't fading. 
Analysts jacked up targets for Netflix alongside a record-breaking week for the stock, which peaked at $423.21 Thursday morning -- an all-time high -- before closing the day just north of $415.
Many are betting that the Netflix rally will continue well into the future. With more media consolidation on the horizon, analysts expect Netflix to reap a healthy share of the benefits of an ongoing market shift to "over the top" TV models. Reliability of service and consistent quality of programming mean Netflix will grow its share of the pie, wrote Raymond James analyst Justin Patterson.
"As consumer behavior has shifted toward on-demand viewing, Netflix provides quality content more frequently and consistently than competitors," Patterson wrote, citing a survey by the firm finding that 73% of U.S. households would choose a Netflix subscription first if they could only pay for three subscription services. 
"As the content library gets more depth within genres -- a strategy Netflix has pointed to for the year -- we see more potential upside to pricing over time," Patterson added.
Netflix is racking up plum deals across a variety of genres, most recently signing Viacom to produce an original Nickelodeon-branded animated series. It's had success luring star showrunners like Ryan Murphy and Shonda Rimes away from traditional networks, and in May inked a multiyear deal with former President and First Lady Barack and Michelle Obama to produce content. Netflix plans to spend $8 billion on content in 2018, with 85% of spending going to original shows and movies, content chief Ted Sarandos said at a conference in May.
Netflix can afford it. With the company net subscribers increasing at a solid clip -- it reported 7.4 million new subscribers in Q1, and 125 million total -- Pivotal analyst Jeffrey Wlodarczak described a "virtuous cycle" between the company's growth and its expenditures.
"As the larger their subscriber base grows, the more they can spend on original content, which increases the potential target market for their service," Wlodarczak wrote.
International growth, along with sustained U.S. popularity is one factor driving up the company's value, the analysts noted. 
"The holy grail of incremental growth (and profitability) going forward will be from international customers, as we believe Netflix has a TAM of over 700 million subs by 2020," added GBH analyst Daniel Ives. "With the company spending major resources over the past two years building out a global distribution arm and customer base in over 100 countries, we believe the fruits of this labor will start to be fully realized in 2018 and beyond." 
But that doesn't mean it'll be a cakewalk for Netflix, with better-recognized local competitors in international markets posing a potential roadblock. Significant fixed costs, including upward of $18 billion in spending commitments on self-produced content, could lead to trouble later. "If their subscriber growth ever went materially negative, without a price increase, their results could be overwhelmed by their significant fixed costs," Wlodarczak added. 
Plus, competitors including Alphabet's Youtube (GOOGL) - Get Report , Amazon (AMZN) - Get Report , Apple (AAPL) - Get Report and Hulu aren't likely to cede ground without a fight -- and that could mean a further swell in content costs as tech giants prepare to spend big on their own content initiatives. 
"With the emergence of well-funded competitors like Google, Amazon, and Apple, as well as entrenched players such as HBO and Starz, we expect content costs to increase significantly in the future, which could negatively impact Netflix's operating margins," Patterson wrote. 
Alphabet, Amazon and Apple are holdings in Jim Cramer's Action Alerts PLUS member club. Want to be alerted before Jim Cramer buys or sells these stocks? Learn more now.