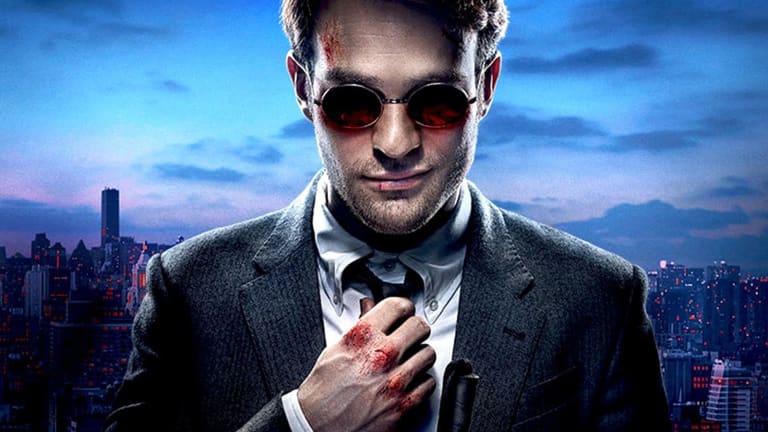 Netflix Kicks Ass with Blind Superhero Forcing TV to Deliver Year-Round Hits
Binge watching and off-season shows streaming online make the old fall TV schedule look like a rusty waste of time.
NEW YORK (TheStreet) -- Call it the Daredevil effect.
Netflix (NFLX) - Get Free Report is hitting its viewers this spring with a full season of the gritty superhero show, prompting strong reactions from fans and critics. Daredevil's success is exposing inherent weaknesses in broadcasters reliance on fall premieres as the foundation to its strategy of releasing new content.
With more scripted shows debuting online through Amazon (AMZN) - Get Free Report, Sony'sundefined Crackle, Hulu and others, traditional TV schedules are beginning to look prehistoric.
"The competition to procure great originals is high and Netflix has made it possible for consumers to watch originals year-round anytime anywhere," said Amy Yong, analyst with Macquarie Securities.
Daredevil is not the first time Netflix has pumped out a full season in one shot to get people watching a show. The business model stirred debate when House of Cards got a similar debut in 2013.
Giving viewers access to what they want, when they want it is a way for Netflix to bring in new subscribers, said Rob Thompson, director of the Bleier Center for Television & Popular Culture at Syracuse University. Circumstances are a bit different for linear TV though. "They operate on filling schedules over time," he said.
So even if networks wanted to immediately offer new seasons of shows on demand or even online, they couldn't. "But they're experimenting," he said.
Comcast's (CMCSA) - Get Free ReportNBC will debut its series Aquarius, starring David Duchovny, on May 28 on television, and then for four weeks will make the entire 13-episode season available online, via mobile app and on demand. "You can watch every week, like old-fashioned linear TV, or do the modern model and watch all of them at one time," Thompson said.
But not everyone in the industry is sold on the binge-TV viewing trend. During last month's earnings call, Time Warner CEO Jeff Bewkes pushed back against the idea. "We don't think much of the binge strategy for our networks," he said. "Think if Game of Thrones [were] available all at once. You don't want that."
Shows with shorter seasons, 13 episodes in the case of Daredevil, House of Cards and even Aquarius, can get away with offering everything at once, Thompson said. Networks run longer shows with up 24 episodes per season, which lend themselves more to traditional schedules. "They don't always have the entire series made before they start playing episodes on a weekly basis," he said.
The linear TV model of starting first-run shows in the fall, ending in the spring, with reruns in the summer collapsed several years ago though, Thompson said, with shows such as Survivor premiering in what had been the offseason. "Netflix's model may accelerate that," he said.
Do not count out linear television entirely as online rivals shakeup broadcaster's timetables. The quality of shows has improved in recent years, despite a flat to negative ratings trajectory, Yong said in a note on industry trends. "The demand for original programming is certainly there and it's getting harder to secure a strong slate," she wrote. AMC Entertainment's (AMC) - Get Free Report AMC Networks "has made the biggest leap over the last few years while Netflix, Amazon, and Hulu have made significant strides."
This article is commentary by an independent contributor. At the time of publication, the author held no positions in the stocks mentioned.