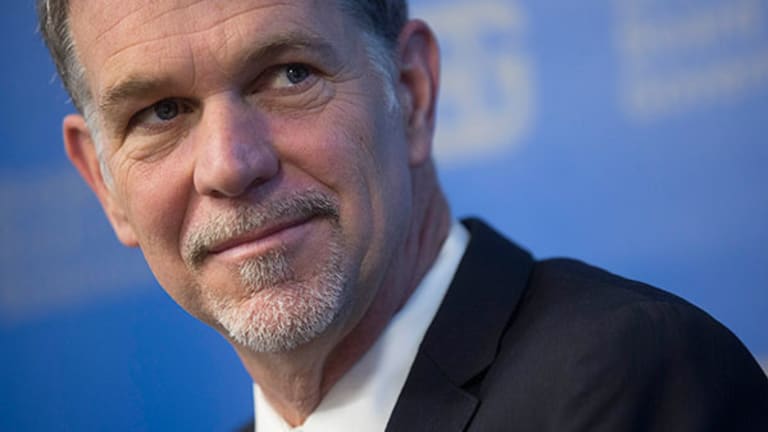 Netflix Hits All-Time High on Huge Subscriber Growth: What Wall Street's Saying
Netflix continues to boost subscribers at an extraordinarily high rate, adding 4.88 million subscribers in the first quarter, well above Wall Street's expectations.
Updated from 9:34 a.m. to include thoughts from Oppenheimer analyst and updated share price.
NEW YORK (TheStreet) -- HBO Now be damned.
Netflix (NFLX) - Get Netflix, Inc. Report continues to boost subscribers at an extraordinarily high rate, adding 4.88 million subscribers in the first quarter, well above Wall Street's expectations. This comes in the face of added competition from other over-the-top streaming services, including Time Warner's (TWX)  recently-launched HBO Now, Hulu and others.
In the first quarter, Netflix added 2.3 million subscribers in the U.S. and nearly 2.6 million internationally. Los Gatos, Calif.-based Netflix ended the first quarter with 62.27 million subscribers, of which 59.62 million are paying subscribers.
Despite the added competition, Hastings said other streaming services, particularly HBO, are complementary. "As we have said in the past, Netflix and HBO are not substitutes for one another given differing content," Hastings wrote in the letter to shareholders. "We think both will continue to be successful in the marketplace, as illustrated by the fact that HBO has continued to grow globally and domestically as we have rapidly grown over the past 5 years."
On the earnings conference call, Hastings continued to heap praise on HBO. "I think HBO at $15 is a great value," the CEO said. "I mean I have traditionally paid more than $15 for my cable company for it. So I think they are doing great work with their premium content."
Shares were surging Thursday, gaining more than 15% to $547.12 on the back of the strong subscriber number, as well as high praise from Wall Street.
For the first quarter, Netflix earned 38 cents a share on $1.57 billion in revenue, but earnings were impacted by foreign exchange. Excluding foreign exchange, the company would have earned 77 cents a share. Analysts were expecting 69 cents a share and $1.57 billion in revenue.
For the second quarter, Netflix expected to add 2.5 million subscribers around the globe, with revenue forecast to be $1.47 billion. Analysts surveyed by Thomson Reuters are expecting revenue to come in $1.48 billion.
TheStreet's Jim Cramer recently said that Netflix is extremely undervalued, even with a market cap of $32 billion. "Netflix is an institution," Cramer wrote. "A worldwide one. It should be valued accordingly."
Following the earnings report, here's what analysts were thinking.
SunTrust analyst Bob Peck (Neutral, $550 Price Target)
"Sentiment is high, valuation appears fair (significantly negative FCF '15-'16), Domestic churn may not hold as content slows into 3Q, competition is picking up, and grandfathered subs face a price increase in 2Q16 (could lift churn). Where we could be wrong: a more ambitious market rollout in 2H15 (S. Korea, China, Italy). Lowering '15/'16 EPS to $1.08/$2.40 from $2.62/$3.85. Price target is based on 10-year DCF (9.5% WACC, 15x terminal FCF) and equates to 2016: 4x EV/revenue, 57x EV/EBITDA."
RBC Capital Markets analyst Mark Mahaney (Outperform, $600 PT)
"The Quarter Keys: 1) Domestic Sub Adds - not just better than expected, the Q1 U.S. Net Adds and the Q2 outlook imply that '15 Adds could be in-line with to greater than '14...which means we may not be near the end of the S-Curve; 2) Domestic ARPU - record level suggests pricing & tiering power; 3) Domestic Streaming Margins - not just better than expected, but arguably revealing of the material Content Cost leverage NFLX has, given the record-high segment Gross Margin; 4) International Sub Adds - 2015 on track to be a record Sub Add year outside the U.S.; & 5) FCF - $163MM FCF loss was the steepest we have seen, driven by substantial content & marketing costs that are unlikely to let up anytime soon, as NFLX accelerates its International expansion."
Cantor Fitzgerald analyst Youssef Squali (Buy, $580 PT)
"Netflix reported very strong 1Q:15 results, with the all-important subscriber metrics again exceeding expectations for both domestic and international segments. Streaming sub guidance for 2Q:15 is 25% ahead of consensus, driven by international growth. With 60M+ streaming subs, a superior
value proposition and a gradual but persistent shift to OTT, we remain constructive on NFLX, raising our PT to $580 from $500. Mgt is seeking shareholder approval for an increase in authorized shares to recommend a stock split."
Pacific Crest Securities analyst Andy Hargreaves (Overweight, $665 PT)
"Attractive content helped drive Q1 U.S. streaming net additions of 2.28 million and international net additions of 2.61 million, which exceeded our estimates of 1.85 million and 2.25 million, respectively. Incremental profitability appeared very strong, with U.S. contribution profit exceeding our estimate and international contribution profit just $2 million below our estimate despite currency headwinds. Operating income of $97.5 million exceeded our estimate of $78.9 million."
Oppenheimer analyst Jason Helfstein (Outperform, $610 PT)
"We are increasing our price target to $610 from $483 after NFLX reported 1Q15 global net-sub additions 17% above Street estimates. We believe Originals are driving better financial results, as exclusive programming improves efficiencies in content spend by lowering churn. As a result, US contribution profit was 8% above Street, and management plans to leverage higher domestic profit to accelerate Int'l growth. Therefore, 2Q global net-sub guidance is 25% above the Street. 1Q Int'l revenue 2% below guidance, as FX caused -18%/-30% drag on Int'l revenue/contribution margin. However, we believe accelerating Int'l subs should alleviate investor concerns from not hedging currency. In our opinion, NFLX is the best global play in the shift to multi-platform video content. Reiterate Outperform."