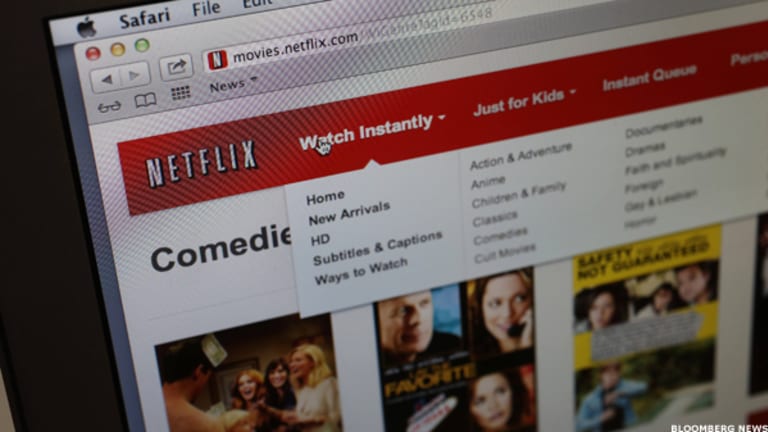 Netflix Runs out of Steam as CEO Hastings Warns of 'Euphoria'
Netflix shares surge to an all-time high, despite CEO Reed Hastings warning of euphoria in the stock price. Here's what Wall Street had to say.
Updated from 8:53 a.m to provide comments about stock price in the fourth paragraph.
NEW YORK (
) -- Love him or hate him,
Netflix
(NFLX)
CEO Reed Hastings delivers not only a great product but great theatre as well.
When discussing Netflix's
, which saw the Los Gatos, Calif.-based company announce it had 31.1 million domestic streaming subscribers, Hastings talked about the company's stock price, which has zoomed more than 280% year to date, not taking into account Tuesday's sharp run up.
"In calendar year 2003, we were the highest performing stock on Nasdaq," Hastings wrote in a letter. "We had solid results compounded by momentum-investor-fueled euphoria. Some of the euphoria today feels like 2003."
data by
It's certainly odd for a company CEO to mention his share price in that manner, and Hastings was questioned about it again on the earnings call. However, given the exceptionally strong performance and lofty goals, Hastings appears to be less concerned about the company's share price at any given time and more about the long-term viability, and ultimately profitability, of Netflix.
Investors appeared to be heeding Hastings' words. Shares opened at $387.93, but had given up all of their gains, and were trading at $354.81, down slightly on the day, by 10:18 a.m.
The company earned 52 cents a share on $1.106 billion in revenue in the third quarter, as streaming margins were 23.7%, up from 22.5% in the second quarter. For the fourth quarter, Netflix expects to generate between 47 cents and 73 cents a share in earnings, with revenue expected to be between $941 million and $965 million. It also expects streaming margins to be 23.2%, while ending the quarter with between 32.7 million and 33.5 million domestic streaming subscribers.
Driving the company's growth is original content, of which Hastings has said the company plans to "double our investment in original content (though still representing less than 10% of our overall global content expense)" in 2014.
House of Cards
,
Orange is the New Black
(which is now Netflix's top original show),
Derek and Hemlock Grove
, and others are driving more people to pay $7.99 per month for Netflix's service.
Despite the "euphoria" seen in Netflix's stock price, Wall Street analysts are taking a mixed view towards the company. Here's what a few of them are saying.
JPMorgan
analyst Doug Anmuth (Overweight, $460 PT)
"Netflix reported strong results with 3Q domestic and international streaming subs at the high end of guidance while profitability continues to track above expectations. 3Q domestic net adds came in 10% higher than a year ago, leadingto 24% Y/Y subscriber growth. 3Q benefited from easier compares due to the 2012summer Olympics and Netflix guided to relatively flat Y/Y net adds at the midpointin 4Q, though we think this could prove conservative."
Oppenheimer
analyst Jason Helfstein (Perform, $434 PT)
"We are raising our target on NFLX to $434, based on a bull-case scenario for 2018 subscribers. However, as this suggests only 12% appreciation based on after-hours trading, we are maintaining our Perform rating on valuation. After the close, NFLX posted another strong quarter and guidance, with US & International streaming subs up 24% & 113% y/y, respectively. US sub growth has been consistent since 4Q:12, while Int'l subs have only modestly slowed since the beginning of the year. Given our confidence in management's ability to control costs/margins, we are now valuing NFLX on 2018 US and Int'l streaming sub estimates of 54M and 59M, respectively, with EBITDA margins of 27%, a PE of 20x and 10% discount rate."
Jefferies
analyst Brian Pitz (Underperform, $215 PT)
"With a modest beat and 4Q outlook above consensus, NFLX now trades at 110x our new '14 EPS. We find it difficult to justify this val'n given the risks of rising content costs, heavy competition, and the likelihood NFLX may need to raise add'l capital to fund operations. Our model gives NFLX plenty of credit for go-forward growth and margin expansion, our 4Q ests are above Street...yet we still see 45% downside to after hrs share price. Reiterate Underperform."
Cantor Fitzgerald
analyst Youssef Squali (Hold, $350 PT)
"Netflix reported a quarter that was virtually in-line with expectations on the P&L but better on sub metrics, which bodes well for 4Q:13 and beyond. The model seems to be working beautifully, and we remain fans of its disruptive nature longer-term, given the service's expanding selection, improving personalization, low price and position as a key beneficiary of the rise of Internet TV. Strong momentum and a large short position (13% of float) are likely to move the stock higher short-term, in our view; that said, current valuation keeps us on the sidelines."
--
Written by Chris Ciaccia in New York
>Contact by
.